Jimi Hendrix never had an iPhone. And Steve Jobs never set a guitar on fire (well, that we know of…) But these two fierce innovators in their fields do have something else in common. They both found inspiration in Monterey County. And they weren't the only ones. From cultural icons to legendary authors and everything in between, Monterey has served as a hub for innovation and creativity for all types of visionaries. Below, we've listed just a few of the world-changing works of inspiration that never would've happened if it weren't for Monterey County.
A BANNED, BURNED AND BEST-SELLING CLASSIC AMERICAN NOVEL
One of the most iconic individuals to come from Monterey Bay is award-winning author John Steinbeck. Steinbeck was born and raised in Salinas and wrote many novels based on life in Monterey County, including "The Grapes of Wrath," which, when it came out, rubbed many the wrong way in its portrayal of how migrants were treated in California. The historical street in Monterey once known as "Ocean View Avenue" was changed to "Cannery Row" in 1958 to honor Steinbeck's nickname for the area, which at one time was home to a thriving fishing and canning industry.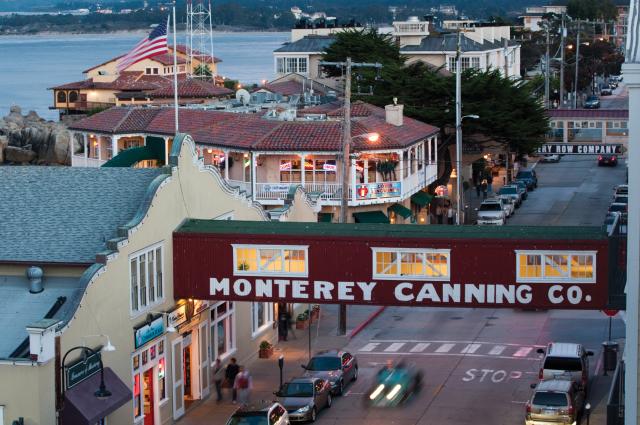 ONE OF THE HOTTEST GUITAR SOLOS OF ALL TIME
Jimi Hendrix is hailed as one of the most talented guitarists in the world, but prior to launching his renowned musical career, he was stationed at the Fort Ord military base. Hendrix later returned to the area to give one of his most wild performances at the legendary Monterey Pop Festival. The performance catapulted him from a rising star in the U.K. to an international force to be reckoned, thanks in part to burning and smashing his guitar on stage – antics that were meant to compete with those of co-headliners, The Who, also known for their explosive performances.  
THE COMPUTER THAT STARTED A TECH REVOLUTION
Apple has risen to become one of the most profitable companies in the world. But the humble beginnings of this tech giant is tied closely to Monterey County. The prototype for the Macintosh computer was revealed by innovative tech entrepreneur and inventor Steve Jobs at a development team retreat at Carmel-by-the-Sea's La Playa hotel. According to a biography on Jobs by Walter Isaacson, "the ensuing party" that included "skinny-dipping in the pool, a bonfire on the beach, and loud music that lasted all night," caused La Playa "to ask them never to come back" – a request that was later officially rescinded by new hotel management.