Monterey County has everything visitors or meeting planners could want. Rolling hills and beautiful vistas. Easy access to the Bay. Plenty of places to stay or host an important event.
Even better, all of these scenic wonders are easy to access from cities across the United States. While Monterey County boasts a natural setting that certainly is off the beaten track, you can reach our area with little hassle, whether you're traveling from another city in California or from across the country.
Flying into Monterey County
Monterey Regional Airport has regular flights to and from many cities across the West. These direct flight cities include Los Angeles, San Francisco, San Diego, Phoenix, Las Vegas, and Denver. The Monterey Regional Airport will also be adding a seasonal direct flight from Dallas beginning April 2019. Since all of these airports are large and bustling, most travelers will only need to take - at most - a two-leg journey from most cities and towns in the U.S. and Canada.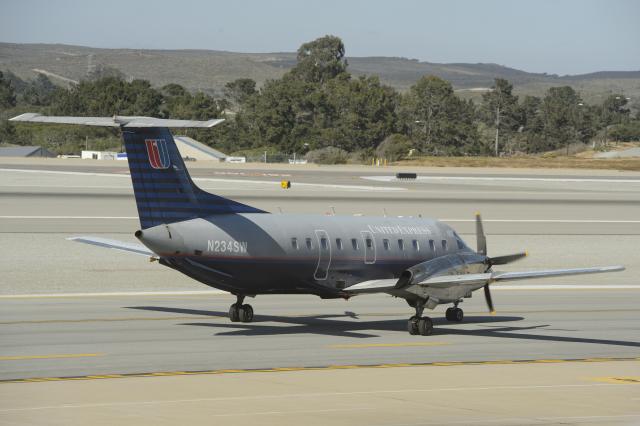 Notably, in October 2018, a new flight from Denver to Monterey County Regional Airport has started offering twice-daily service to Monterey County. United Airlines will become the sixth direct flight to and from Monterey County. In addition to United Airlines, American, Alaska, and Allegiant Airlines offer flights to our area. 
For international and long-haul travelers, San Francisco and San Jose airports are good bets with an array of direct and international flights. Along with a short flight into Monterey, San Francisco travelers have the option of driving two hours to Monterey. San Jose Airport is only a little over an hour drive away. To make travel to Monterey even simpler, the Monterey Airbus shuttle picks up at both airports for direct drop-off in Monterey.
Ground Transportation from the Airport
From the airport, Monterey County's points of interests are easily accessible. Downtown Monterey is a 10-minute drive, downtown Salinas is 25 minutes, and Big Sur is 45 minutes.
At the airport, you can either opt for a rental car or choose to use the Monterey-Salinas public transportation. If you're traveling during the summer, you can ride the free MST Trolley, which runs continuously from Downtown Monterey, through Fisherman's Wharf and Cannery Row, to the Monterey Bay Aquarium.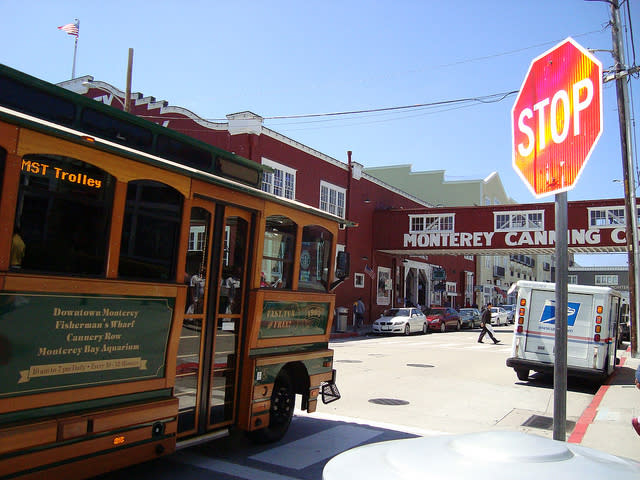 Cruising into Monterey County by Car
From San Francisco, the most direct route to Monterey County is a 120-mile, two-hour drive south. First, take Highway 101 South to Highway 156 West to Highway 1 South.
From Los Angeles, you have two options: a more efficient route or a more scenic one. If you're aiming for a direct route, take Highway 101 North to Salinas, and then head west on Highway 68 to Highway 1. From Los Angeles, this route will take around six hours.
If you'd like to see Big Sur and Carmel, we recommend heading in on Highway 1 North. This scenic highway doesn't take a considerably longer time – only seven hours on this narrower, slower-speed highway.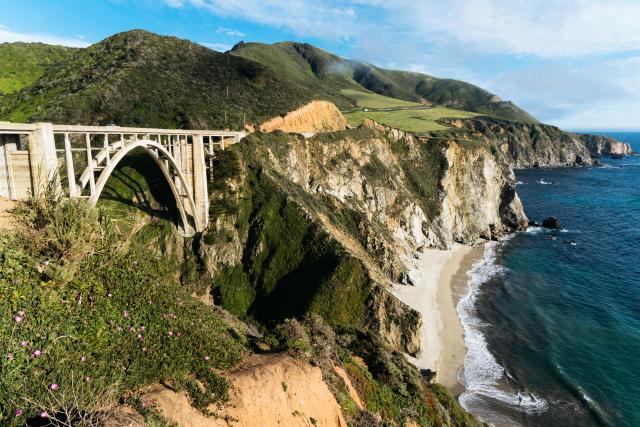 As these travel methods demonstrate, Monterey County is anything but hard to reach. If you're interested in hosting a meeting or conference, planning one in Monterey is as simple as traveling here is. Monterey County Convention & Visitors Bureau's staff can help you plan a hassle-free destination meeting.