Welcome to the Stakeholder Corner!
---
Things to Know From the CEO
Industry publications are showering Monterey County with accolades!  California Meetings and Events recognized the Monterey Conference Center as Best Conference/Convention Center under 10,000 sf.  MCCVB got "Runner Up" for Best Destination Marketing Organization/CVB for a destination with a population of under 500,000. For Northern California, Pebble Beach Resorts won Best Golf Resort and Monterey Bay Aquarium won Best Historic or Cultural Venue. MCCVB was recognized with a Platinum Choice award from Smart Meetings . Congrats to our industry's trailblazers!
In partnership with Skift, the third article of a three-part series has been released, "This California Destination Is on the Forefront of Innovative Meetings and Events."  Skift is the largest intelligence platform for the travel industry.  On behalf of the MCCVB, skift has produced a sponsored content package highlighting Monterey County as a destination for inspiration and innovation in the meetings world.
Now accepting applications for 2019-20 Board of Directors
Do you want to contribute your leadership to the tourism economy in Monterey? MCCVB is seeking Applications for the 2019-20 MCCVB Board of Directors. Members of the Board of Directors are responsible for the strategic direction and oversight of the MCCVB and ensuring that we have a vibrant organization and community for years to come.
All elected positions are two-year terms. If you are interested in applying, please click HERE for more information.
Thank you for your support of the Monterey County Convention & Visitors Bureau and our tourism economy.
Sustainable Moments
Have you checked out the Sustainable Showcase yet?  Learn about Monterey County businesses and attractions whose sustainability efforts help make our community a great place to live and visit. Highlights include practices in recycling, water conservation, plastic reduction, composting, energy conservation, transportation, food and wine, and meeting and events. If you'd like to have your great work highlighted, please send in your sustainable practices to: membership@seemonterey.com.
Partner spotlight: Portola Hotel and spa
The Portola Hotel & Spa offers sustainable meeting space, hosting reduced waste conference and meetings for groups up to 900, composting post-consumer organic wastes, recommending environmentally friendly vendors and exhibit companies, using earth-friendly plastic and paper goods, utilizing China, glassware and silverware to replace disposable utensils, providing organic and sustainable menu options, as well as offering team building activities with a focus on environmental awareness.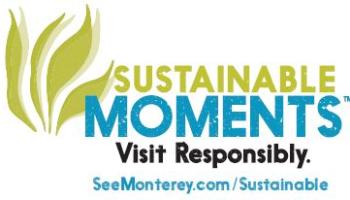 Creating Content with Allyson Ryan
What's behind the numbers when it comes to social media and online presence? How do we get there? Earned impressions are derived from media FAMs, pitches and press releases.  Website traffic is generated from paid, owned and earned media.  Social engagements come from compelling content. 
The overarching thread is content. Engaging content is critical to meeting all of these goals. Driving traffic to the website, getting users to like or comment on social or delivering compelling story ideas to journalists.
Take a look at the MCCVB's content calendar to see what we are planning and how you can engage with us in an co-op or as a guest blogger.
Marzetti's Member Mentions
Welcome to our newest Members:
(Click photo to view full story featured in Visit California's "California Now")
(Click the photo to view full story featured in Edible Monterey Bay)
(Click the photo to view full story featured in The Spa Finder)
With worldwide international trips reaching 1.4 billion last year, Destination Analysts recommends a solid strategy to benefit from this high-impact segment. Their State of the International Traveler report can provide you over 150 pages of insights into global travelers' perceptions and behaviors.  Visit Destination Analysts for more information.
---
Saturday, March 23rd, Monterey Marriott
Friday, March 29th, WeatherTech Raceway at Laguna Seca
Tuesday, April 30th, Monterey County Fairgrounds
By continuing to browse this site you permit us and our partners to place identification cookies on your browser and agree to our use of cookies for marketing. To learn more view our Privacy Policy