Top 10 Monterey Bike Rides
Almost anywhere you go in Monterey County, you'll see a biker taking in the sights from a bike lane or off-road trail. What better way to get outdoors to enjoy the fresh air, sunshine and sights. It's a naturally socially distant sport that allows you to get out safely and responsibly.
Cycling is one of the area's most popular activities, so there's no shortage of bike trails for all skill levels! Here are the top 10 bike rides in Monterey County:
1. Fisherman's Wharf to Lovers Point
(Beginner) Soak in the best sights of Monterey's coastline with a simple ride along the bike path that runs from Fisherman's Wharf out to Lovers Point. The bike path, officially known as the Monterey Bay Coastal Recreation Trail, extends from Castroville in the north to Pacific Grove in the south, but the stretch between Fisherman's Wharf and Lovers Point is hands-down the most popular section. The path is separated from street traffic, providing a safe environment for children still learning to balance on two wheels and nervous adults returning to cycling after a long time away. The ride provides fantastic views of Monterey Bay and plenty of great places to stop as it winds past the Coast Guard Pier, Cannery Row, the Monterey Bay Aquarium, and the harbor seal beach at Hopkins Marine Station.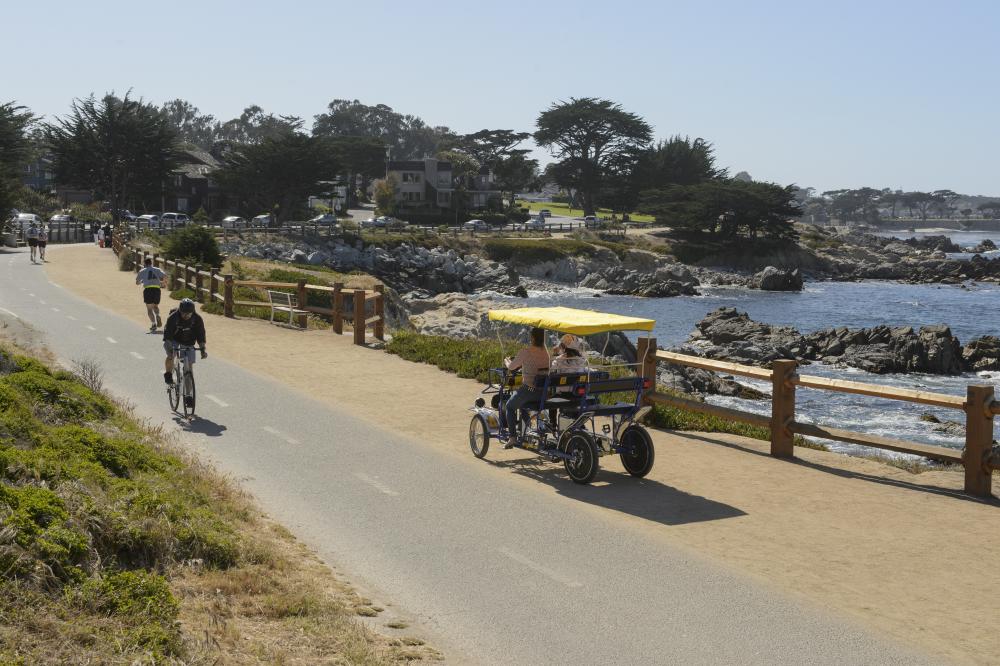 2. North single-track loop, Fort Ord National Monument
(Intermediate) Another favorite trail in the Fort Ord National Monument is the north single-track loop. Park at the Creekside Terrace parking area just off Reservation Road. Take Trail 31 to Trail 02 to Oil Well Road. The thigh-punishing Oil Well Road will take you uphill several miles to the aptly-named Skyline Road, where you'll turn right. You'll see Trail 44 on the right after a half-mile. Ride Trail 44 to Trail 41 back to Oil Well Road; turn left on Oil Well Road, right on Station One Road, and take Trail 01 back to your car.
3. Parker Flats Loop, Fort Ord National Monument
(Beginner) Once an Army base, the Fort Ord National Monument has several paved roads that are a perfect spot for children and adults seeking a more challenging ride than the Monterey Bay Coastal Recreation Trail. A good beginning ride is the 5-mile Parker Flats loop, which has just enough short climbs to add a little challenge. Park at 8th and Gigling, the last spot where cars are allowed. Then bike on 8th Avenue south to Parker Flats Road and take Parker Flats southeast to Eucalyptus. Turn right on Eucalyptus where you'll have a short but strenuous climb. Take Eucalyptus to the next segment of Parker Flats, which runs between Welch Ridge and Artillery Hill. Turn right on Normandy, then left on Eighth to complete the loop and return to the parking lot.
4. Cachagua Loop
(Advanced) For valley and vineyard views, take the 30-mile loop from Carmel Valley Village through Cachagua. Start in Carmel Valley at the village, ride east on Carmel Valley Road and turn onto Cachagua. It's about a two-mile climb, and then it drops down into the main parts of Cachagua, where you will enjoy gorgeous views of the area's finest vineyards. Continue on Cachagua to Tassajara and take a left onto Carmel Valley Road to get back to your starting point. Please note this is an advanced route, and riders should be aware of road conditions.
5. 17-Mile Drive
(Beginning-Intermediate) Pebble Beach's scenic 17- Mile Drive provides amazing photo ops of The Lone Cypress Tree, Spanish Bay, and the Del Monte Forest. This iconic stretch of road is also easy to navigate. Keep the water on your right on the way out and keep it on the left as you come back and you won't get lost.
The traditional route begins at the Monterey Bay Coastal Recreation Trail at Cannery Row. After a little over a mile, the trail ends and riders cycle through Pacific Grove on Ocean View Drive past scenic Point Pinos. Riders then continue on Sunset Drive past beautiful Asilomar State Beach, where they'll catch their first views of Pebble Beach, to 17-Mile Drive. Riders follow 17-Mile Drive down to Point Joe and around to Seal Rock, which is a nice place to stop with restrooms and picnic tables. About a mile further is Cypress Point, which provides for a stunning vista. As you continue on, the bike line turns into the main road where cyclists must use caution when riding with cars.
The round-trip from Cannery Row is 18 miles to Cypress Point and back, and 24 miles to the Lodge at Pebble Beach and back.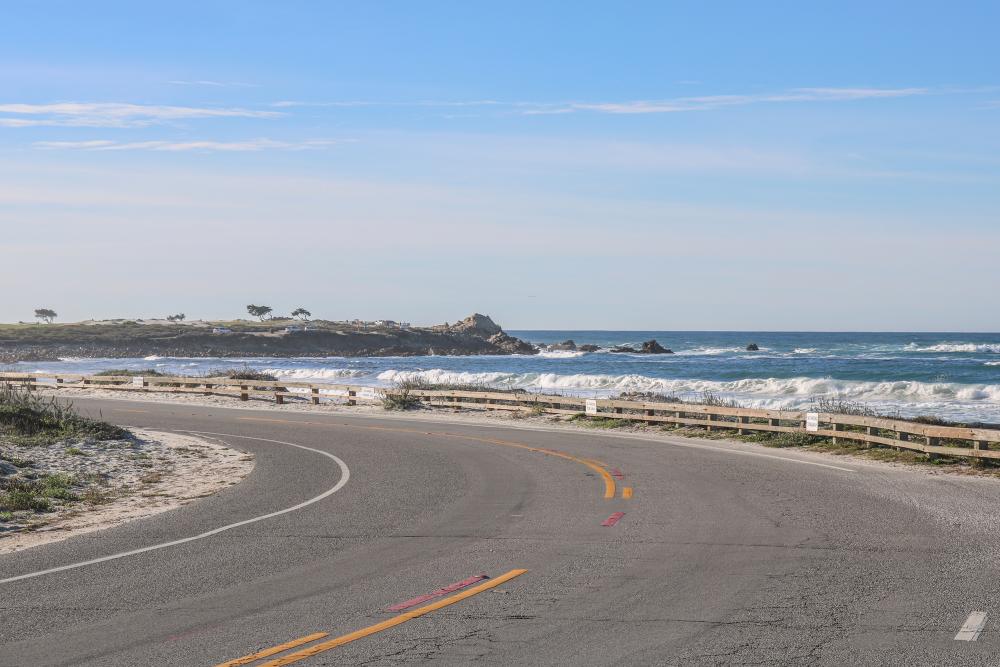 6. Monterey to Marina on the Monterey Bay Coastal Recreation Trail
(Beginner-Intermediate) For a different perspective on the Monterey coastline, take the Monterey Bay Coastal Recreation Trail north to Seaside and Marina. Riders can choose to tackle the steep hill up the sand dunes at the Monterey/Seaside border, with its reward of a sweeping view of Monterey Bay all the way to Santa Cruz, or opt for the flat cutoff that winds around Laguna Del Rey. Both trails meet up again at the Seaside parking lot for Monterey State Beach and continue along the dunes and bluffs for miles. Once riders pass Sand City, they'll reach four miles of open, cypress, and sand-dune-lined trail up to Marina, with only other cyclists and pedestrians and the occasional gull or hawk for company.
From Monterey, just take the Rec Trail north to enjoy this ride. Keep the water on your left to head toward Marina and on your right to head back to Monterey.
7. Hennekens Ranch Loop, Fort Ord National Monument
(Intermediate) Explore a portion of the massive 14,000 acres of the Fort Ord National Monument with the Hennekens Ranch Loop. This eight-mile ride is packed with thigh-burning climbs and sweeping views of the Salinas Valley.
From the parking lot at Eighth and Gigling, take Eighth south to Normandy and turn right. Take a sharp left onto Parker Flats and follow east onto Eucalyptus Road for two and a half miles of tough climbs interspersed with downhill glides. You'll pass mossy oak trees and may catch glimpses of deer or other wildlife. Turn left onto Hennekens Ranch, where you will climb for well over half a mile. Take a breather at the top to admire the sweeping views, then enjoy the long, fast coast down the hill - you've earned it! Turn left at the bottom of the hill on Gigling, where you'll ride over low, rolling hills for the last mile and a half back to the parking lot.
8. Ollason Trail, Toro Park
(Intermediate-Expert) For sweeping ocean views of the Monterey Bay, take the Ollason Trail in Salinas' Toro Park. Here you can climb all the way up to Ollason Peak, which is 1800 feet above sea level. Considering that the entrance is about 200 feet above sea level, it's a climb of about a mile.
Cyclists begin this arduous but rewarding 9-mile loop right at the park entrance. The ride has semi-hardpacked dirt roads with some soft dirt and sandy patches. Throughout the climb, riders will encounter roller-coaster hills. From the park entrance to the Environmental Center, hikers and cyclists are on parallel paths; once past the Environmental Center, the two share a trail.
Looking for an even tougher challenge? Continue on the trail past Ollason Peak to Simas Peak, 2,129 feet above sea level with sweeping views of the Salinas Valley and Monterey Bay.
9. Monterey Loop, Salinas Valley/Carmel Valley
(Intermediate-Expert) One of the most popular long routes for local cyclists is the Monterey loop through Salinas and Carmel Valleys. The scenic route, roughly 100 miles, starts at River Road in the Salinas area, where you will pass by 40 or 50 miles of prime Salinas Valley farmland. Riders then turn west on Arroyo Seco Road and follow it to Carmel Valley Road. As you go through Arroyo Seco and Carmel Valley, you will see an array of vineyards and cattle ranches. From here, riders can either head straight into Carmel or come over the Laureles Grade back to where you started.
This route is so popular, in fact, that it's been selected as the Gran Fondo Long Ride for the Sea Otter Classic. See the Sea Otter Classic website for more information and to register.
10. Highway 1 through Big Sur
(Expert) Experienced riders can choose the steep and treacherous ride down to Bixby Bridge and Big Sur from Carmel. Hundreds of riders each year cycle the steepest portions of Highway 1, which is both a State Scenic Highway and an All-American Road. It's been named one of the top road trips in America, and the breathtaking vistas are even better from a bicycle. Much like the Monterey Bay Coastal Recreation Trail and 17-Mile Drive, navigating this ride is easy - just keep the ocean on your right if you're heading south to Big Sur or Hearst Castle, and keep it on your left if you're heading north to Monterey. For the expert cyclist, Highway 1 through Big Sur may be the best ride you will ever take.
For more information on bicycling in Monterey County, visit our Biking page.