LARGE CONFERENCE FACILITIES
Click on the links below to learn more about the Monterey Conference Center and other unique large conference facilities to find the perfect venue for your event. If you need additional details on large conference venues in Monterey County please contact the Monterey County CVB Sales Team today at Sales@seemonterey.com or 831-657-6426.
Set on the spectacular central California coast and offering breathtaking and intimate settings for any event, from conferences and tradeshows to meetings and special occasions.
-41,000 sq ft of space
-19,150 sq ft exhibit hall
-Partners with three hotels for 70,000 sq ft and over 700 sleeping rooms
A gathering place for cultural enrichment through the performing and visual arts and educational programs containing a theater, numerous studios and breakout rooms.
-Theater with seating for over 700 people
-1,500 sq ft lobby
-Four newly renovated meeting rooms for multiple breakout options
-8,000 sq ft outdoor courtyard with capacity for 300 people
A dynamic multi-use event center situated on 22 beautiful oak-studded acres, a perfect venue for concerts, festivals, conventions, trade shows, car shows, animal shows, weddings, birthday parties, reunions and more.
-32,000 sq ft of flexible space
-2 outdoor concert arenas and other outdoor sites
-7 banquet rooms, largest with 7,000 sq ft of space
A multipurpose arena including a box office, twelve concession stands, grandstands, locker rooms and staging areas with total capacity of 17,000 people and 1,200 cars.
-10,000 sq ft Exhibition Mall including four concession stands, rest room facilities and a prep kitchen
-3,000 sq ft Rodeo Room including a small stage, antique bar, dance floor and a prep kitchen
-Turf surface from August-April, and dirt surface from May-July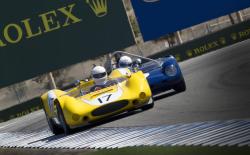 Laguna Seca Raceway is a highly sought-after facility by car and motorcycle clubs, driving programs, automobile companies, and not to mention major racing series who annually compete here. The track also plays host to several meeting meeting spaces.
-5760 sq ft of space
-Theater seating for over 700 people
-Banquet space for 520 people