Bring Home A Taste of Monterey Wine Country
Looking to experience the romance, charm and inspiration of Monterey County this Valentine's day? Book a few nights at one of our world class hotels and B&B's and plan a trip around wine country to sip and savor the award-winning wines with your valentine. If a trip isn't quite within reach this year, don't fret. You can still experience the magic of Monterey Wine Country from home this Valentine's Day with some amazing specials that will be shipped right to your front door. So whether you're here in person, or experiencing the destination from home, our wineries are still aiming to provide you with the best-in-class hospitality we're known for!
Wrath Wines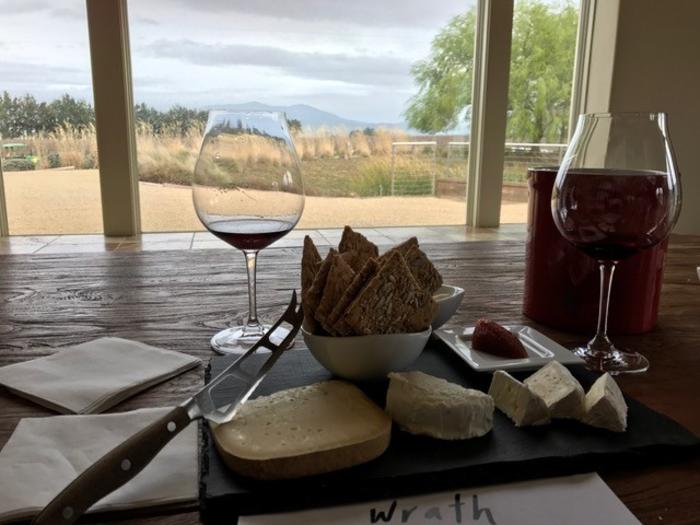 Wrath Wines produces award-winning Pinot Noir, Chardonnay, Syrah, and Sauvignon Blanc from their estate vineyard and respected properties in the Santa Lucia Highlands. While their production is small, their wines are mighty! Distribution is limited making these coveted wines extra special.
Valentine's Day Special
1 bottle each of 2019 EX Unoaked Chardonnay - new release and 2018 EX Pinot Noir - pre-release - Regularly $48. Special, $36.
Gift Wrap available. Visit Wrath Wines or call 831.678.2212                                           
Comanche Cellars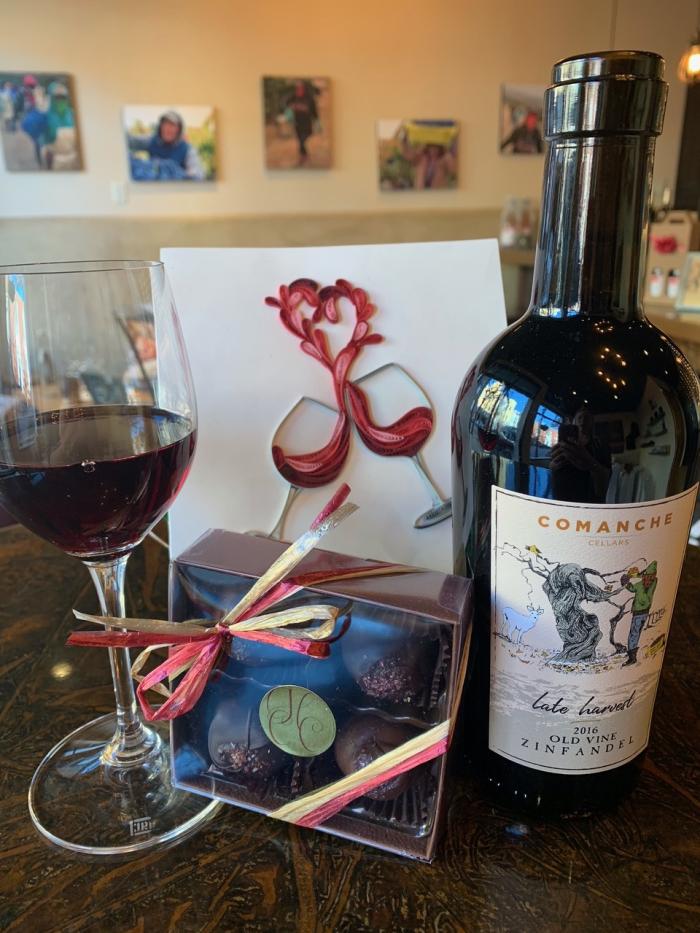 One visit to this small winery, and you'll be able to experience the incredible wealth of vineyards found throughout Monterey County. From the Santa Lucia Highlands, Arroyo Seco, and San Antonio Valley all the way to the Santa Cruz Mountains.
Valentine's Day Special
Sparkling Rosé Pet Nat & 4 pack chocolates, $40
Late Harvest Zinfandel & 4 pack chocolates, $35
Visit Comanche Cellars to place your order.
Bernardus Winery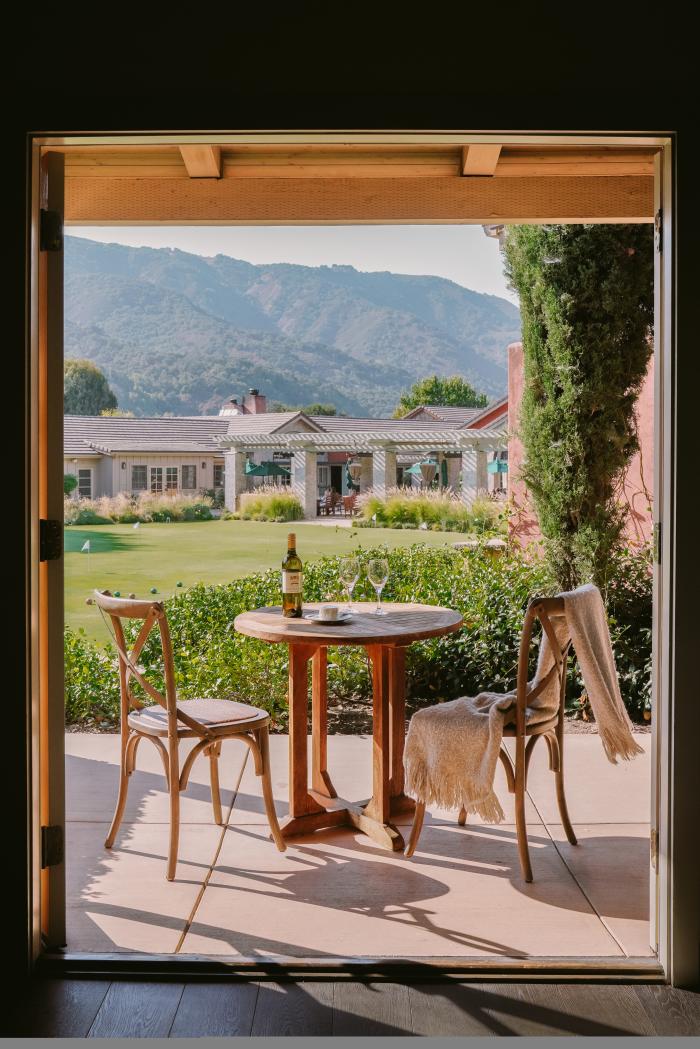 Credit: Bon Traveler
The focus of Bernardus Vineyards and Winery is to create wines that flatter the palate and stimulate the imagination. Founder Ben Pon appreciated wine as an art - a form of art that transcends the ordinary. His dream with Bernardus was to make a red wine equal to the finest from Bordeaux.
Valentine's Day Special
Package 1 - Regularly $73.00 Special $36.99
2018 Monterey County Chardonnay
2018 Santa Lucia Highlands Pinot Noir
Package 2 - Regularly $130.00, Special $64.99
2018 Single Vineyard Chardonnay 2018 Ingrid's Chardonnay
2018 Single Vineyard Pinot Noir 2018 Ingrid's Pinot Noir
Visit Bernardus Wines to order.                                    
KORi Wines
KORi Wines was started by Santa Lucia Highlands grape/citrus grower Kirk Williams & his step-daughter Kori Violini. Kirk planted the first vines in 1998. in 2007 they launched the initial KORi Wines Pinot Noir from the KW Ranch Vineyard and Sabrine Rodems has been winemaker since 2010. In 2018, with much enthusiasm, they began the endeavor to open a tasting room in Carmel-by-the-Sea and offer a full assortment of wines including Sauvingon Blanc, Syrah, rosé, Cabernet Sauvignon, sparkling blanc de blancs and of course, Pinot Noir.
Valentine's Day Special
2 bottles of 2019 Rosé and 1 bottle of Blanc de Blancs - Regularly $93. Special $75
Contact KORi Wines to place your order.                        
Shale Canyon Wines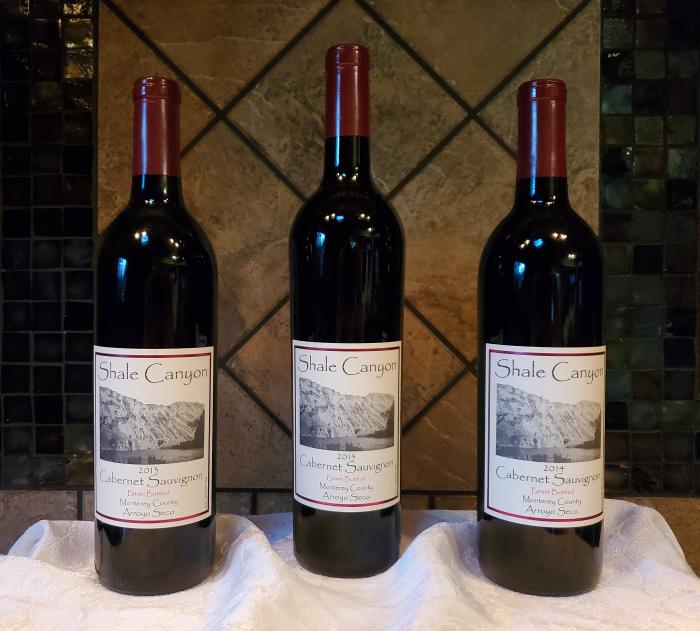 Shale Canyon Wines started vinting small lots of hand-crafted varietals in 2008 with a focus on100% varietal wines such as Chardonnay, Syrah, Cabernet Sauvignon, Merlot, Cabernet Franc, Petite Sirah and Zinfandel. Estate fruit is hand harvested and fermented in small batches.
Valentine's Day Special
3-pak, one of each: 2013, 2014, 2015 Cabernet vintages. Regularly $105. Special $80.
 Contact Shale Canyon Wines to place your order.
Windy Oaks Estate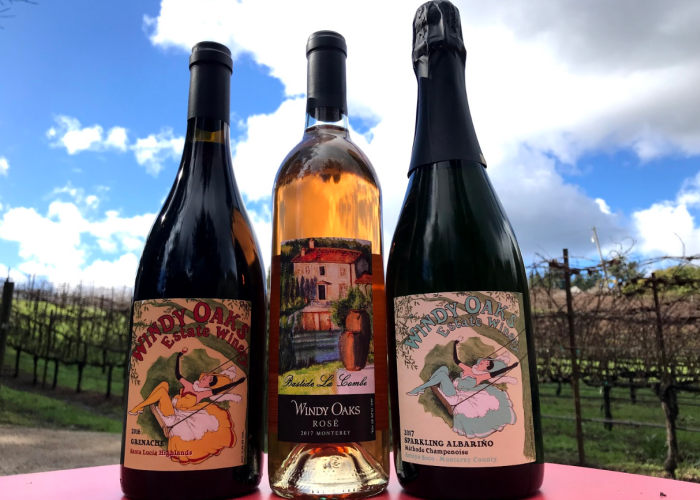 If you like pinot noirs that are unfiltered and unfined, then Windy Oaks Estate is the place for you! Because pinot noir is such a delicate grape, Windy Oaks does not use pumps; instead they use 100% gravity during harvest, crush, press, and bottling, to preserve the subtle nuances of the wine.
Valentine's Day Special
3-pak, one of each: 2017 SPARKLING ALBARIÑO brut mèthode champenoise, 2016 Santa Lucia Highlands GRENACHE and 2017 'Bastide la Combe' ROSÉ - Regularly $93 Special $75.
Contact Windy Oak Estate to place your order.
Holman Ranch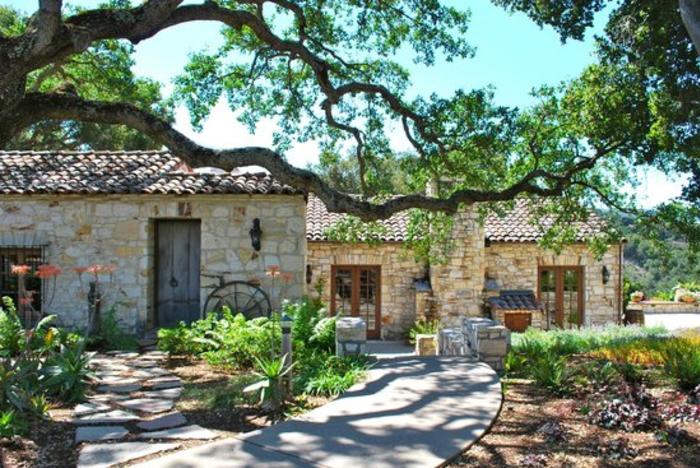 Holman Ranch Vineyards and Tasting Room is the only 100% estate vineyard and winery in Carmel Valley. Their wines are hand-crafted in wine caves and bottled on-site.
Valentine's Day Special
2016 Jarman Sparkling Brut Rosé. Includes Chambongs and 3 macaroons. Special $25
2016 Sparkling, 4 Chambongs, and 12 macaroons, ideal for a larger group. Special $150
Contact Holman Ranch to place your order.
Big Sur Vineyards
Big Sur Vineyards is known for its limited production, hand-crafted Monterey County wines. Since the beginning, winery owner Lenora Carey has been inspired by the wines produced in the Southern Rhône region of France, as well as the classic Burgundian varietals Chardonnay and Pinot Noir that do so well here on the Central Coast.
If you're able to visit in person on Valentine's Day, be sure to check out their wine, food and live outdoor music provided by Tom Faia & Kate Miller play from 4pm to 7pm. Reservations suggested. Call 415-686-4550 or contact lenora@bigsurvineyards.
Valentine's Day Special
A glass of Sparkling Rose or a flight of six wines with a plate of sweet and savory treats. $25
Scheid Vineyards
Scheid Vineyards is located off Highway 101 between Greenfield and King City. They also have a tasting room in Carmel-by-the-Sea. Guests can enjoy our abundance of shaded and spacious outdoor patios while enjoying lawn games and more. Reservations are recommended and limited walk-in space is available.
Valentine's Day Special
Cylinder vase with a dozen long stem red roses and a bottle of 2015 Isabelle - $140 Value, Special $89
Order by Sunday February 7. Pick-up/Limited delivery available February 12-14.
Contact the Greenfield Tasting Room at 831-386-0316.