Top 5 Places to Spot Sea Otters in Monterey
If there is one furry animal that Monterey Bay is most known for, it is the sea otter. The climate and rocky shores along Monterey County's coastline are ideal for these critters, and the bountiful kelp forests are full of all of their favorite snacks. Here's our list of the top five places to spot Monterey County's favorite mascot.
1. Moss Landing
Moss Landing State Beach and the Elkhorn Slough in Moss Landing are almost always a sure bet to see these cuddly creatures. There is a protected cove in particular near the dunes on Moss Landing State Beach, where you can often find groups of bachelor otters huddled together in "rafts." A raft is a group of single sex sea otters, and they typically contain 2 to 100 of the furry little creatures! Otters in rafts often sleep side-by-side, wrapped up in strands of kelp, so that they don't drift far from each other.
The best place to encounter a sea otter in its natural habitat is out on the water! Rent a kayak or take an Elkhorn Slough Safari tour to observe these marvelous animals in action. You will most likely see more than one!

2. Fisherman's Wharf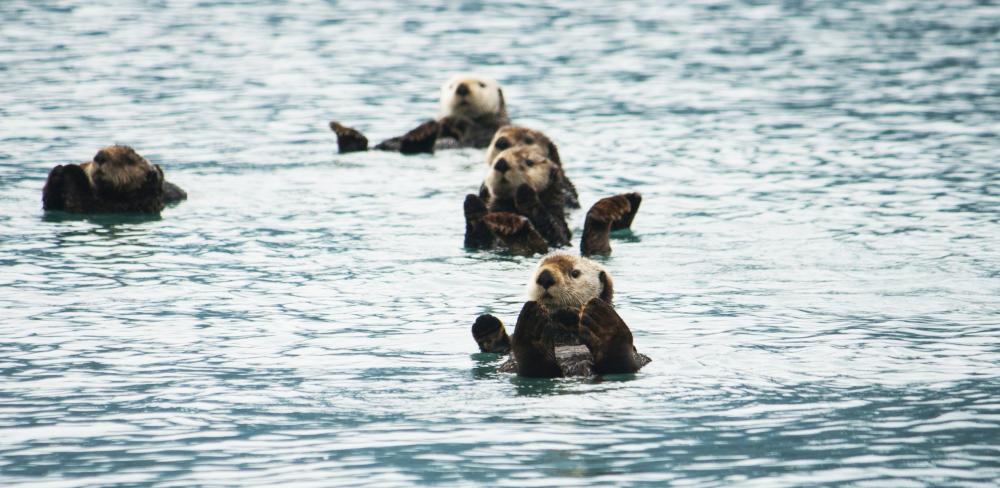 Dine at one of the fabulous seafood restaurants along Old Fisherman's Wharf, and you might just spot an otter or two swimming beneath you. Sea otters also find this area as a great place to socialize, play and feed on fresh seafood, including clams, mussels, crab, squid, and urchins.
Visitors can also catch a glass bottom boat or whale watching tour from the wharf for an ocean excursion where sea otter sightings are always a possibility.
3. Cannery Row
Take a walk along the Monterey Bay Coastal Recreation Trail from Fisherman's Wharf to Cannery Row and keep your eyes open for sea otters twisting and turning near the shoreline; this is also a hot spot for lazy harbor seals.
Further down Cannery Row is A Taste of Monterey. This place offers incredible views of the Monterey Bay, and most of the time, you get to catch a glimpse of an otter in the ocean below; if not, the Monterey Bay Aquarium just down the street is a sure bet! 
4. Lovers Point Park and Beach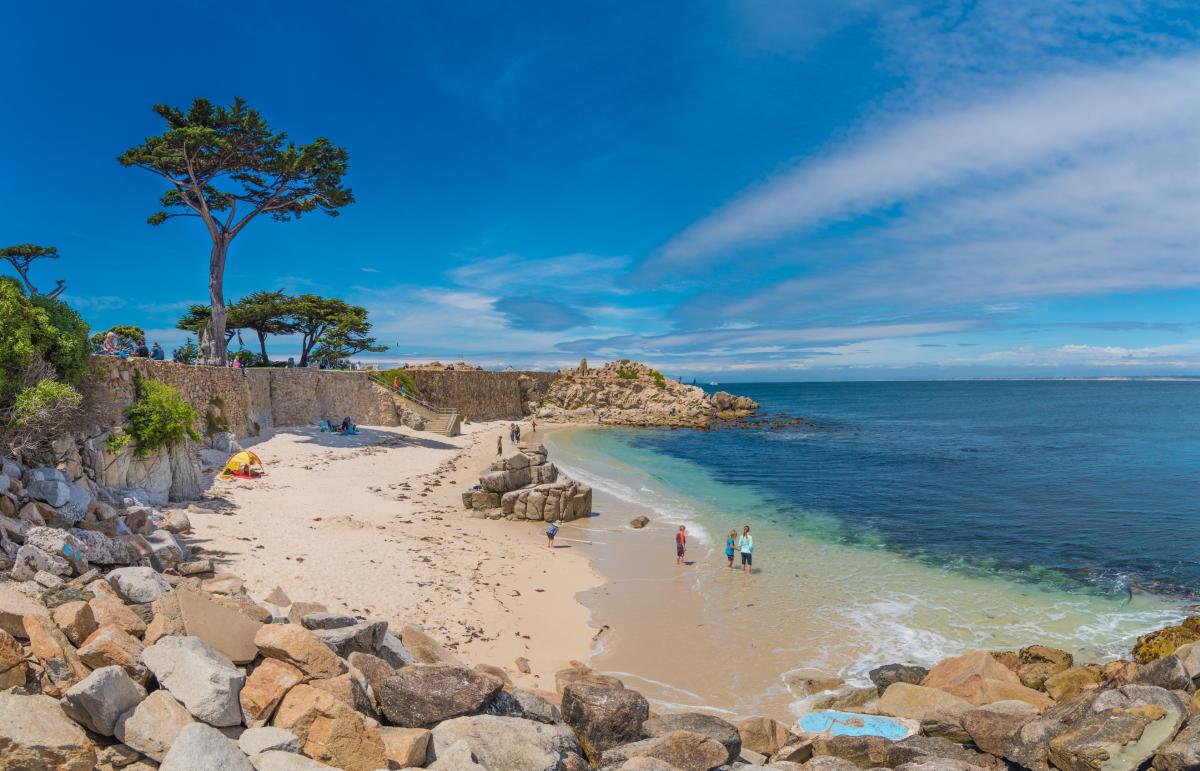 Just a mile down from the Monterey Bay Aquarium is Lovers Point Park in Pacific Grove. Not only is this a great place for a picnic, but it's also a fun stop to check out some wildlife. The protected cove is loaded with kelp which otters love to roll up into while they use their tummies as plates while they eat.
Want to get a closer look? Rent a kayak or stand up paddle board from Adventures by the Sea at Lovers Point and search for otters, seals, and other marine animals. But please keep your distance and respect their space.
5. Point Lobos State Reserve
Further south from Lovers Point is Point Lobos State Reserve in Carmel. This animal sanctuary is a great place for hiking, scuba diving, birding and spotting sea otters, of course. You can often see them bobbing around near the rocky shores and protected coves. Be sure to check out Sand Hill Cove, Whalers Cove, and Cypress Cove in particular.

Bonus! Monterey Bay Aquarium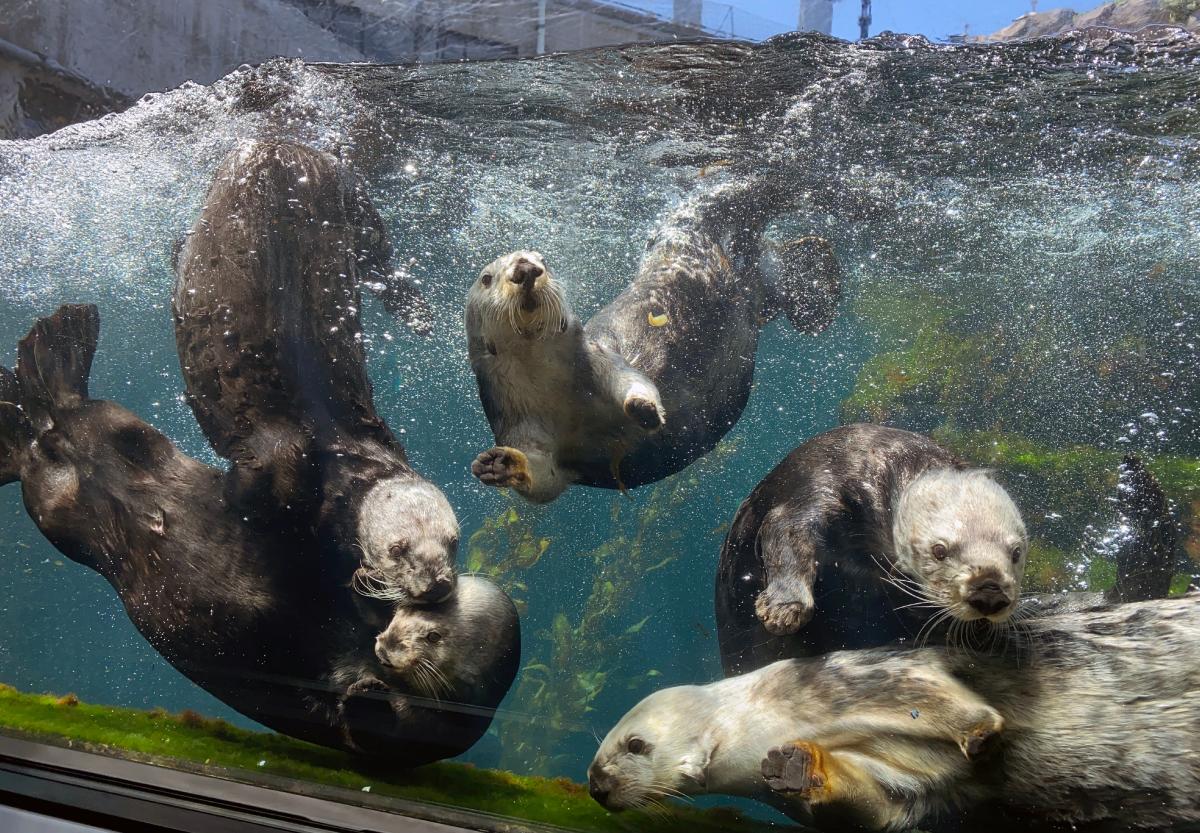 If all else fails, you can always stop in at the Monterey Bay Aquarium where you are guaranteed to see a handful of friendly sea otters. The two-story exhibit shows sea otters romp, tumble and wrestle above and below water. Be sure to check the daily schedule beforehand to view the sea otter feeding times held at various times throughout the day. Review Sea Otter Cam at the Monterey Bay Aquarium. 
Enjoy the marine wildlife that call Monterey Bay home but remember to leave in your wake no trace that you were there, not even a moment of unnecessary swimming or stress. Learn why sea otters are sensitive to human disturbance and how you can help prevent it: www.seaottersavvy.org.
By continuing to browse this site you permit us and our partners to place identification cookies on your browser and agree to our use of cookies for marketing. To learn more view our Privacy Policy