Sailing in Monterey
Whether you are looking for a short sail out on the bay, a romantic sunset cruise, a private charter or sailing lessons, you can do it all on Monterey Bay. The prevailing northwest winds on the bay make conditions ideal for sailing almost every day.
Sail Monterey is the only sailing cruise provider that departs daily from the Old Fisherman's Wharf in Monterey  One or two hours of sailing is a great way to see the Monterey Bay from the water. Before even leaving the harbor, you are likely to see Southern Sea Otters, Harbor Seals and California Sea Lions. The lucky sailor might even encounter a few Humpback whales and some Rizzo or Common Dolphins. 
Those looking for a private or romantic experience can book a private charter and/or a sunset cruise. Take in some spectacular views of the bay complimented with an array of colors on either a public or private sunset cruise. Private charters are an option for those looking for an exclusive experience.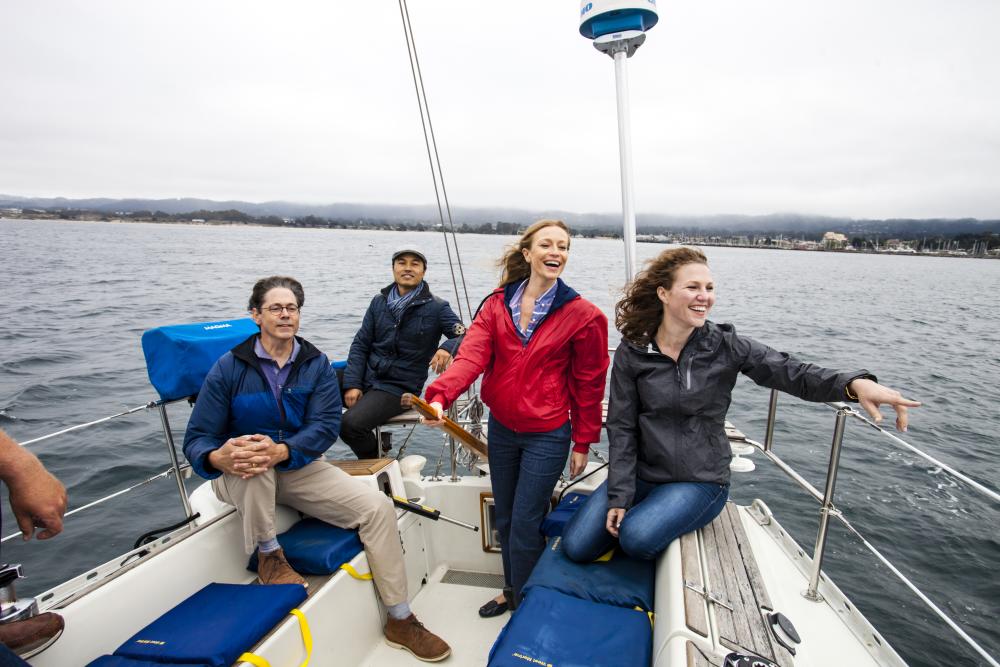 Sailing Providers
Tips from the Captain:
Dress warm. The experienced captains at Sail Monterey suggest wearing three layers of clothing. It may be warm on the wharf but once the wind picks up on the Bay you may need the extra coverage.
Wear flat, rubber-soled shoes. Sailing can be slippery, especially when keeling.
Bring sunglasses. The sun's glare on the ocean can be intense. Bring some shades to avoid the squint.
Be prepared to feel some spray. It doesn't always happen, but one should be prepared to feel a little ocean mist.
Take ginger candy. If you are prone to motion sickness be sure to have ginger candy on hand. These tasty chews can ease almost any unsettled stomach.
Want To Be Your Own Captain?
Sail Monterey teaches casual sailing lessons as well as ASA certified courses. If you are simply curious about how a sail boat works, try the introduction to sailing class. Classes can even be tailored to focus on your interests and needs.
Have your own sailboat? Sailors with their own vessels should contact the Monterey Harbormaster at 831-594-7760 or visit their office at Del Monte and Figueroa in Monterey.
78 Fisherman's Wharf #1, Monterey, CA 93940
Sail Monterey is the ideal destination for all things sailing.…
By continuing to browse this site you permit us and our partners to place identification cookies on your browser and agree to our use of cookies for marketing. To learn more view our Privacy Policy