Beautiful Monterey County
TOP 10 SNAPSHOT SPOTS
Everywhere you look, there's another breathtaking vista in Monterey County, but there's several specific spots that provide iconic images of the region. Here's our list of the top ten spots that amateur and professional photographers return to for photographs that are quintessentially Monterey. View them on a map of Monterey County here.
1. Bixby Bridge
Bixby Bridge, Big Sur by cseel02, from Flickr.
This bridge is arguably the most iconic spot in Central California. It's featured in the film "Play Misty For Me" as well as numerous automobile commercials, it's the subject of a song by Death Cab for Cutie and as of this year, it even has its own postage stamp.
Most visitors stop in the pull-off on the west side of Highway One just north of the bridge to capture their take-home Bixby Bridge shot, but local photographer Michael Troutman of DMT Imaging says there's a much better spot. The Old Coast Road, a well-maintained dirt road that forks off from Highway One just north of the highway, "has a very dramatic view looking back toward Bixby Bridge," he said.
For that perfect Bixby Bridge shot, visitors only need to drive a half-mile down, but Troutman says there's many more great photo opportunities along the rest of the Old Coast Road, which reconnects with Highway One 10.5 miles south at Andrew Molera State Park. It goes "through a redwood forest, over the tops of hills with sweeping views of the ocean and through wonderful wilderness areas," Troutman said excitedly. "My wife and I saw a lynx when we were last there, very close to us, and I managed to photograph it," he added.
2. The Lone Cypress
Lone Cypress Sunset by bridgepix, from Flickr.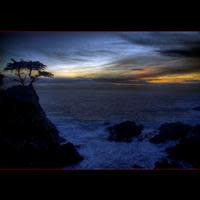 As the symbol of the Pebble Beach Company, the Lone Cypress is an evocative image for golfers. It's also the most photographed tree in the world, and Troutman and photographer Rachael Short agree it's one of the area's top snapshot spots.
For an iconic shot of the Lone Cypress, says Troutman, take your photo "when the sun is setting over the ocean and the tree is beautifully back-lit." If Monterey Bay's occasional evening fog gets in the way, Troutman offers a backup plan. "Practically across the street is the Ghost Tree," he says. This tree, as well as the surrounding cypress trees, "are really spooky when foggy," he says.
3. Fisherman's Wharf
Fisherman's Wharf, Monterey by Michelle Kaplow, from Flickr.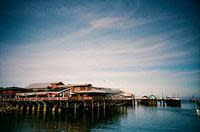 Photographer Rachael Short lists Fisherman's Wharf among her top iconic snapshot spots in Monterey.
This wharf, established in 1870, is crowded with both tourists and locals most of the day, offering the opportunity for great crowd shots. For people-free photos, visit Fisherman's Wharf around 7am, while the crowds are still asleep or eating breakfast.
4. The Carmel Mission
Mission Carmel by Tracy Balcius, from Flickr.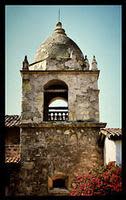 San Carlos Borromeo de Carmelo Mission, known popularly as the Carmel Mission, is the second California mission. Stepping onto the mission grounds is like traveling back in time. The flower gardens are almost as breathtaking as the building.
"The best angles for the Carmel Mission are out to the right of the mission, facing the Carmel Mountains," says Short. She also recommends shooting inside the Carmel Mission, but bring your tripod. "It's pretty dark in there," Short laughs.
5. The Drifters Gallery at the Monterey Bay Aquarium
Monterey Aquarium by Another Man of Kent, from Flickr.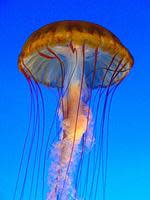 The bright blue background of the tanks and the graceful movements of the jellies (also known as jellyfish) make tourists reach for their cameras.
Because the room is dark, many amateur photographers turn their flash on, thinking they'll get a better photo. In fact, according to the Monterey Bay Aquarium's photo tips, you'll get the brightest and most breathtaking photos if you turn your flash off. Take a few steps back to capture the silhouettes of visitors watching the jellies framed by the jellyfish tank for an especially intriguing photo.
6. High Peaks, Pinnacles National Park
Pinnacles by Sarah Crews, from Flickr.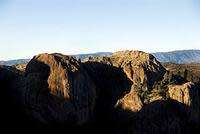 Pinnacles National Park, with its unique jagged rocks, offers many opportunities for great photographs. "It's like a little taste of Utah right here in our backyard, with beautiful wilderness, lots of wildlife, and dramatic and unusual rock formations, Troutman says, adding "there's something for everyone photographically."
Troutman's favorite is the High Peaks area, which, he says, "has sweeping views, dramatic rock formations and California condors and is a wonderful workout with great rewards at the top."
7. The sea lion pier in Moss Landing
Sea Lion @ Moss Landing by Barbara Rawson, from Flickr.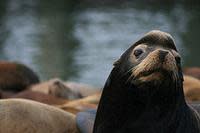 Hands-down, the best place in Monterey County to spot sea lions is at the mouth of Elkhorn Slough in Moss Landing. In 2007, Moss Landing built a dock for visitors, and local sea lions promptly claimed it as their own. The sea lions frequently jostle and wrestle for position, slipping on and off the pier, all of which makes for great photos.
Troutman's tip: try to focus on just a few. If you move back to get every single sea lion in frame, Troutman says, "it's just a bunch of brown blobs on the dock." Troutman recommends that photographers use a telephoto lens or a good zoom lens to get a close-up shot.
8. McWay Falls
Hello from Big Sur California by Rachel Kramer, from Flickr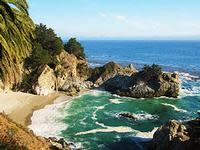 This 80-foot waterfall at Julia Pfeiffer Burns State Park on the Big Sur Coast is both stunning and easily reached, a combination that makes it a popular spot to photograph. McWay Falls tumbles down to a beautiful, serene cove from the cliffs above. When the tide is high, the tumbling water falls directly into the ocean.
Visit it in "early morning or late afternoon" if you want "the best light there," says Short, "and mornings are less crowded if you want it to yourself." From the parking lot, it's a one-third mile stroll along a very flat trail and under Highway One to reach the McWay Falls overlook. "The best view," says Short, is "at the north end of the path."
9. Point Pinos
The Los Pinos Lighthouse by Vicki Rogers, from Flickr.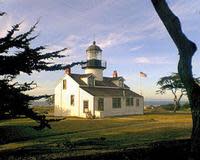 Point Pinos Lighthouse is the oldest continually operating lighthouse on the West Coast, but part of what makes it such an alluring target for photographers is its setting. It's located on the beautiful Pacific Grove coastline, next to the scenic Pacific Grove Municipal Golf Links, surrounded by cypress trees. It's so scenic, in fact, that almost every photo taken of it looks postcard-worthy.
Troutman recommends taking photos of "the point itself, which has dramatic waves breaking over the rocks with voluminous spray." He adds, "It's one of the most dramatic places on the Peninsula."
10. Point Lobos
A Cove at Point Lobos by Mike Rainey, from Flickr.

"Point Lobos is a must-see," says Troutman. "There's so much there to photograph. Whether it's sunny or foggy one can always create interesting images." Troutman says.
He loves the "beautiful cypress trees and hidden coves with crystal water," but his pick for the iconic spot within the park is Whaler's Cove. "I go to Whaler's Cove every spring to photograph the baby harbor seals," he says, "which are hands-down the cutest things on Earth next to my grandchildren."
Show off your own great photos of Monterey County in our Flickr group, and someday you may have the chance to have your snapshot featured on our site!