The best way to experience the magic of the Monterey Bay is by exploring the blue waters of the Monterey Bay National Marine Sanctuary. From tides pools and coastal wetlands to kelp forests and a deep submarine canyon, the Monterey Bay National Marine Sanctuary – the largest protected ocean area in the continental United States - offers endless options to get above, in, under and near the water. 
Whale Watching
Gray whales and humpbacks and orcas, oh my! The Monterey Submarine Canyon, the ocean's answer to the Grand Canyon, provides a perfect habitat for many whale species, allowing them to come close to shore to feed. Whale watching is a year-round activity and along the Monterey coast whales can sometimes be seen offshore with the naked eye. Springtime is prime whale watching season due to the "upwelling" that occurs. Winds from the north force the deep cold water in the bay to "well" to the surface. This cold water is nutrient-rich and makes the entire ocean ecosystem bloom. From the itty bitty plankton all the way up the food chain to the largest animal on earth -  the great blue whale. Experience that magic for yourself on a whale watching charter. Whale watching outfitters offer multiple trips daily.
Deep Sea Fishing
Deep sea fishing charters depart daily, year-round from Old Fisherman's Wharf in Monterey. Depending on the current fishing season, visitors can try their luck at salmon, albacore, rockfish, lingcod and halibut. Fishing charters make deep sea fishing a breeze where you can rent full gear as well as purchase the required fishing licenses. After your day on the bay, have the deck hands clean your catch and take it over to Café Fina to have the chef cook it up for you, now that's fresh!
Scuba Diving
The unique beauty and abundance of wildlife in Monterey Bay attracts divers from around the world. You will want to pack your wet suit as water temperatures are typically a chilly 50 degrees Fahrenheit. Once underwater, you'll enjoy 10 to 30 feet of visibility. Popular dive spots include San Carlos Beach in Monterey, Lovers Point in Pacific Grove and Whalers Cove at Point Lobos State Natural Reserve.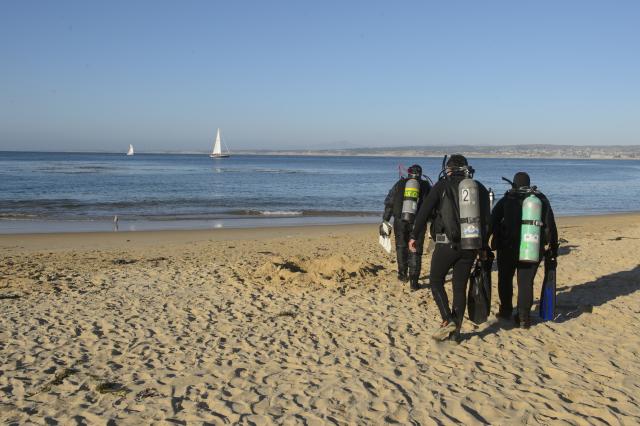 Kayaking
Kayaking on Monterey Bay or through Elkhorn Slough is a must for sea lovers. Here you are almost guaranteed to see adorable sea otters, barking sea lions, lazy harbors seals and migratory sea birds. Kayaking is a great activity for families with older children, active couples and adventurous groups of friends. Outfitters such as Adventures by the Sea, Kayak Connection and Monterey Bay Kayaks provide renters with proper gear including single or tandem kayaks, life jackets and outerwear as well as instruction. Make sure to avoid a #TravelFail by staying at least 150 feet away from marine mammals.
Stand Up Paddle Boarding
SUP or Stand Up Paddling is a peaceful way to explore the bay. Glide effortlessly on a large longboard built for stability. This trend combines surfing with canoe-style paddling in a stand up position, exercising the core and sense of balance. The Monterey Bay is perfect for beginners as it is a protected area with very calm waters. Adventures by the Sea and Monterey Bay Kayaks offer both rentals and lessons near Cannery Row and Lovers Point.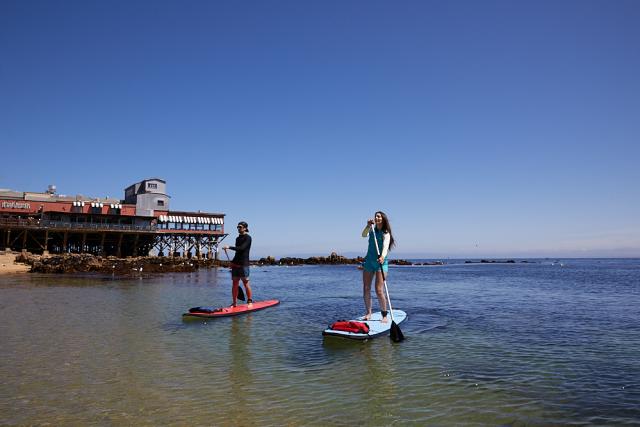 Sailing
Sailing is perfect activity should you want to relax out on the water, letting the crew do the work or take the lines into your own hands through sailing lessons or crew opportunities for the seasoned sailor. Several sailing providers depart from Old Fisherman's Wharf in Monterey, and many of them have cruises leaving daily throughout the year. One to two hours of sailing is a great way to see the Monterey Bay and its unique inhabitants, with the snap of the sail and the lap of the ocean as your only soundtrack. The lucky sailor might even encounter a few humpback whales, sea lions, orcas or even a school of dolphins. Take a tip from the captain and make sure to dress in layers, wear your sunscreen and bring sunglasses and a hat.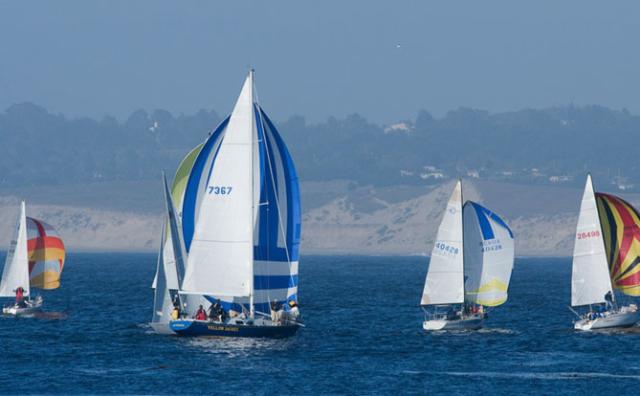 Tide Pooling
Experience some of nature's little wonders and sea life critters in one of the many tide pools along Monterey County's shoreline. The easy access invites kids and adults alike to explore the local wildlife including crabs, abalone, mussels, sea anemones and star fish; and if you are fortunate enough, you might even spot an elusive octopus.  Pacific Grove is a hot spot when it comes to tide pooling. The rocky beaches of Asilomar State Beach offer the perfect habitat for the ocean's intertidal creatures as do the jagged rocks near Lovers Point. Tide pooling is best done when the tides are low. Be safe and wear sturdy shoes that can grip onto the rocky shore as rocks can be slippery when wet and always keep your eye out for approaching waves. Most importantly, it is vital to protect and preserve the environment and remember, Monterey County has a strict "no take" policy on all tide pools.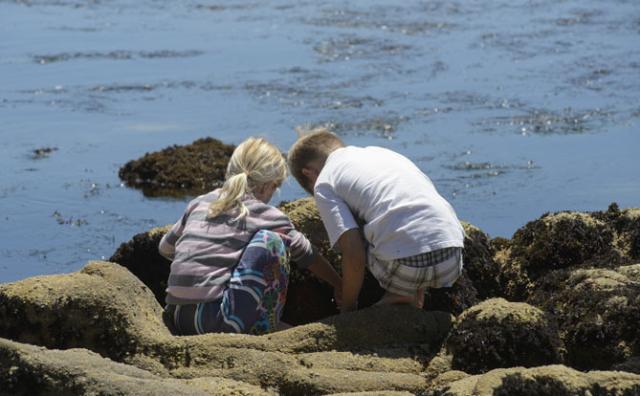 With so many fun ocean activities, you need more than a day to explore the awe-inspiring coastal waters of the Monterey Bay National Marine Sanctuary. So grab your sunscreen and get ready to grab life by the moments in Monterey County!