Carmel Mission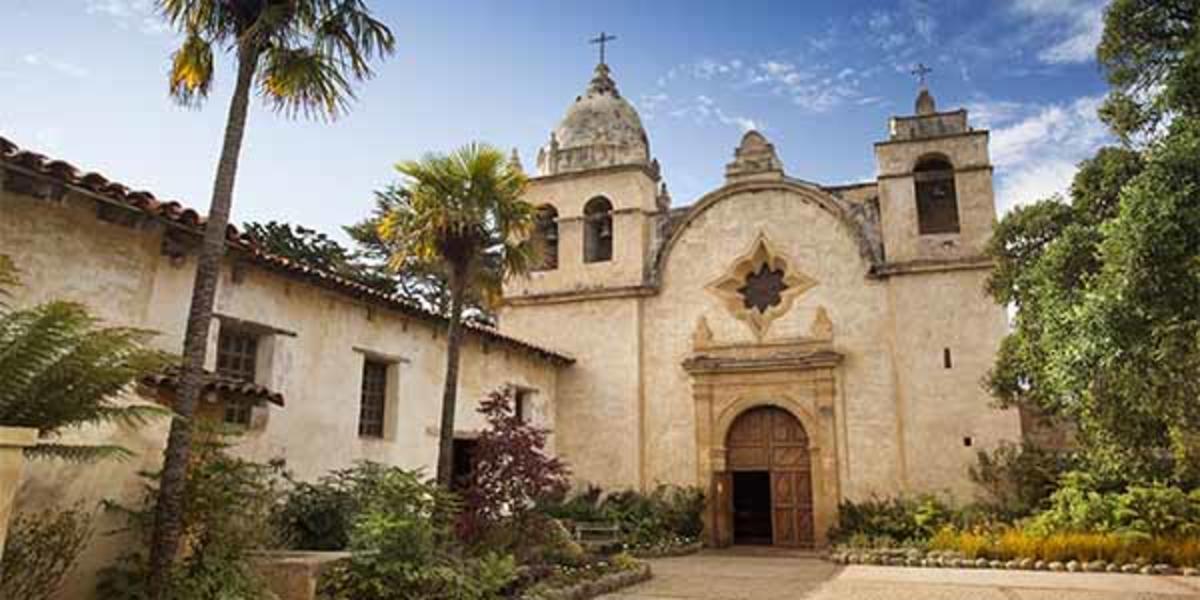 The Carmel Mission, also referred to as Carmel Mission Basilica, was founded by Fr. Junipero Serra in 1770, making it the second of the 21 California missions. Though Carmel Mission was founded in Monterey, it was quickly decided that Carmel-by-the-Sea was a more appropriate location for its purpose. The fledgling establishment was moved to the Rio Road site in 1771 and the Carmel mission was dedicated in 1797. Fr. Serra was buried within its grounds.
Carmel Mission is considered the most authentically restored Franciscan mission, and despite its many events and services, the Carmel Mission's courtyard and gardens are peaceful places to meditate or rest. Self-guided and docent-led tours are available; see the Carmel Mission website for more info. 
Carmel Mission Museum
Carmel Mission also has four museum galleries that give insight into the history of both the Monterey Peninsula and all of the California Missions. The Harry Downie Museum shows the history of the Carmel Mission's restoration. Mission San Carlos Borromeo's Munras Family Heritage Museum gives the history of one prominent family interwoven with the history of the Peninsula. The Jo Mora Chapel Gallery has ever-changing art exhibits, but its centerpiece is the Mora-sculpted Serra Memorial Cenotaph. The Convento Museum shows visitors what Carmel Mission was like during different eras through interpretive displays, and allows them to see the cell where Junipero Serra lived and died.
The museum is open Wednesday and Thursday from 10am to 4pm, Friday and Saturday from 10am to 5pm, and Sundays from 11:30am to 5pm. Admission to the grounds and mission is $10 for adults, $7 for seniors, $5 for children, and children under 6 are admitted for free. All funds go to mission restoration projects. The Museum is closed on Mondays and Tuesdays. Visit the Carmel Mission online store.
Place of  Worship
The Carmel Mission is still an active parish, providing worshippers many opportunities to attend Mass. Daily Masses are held Wednesdays & Fridays at 12pm in the Blessed Sacrament Chapel, Saturdays at 5:30pm, Sundays at 9am and 11am.
Carmel Mission Weddings
Couples wishing to marry within the Roman Catholic Church may hold their wedding at Carmel Mission. See the Carmel Mission website for more information.
Map and Directions
Carmel Mission is located at 3080 Rio Road, Carmel, California.
From Route 101: Take Route 68 to Route 1 South. Turn right on Rio Road. Follow for 6/10 of a mile. Carmel Mission will be on your left.
From Monterey and points north: Take Route 1 South to Rio Road. Turn right. Follow for 6/10 of a mile. Carmel Mission will be on your left.
From Big Sur and points south: Take Route 1 North to Rio Road. Turn left. Follow for 6/10 of a mile. Carmel Mission will be on your left.
By continuing to browse this site you permit us and our partners to place identification cookies on your browser and agree to our use of cookies for marketing. To learn more view our Privacy Policy