Camping in Monterey County
Anyone who has camped in Monterey County knows that every campsite in the region is enviable in one way or another. But there are a few specific campsites in the county that those in the know try to book over and over again.
Have an even better vacation in the great outdoors. Don't miss our article on Monterey County's Top 10 Day Hikes!
Alila Ventana Big Sur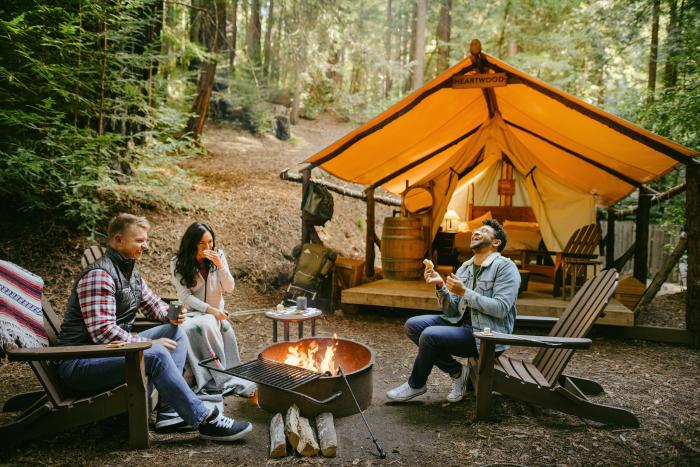 Alila Ventana Big Sur is a place amongst the redwoods where guests can nourish their mind, body, and soul. Alila Ventana Big Sur offers a glamping experience that includes tents, a wood-burning fire pit, instant hot and cold water, and more. This luxury camping experience is a way that guests are able to receive the full Big Sur experience.
Julia Pfeiffer Burns State Park, Big Sur
Sunset Magazine named the two sites at Julia Pfeiffer Burns State Park as one of the "best spots to pitch a tent on the coast." Bob Cole of California State Parks says these sites are "the best camping on the Big Sur coast, if not the best on the California coast." The two unimproved sites are perched above McWay Falls, and have breathtaking views. They are both tent-only sites, and campers must hike a half mile with their gear and supplies to get to their spot. Plan ahead if you want these sites; they are usually booked six months out.
Plaskett Creek Campground, south Big Sur, site 33
Plaskett Creek Campground is the sibling to Kirk Creek. It's located on the east side of Highway One, 5.5 miles south of Kirk Creek and directly across from Sand Dollar Beach and Jade Cove. The Monterey pines between the campground and the road provide a nice air of seclusion, great shade and a windbreak for the blowing ocean breeze. All of the sites are beautiful, but site 33, near Plaskett Creek, is set the furthest back from the highway and offers the most privacy.
Limekiln State Park, Big Sur, site 1
Recently reopened Limekiln State Park has a truly spectacular campground; sites are located within a redwood grove and alongside Limekiln Creek. Obtaining a site at this park requires serious effort; as reservations go quickly. If you are incredibly lucky, you'll score site 1, the most secluded site at Limekiln State Park's campgrounds. Set up your camp chair outside your tent or small RV and enjoy the breathtaking ocean views.
Veteran's Memorial Park, Monterey, site 35
Veteran's Memorial Park is Monterey's best-kept secret, a campground tucked into the forest only a mile from downtown Monterey. The campground perfectly combines scenic beauty and urban convenience. While Veteran's Memorial Park has a number of stellar campsites, one stands out as the best: site 35, which is the most isolated campsite. Camp at site 35 and you may feel like you've found your own private campground.
Lake San Antonio, south Monterey County, Harris Creek Campground, Loop E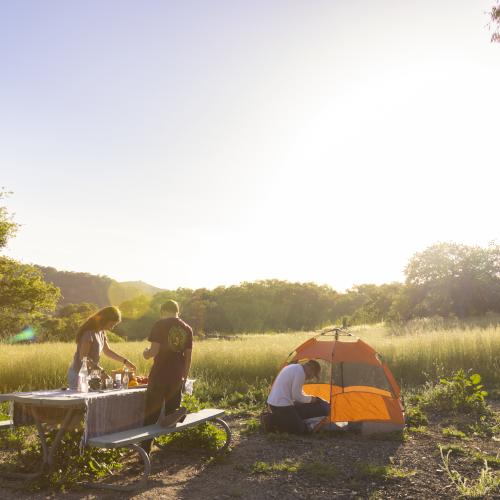 Lake San Antonio may be the most popular camping area for Monterey County residents. It has hundreds of campsites, and all have very different flavors. On the north shore of Lake San Antonio, visitors can camp right on the shoreline, a boon to those with boats. On the south shore, the campsites are further away from the water, but often more shaded. Harris Creek Campground wins some of the best reviews for its seclusion, tucked away where Harris Creek feeds into Lake San Antonio, its easy access to the lake, its views and the shade the trees provide. Within that campground, Loop E wins for the best combination of shade and proximity to the lake. Stay at the off season, and you may see bald eagles overhead.
Pfeiffer Big Sur State Park, Big Sur, site 218
Pfeiffer Big Sur State Park, nicknamed "Mini Yosemite," is the most popular camping destination in Monterey County. The Big Sur River Gorge is one of Pfeiffer Big Sur State Park's most popular attractions. Stay at site 218 and you'll practically be on top of it. Site 218 is also adjacent to the popular Big Sur River Gorge hiking trail. The partially shaded site allows campers up to 24 feet in length.
Fremont Peak State Park, northern Monterey County, site 14
Tucked into the northeast corner of Monterey County, Fremont Peak State Park has spectacular views that extend over several California counties, as well as an astronomical observatory that is open to the public once a month. The sites are very rustic, but if you enjoy roughing it, you'll be rewarded with views from Santa Cruz to Carmel and beyond during the day and the Milky Way bright above you at night. On moonless Saturday nights, hike over to the Observatory to watch the stars. Visitors who like camping and stargazing compete to stay at site 14. It's one of the few campsites that is first-come, first-served, and is said by astronomy buffs to be the best spot to set up your telescope.
Laguna Seca Recreation Area, Salinas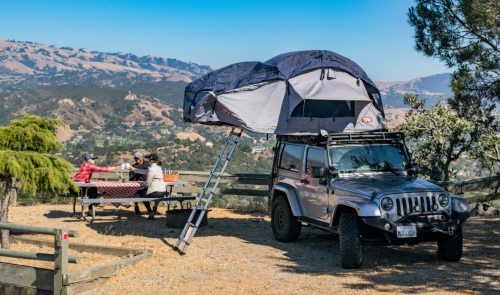 Photo Credit: WeatherTech Raceway Laguna Seca
Laguna Seca Recreation Area , Salinas Laguna Seca Recreation Area has a number of campsites with stunning views of the world-renowned WeatherTech Raceway Laguna Seca. Among the perennial favorites are site 113, which has the best view of the tricky Turn 6 and the hill leading up to the iconic Corkscrew series of turns. But for pure relaxation, site 145 has it all. It has a spectacular view of the peaceful Salinas Valley. These sites are appreciated by both motorsports enthusiasts, as well as hikers and runners who enjoy convenient access to the neighboring Fort Ord National Monument.
Kirk Creek Campground, south Big Sur, site 22
Kirk Creek Campground, four miles south of Lucia on the west side of Highway One, feels like it's perched on the edge of the world. The campground is sited on a bluff overlooking the ocean, next to the creek from which it takes its name. One trail leads down to the beach; both Jade Cove and Sand Dollar Beach are only a short drive away. There's also a trail across Highway One that goes up into the redwoods. Though all the sites are fantastic, site 22, which allows RVs up to 39 feet, is slightly more secluded and right on the edge of the cliff. Don't be surprised if you spot migrating whales in the ocean.
By continuing to browse this site you permit us and our partners to place identification cookies on your browser and agree to our use of cookies for marketing. To learn more view our Privacy Policy