Getting to Monterey
Whether you prefer planes, trains, or automobiles, it's easy to get to Monterey County. With daily service from San Francisco, Los Angeles, San Diego, Las Vegas, Denver, Dallas, Orange County, Seattle and Phoenix, Monterey Regional Airport (MRY) has reach to over 95 domestic and international destinations with just one connection.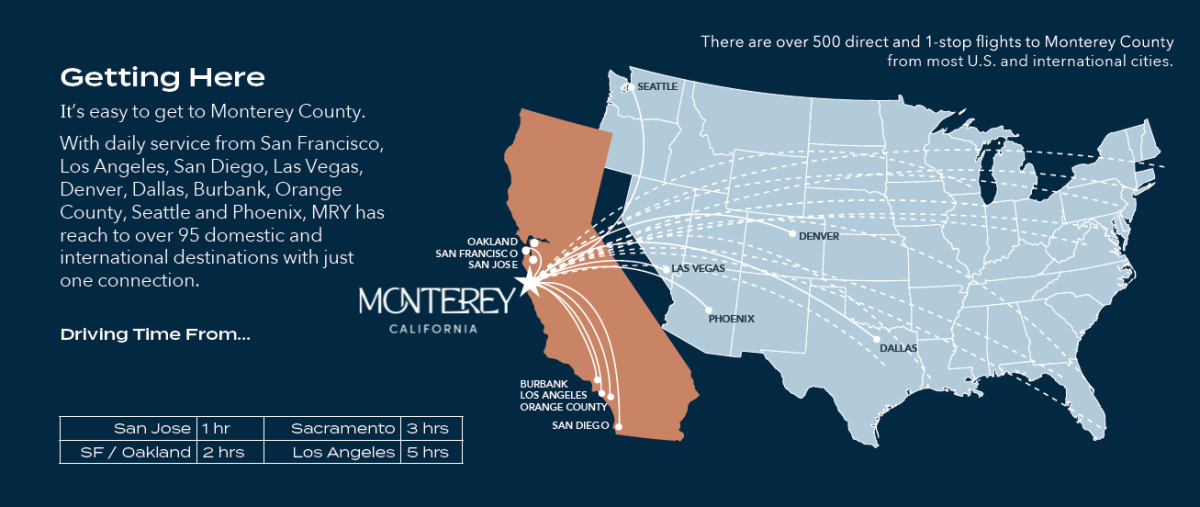 Carriers Flying Directly into Monterey County
Driving Time From...

Alaska Airlines
Allegiant Air
American Airlines
JSX
United Airlines

San Jose: 1 hr
San Francisco: 2 hrs
Oakland: 2 hrs
Sacramento: 3 hrs
Los Angeles: 5 hrs
Flying to Monterey County
Monterey Regional Airport (MRY) is located just 10 minutes from downtown Monterey, 15 minutes from Carmel-by-the-Sea, 25 minutes from downtown Salinas and 45 minutes from Big Sur.
New non-stop flights now include Seattle (SEA). Charter and private flights are also available.
Groome Transportation and Main Event Transportation offer convenient door-to-door service to and from SFO and SJC.
Monterey County by Car
There are two routes to Monterey by car, both very scenic. Highway 1 which runs from San Francisco to Los Angeles, offers breathtaking views of the Pacific coastline. Highway 101 runs down the valley corridor and affords the motorist an opportunity to see the rich land that has made the Salinas Valley "the Salad Bowl of the World." 
Bus or Train in Monterey County
Amtrak's Coast Stairlight Train cruises through Salinas each day on its route between Seattle, Washington and Los Angeles, providing a leisurely and scenic way to travel with packages to fit every budget. It's a great way to see the grandeur of the Central Coast at eye level. Free bus service is provided from Salinas to downtown Monterey, a 30-minute ride. There is also a Greyhound station in Salinas with connecting service to Monterey.
Traveling to Monterey to enjoy all the natural beauty here is easy, but no matter which mode of transportation you use – plane, train or automobile – it creates extra carbon emissions. We are now offering an opportunity to offset those emissions through a local, award-winning non-profit, The Offset Project. Learn how to offset your trip here.
By continuing to browse this site you permit us and our partners to place identification cookies on your browser and agree to our use of cookies for marketing. To learn more view our Privacy Policy