California Rodeo Salinas
July 20-23, 2023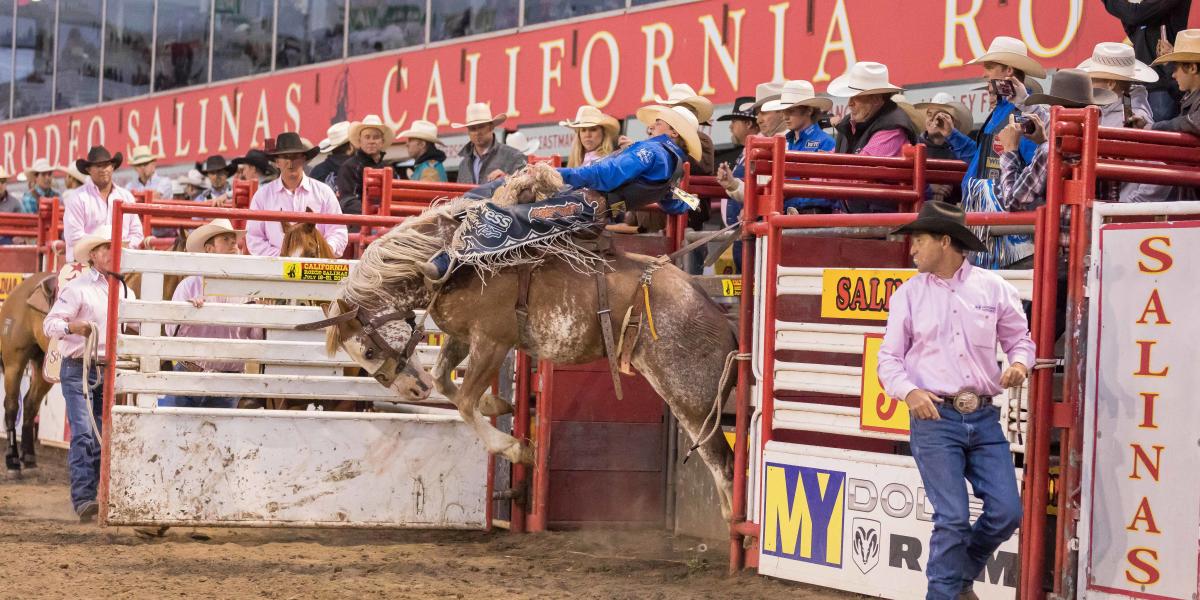 Salinas is READY TO RODEO! Speaking of rodEEo, here in Salinas it is pronounced roDAYo....that is a nod to the Spanish ranchero heritage of California. 'Rodear' in Spanish means to round up and that is how the Californai RoDAYo Salinas originated.  
The California Rodeo Salinas at the Salinas Sports Complex is a 112 year old tradition in Monterey County, which consists of professional rodeo events like team roping, steer wrestling, bull riding, barrel racing and more as well as shopping, food (don't miss the churros!) and entertainment like DUDE, the mascot, western performers, a kids corral and freestyle bullfights. If that isnʻt exciting enough, there are two night performances that end with a finale of fireworks. There are also two matinee performances to attend while enjoying the nice Central Coast weather in July.
If you've never been to a rodeo, this is the one to make - it's the largest in California and #10 in the United States out of 600 professional rodeos.
Fans can follow @CaRodeoSalinas on Facebook and Instagram for up to date information about upcoming events; or they can visit the official California Rodeo Salinas website. for a full event line up, links to buy tickets, event descriptions and more.
History
An outgrowth of the Spanish ranchero days when the semi-wild herds of cattle were gathered for branding, ear-marking and castration, the word rodear is Spanish for "round-up." Inspired by the San Juan Bautista Fiesta and Rodeo, cattlemen from Salinas decided in 1908 that Monterey County should have a similar event. In 1911, the California Rodeo Salinas, initially named the Wild West Show, was born.
The California Rodeo Salinas became known throughout the country. Throughout its history, it attracted famous cinematic cowboys like Will Rogers, who became an honorary director of the event; Gene Autry, who shot scenes for one of his early films at the California Rodeo Salinas; Richard Boone, star of Have Gun Will Travel; Amanda Blake of Gunsmoke fame; and a young up-and-comer named Clint Eastwood, star of the TV series Rawhide.
California Rodeo Salinas Events
Today, the California Rodeo Salinas is the largest rodeo in the state. It features three roughstock events (bareback riding, saddle bronc riding and bull riding) and three timed events (tie-down roping, steer wrestling and team roping), all PRCA-sanctioned. Between the events, trick riders and animal acts keep the audience entertained. In addition to these traditional events, visitors to the California Rodeo Salinas can watch freestyle bull fighting, barrel racing, women's breakaway roping, the raucous Industrial Calf Dressing competition, and more.
Rodeo Tickets
To purchase tickets and for more information, please visit the official California Rodeo Salinas website. Tickets are affordable and the gates at the Salinas Sports Complex open early so you can make a full night or day of it and enjoy all the attractions that surround the California Rodeo Salinas.
California Rodeo Salinas Hotels
Several hotels in Salinas, Marina and Monterey are all within a short distance to the event.
About the Author
Mandy Linquist has worked as the Marketing Manager of the California Rodeo Salinas for 14 years. She graduated from California Polytechnic State University in San Luis Obispo with a Bachelor of Science in Agricultural Business, a minor in Wine & Viticulture and a Master of Science in Agriculture. A Salinas native, she grew up attending the Rodeo each July and loves working for an organization that gives back so much and is such an important part of the community.
By continuing to browse this site you permit us and our partners to place identification cookies on your browser and agree to our use of cookies for marketing. To learn more view our Privacy Policy