Charming coastal town Seaside is full of a plethora of options for food, relaxation and adventure and is booming with new hotels, restaurants and attractions. Formerly the site of Fort Ord, this exciting beach spot boasts two of the most famed golf courses in the area, easy entrance to Fort Ord National Monument and access to favorite local beaches.
Day 1
9:00 a.m.
Carbo Load at Palermo Bakery 
Good morning! No matter how early of a riser you may be, Palermo Bakery will probably beat you to it. Open from 4 a.m. to 10:30 a.m. every day, the local bakery welcomes walk-ins during the hours they are baking up their famous loaves. Pick out your favorite baguette or ciabatta and stop by the grocery store to load up on sandwich fixings before spending the day by the ocean.
11:00 a.m. 
Head over for a beach day and picnic
Pack up your food, towels, sunscreen and other essentials and make your way to Seaside State Beach. Whether you prefer to relax the day away or spend it surfing the waves, make sure to take some time to recoup and enjoy some of the tasty goods that you grabbed in the morning. 
4:00 p.m. 
Check in at your Seaside Escape 
Once you've tired yourself out with a day of fun at the beach, brush the sand off and head over to the Holiday Inn Express. Settle into your lake-view room and take in the views of the peaceful park while you relax, work up and appetite and freshen up for a dinner out. 
5:30 p.m. 
Dinner at Gusto Handcrafted Pasta & Pizza
Mangia, mangia! Make sure you head over to Gusto Handcrafted Pizza & Pasta with an empty stomach because you will want to try everything. While it may be hard to share, pick out a few choice pastas and pizzas for everyone to sample. Some of our favorites are the Rigatoni, Spaghetti Carbonana and Prosciutto Funghi pizza. If you can, save some room for the Traditional Tiramisu or Nutella Pizza. You'll leave dreaming of your next return. 
Day 2
7:00 a.m. 
Breakfast at Holiday Inn Express at Monterey Bay
Once you awake from your food-coma sleep, get reenergized for another day of fun at the complimentary hot breakfast buffet at the Holiday Inn Express, conveniently located next to the hotel lobby. 
8:00 a.m. 
Golf at Bayonet and Black Horse
Grab your golf clubs because it's time to hit the links. Head up to Bayonet if you're looking for a challenge, with its narrow playing corridors and steep, penal bunkering, making it one of the most difficult tests of golf on the Monterey Peninsula. Or, try your hand at Black Horse, featuring sweeping vistas of the Pacific, highlighted by fescue-framed fairways, bunkers with distinctive, serrated edges and slickly-contoured greens.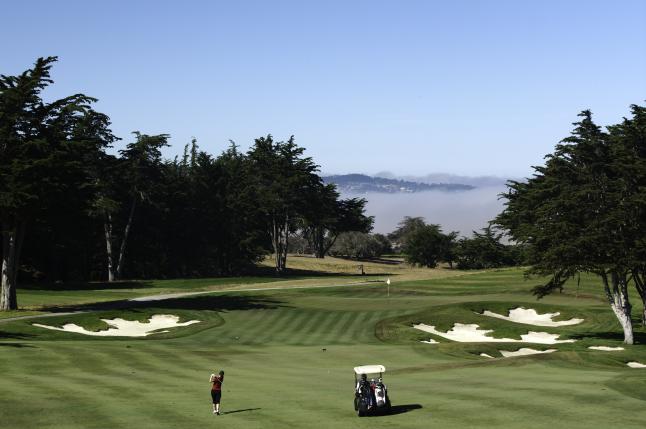 2:00 p.m. 
Lunch at Googie Grill
After perfecting your swing in the morning, head over to Googie Grill for some post-golf grub. Googie Grill is a family-owned restaurant offering American style comfort food using fresh and local ingredients in a retro-style diner. Local favorites include Sand Dabs, the Googie Burger and the crispy Fish Tacos.  
3:00 p.m. 
Check in at Embassy Suites Monterey Bay
Make your way to the Embassy Suites Monterey Bay and check in to your spacious two-room suite. Take in the views of the coast before heading down to the open atrium to enjoy pre-dinner cocktails and snacks at the complimentary Manager's Reception, held daily. 
6:00 p.m. 
Dinner at Silver Tide Bar & Grill
You won't have to travel more than a few steps to your dinner at Silver Tide Bar & Grill, located inside the Embassy Suites Monterey Bay. Here, the recently remodeled restaurant and casual dining environment is complimented by a creative menu featuring local seafood and pasta specialties along with classic burgers and sandwich offerings.
Day 3
9:00 a.m. 
Breakfast at Embassy Suites Monterey Bay
Wake up refreshed and ready to start the day. Take advantage of the free breakfast offerings at the Embassy Suites Monterey Bay, with a choice of all your favorite breakfast specialties. We suggest customizing your own omelet at the chef-manned omelet station.
10 a.m. 
Go for a Dip
Grab your towel and head down to the only indoor pool in the area in the Embassy Suites Monterey Bay. No matter the weather outside, the pool is always heated to the ideal temperature for a swim. Hop on in and get a few hours of relaxation before checking out. 
12:00 p.m. 
Lunch at Togo's Sandwiches 
Before heading back home, make sure to stop by Togo's Sandwiches in Seaside. The convenient and quick sandwich shop serves up fresh sandwiches, wraps and salads sure to please even the pickiest or most adventurous of eaters.