By: Kevin Wilkerson PubClub.com BarBlogger.com Wine tasting rooms have become a big trend for wineries and towns in California. In quaint Carmel, there are 15 places people can go wine tasting and the city of Carmel By-The-Sea has made it easy with a Carmel Wine Walk-by-the-Sea Passport which involves seven tasting rooms for $50. The tasting rooms are all located a couple of blocks from each other – many are just down or across the street – south of Ocean Ave., with many bunched on Dolores Street to 7th Ave. They offer four to five samples from wineries on the Monterey Peninsula, which is quickly becoming recognized as one of the world's top wine-producing regions. But with wine tasting rooms, at least from PubClub.com's perspective, it's not so much about the wines themselves, but the experience. And in Carmel, that experience is something you'll be talking about for weeks afterward and encouraging friends to follow in your footsteps. That's because walking around Carmel, with its high-end art galleries with prices only a prince could afford and cozy European-style restaurants is charming enough. The streets are lively with foot traffic and there are alleyways everywhere that lead to more shops and restaurants. The Wine Walk pass is available at the Carmel Chamber of Commerce Visitor's Center on San Carlos, between 5th and 6th Avenues. The office is open from 10 am-5 pm Here's PubClub.com's review of a few of the tasting rooms:
Caraccioli Cellars
This is the place to go for sparkling wines, for it is a specialty of Caraccioli Cellars. You'll bubble with enthusiasm when they are poured. But Caraccioli also has a nice chardonnay and is equally proud of its pinot noir.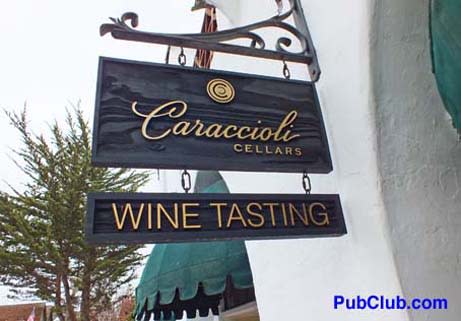 The flight includes four samples, and you can also get a cheese plate from The Cheese Shop or a selection of cured meats. Location: Dolores Street, between Ocean and 7th. (Easy to find, just look for the sign on the north side of Dolores, a couple of doors from Figge). Hours: 11 am-7 pm (Sometimes, it's open even later.) Non-Wine Walk Flight Price: $10 for flight of 4.
Figge Cellars
Figge is unique in that it is located in the front section of the Winfield Gallery. Here, you get to combine fine art with fine wine, and some of the galleries in Carmel are so high-end, the average person is hesitant to walk into them for fear of budget intimidation.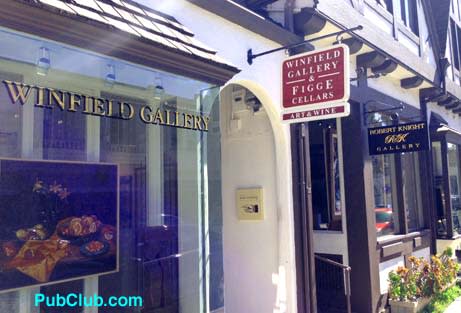 Location: Dolores Street, between Ocean and 7th. (Easy to find, look for the sign on the north side of Dolores, a couple of doors from Caraccioli Cellars). Hours: Friday-Saturday, noon-6 pm, Tuesday-Thursday, 1pm-6 pm Non-Wine Walk Flight Price: $10 for flight of three, $15 for flight of 5.
Galante Vineyards
Walk in here – once you find it – and you're likely to hear Jimmy Buffett music. In addition to these soothing tropical tunes, Galante has the most pleasant location of all the tasting rooms, down an alley by the small Piccadilly Park in an area so quiet you feel as if you are in the middle of the woods. Galante is actually the trend-setter, for it was the first wine-tasting room in Carmel. This place has a bit of Texas kick to it too; notice the big red boot chair. It's also the most generous of all the tasting rooms, pouring six wines (and sometimes a seventh if a bottle happens to be open) in the flight. Since it's off and actually below the busy street, it's almost like doing the tasting in finely decorated wine cellar.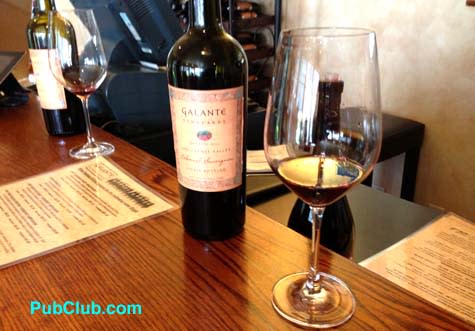 Location: Dolores Street, between Ocean and 7th. (Below Piccadilly Park, across from Figge and Caraccioli Cellars; there's a sign on the street) Hours: Noon-6 pm Non-Wine Walk Tasting Price: $10 for six flights. Occasionally includes an additional sample.
Scheid Vineyards
Scheid is a grape-growing vineyard that supplies grapes to more than 50 wineries. It also makes a few of its own wines from its 38 varieties of grapes. The tasting includes four pours, two whites and two reds in a pleasant setting with talkative and informative people pouring the wines. Location: Southeast corner of San Carlos Street at 7th Avenue. Hours: Noon-6 pm Non-Wine Walk Tasting Price: $10 for 4 flights $15 for Pinot Noir flight and $20 for Reserved Mixed flight.
Wrath Wines
The grapes of Wrath are served in a taste of for flights in a location right next door to The Cheese Shop. That's a perfect pairing. In fact, you can get a cheese place for $30 to savor with your wine. Wrath's friendly staff gives friendly-sized pours in reds, whites or both if you so choose. Like many wineries the area, its Pinot Noir is a specialty. Location: Carmel Plaza Shopping Center, first level, next to The Cheese Shop. Hours: Monday-Saturday 10 am- 6 pm, Sunday 11 am, 5 pm Non-Wine Walk Tasting Price: $10 for 4 flights, $20 for 5 Single Vineyard samples.
Manzoni Cellars
Manzoni is the only wine tasting room where you can get a port. It also makes two pinots, a syrah and a chardonnay. This family-owned winery won a Double Gold medal at the 2010 National Wine Competition for its Home Vineyard Pinot Noir. This is the hardest of all the wine tasting rooms to find. In fact – small confession here – PubClub.com never did locate it in our initial Wine Walk. So we'll have to give it another shot in a follow-up visit! Hours: 11 am-7 pm Location: Paseo Courtyard off San Carlos between Ocean & 7th Ave.
Vino Napoli
Save this one for last. As the name implies, Vino Napoli features Italian wines and the tasting room is like walking into Italy itself. It's a big room with tables – two by a fireplace that are obviously the most desirable – with videos of gorgeous scenery of Italy are playing on two big plasma TVs accompanied by soothing music.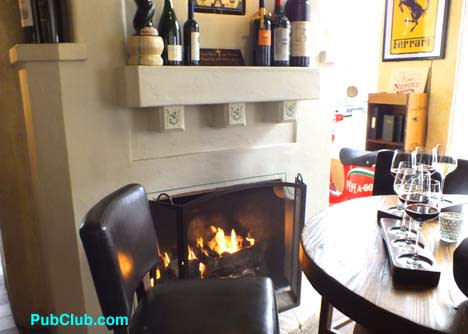 You could literally stay here for hours. That's why PubClub.com recommends making it your last stop of the day. Another option is for Happy Hour with appetizer specials from 3pm-6pm, and you may wind up mingling with locals who stop in for a flight before dinner. The wines come in a flight of three and are brought to your table and explained (if you're lucky, by the attractive and peppy Jess), then you're left alone to enjoy the wines with your party. Appetizers include calamari and meatballs. Hours: 3pm-10pm, daily Non-Wine Walk Tasting Price: $12 for a flight of three Location: Corner of Dolores and 7th Ave. Look for the Vespa in the window. Now that's Italian! *Kevin Wilkerson is a guest blogger for BlogMonterey.com The original post for "The Carmel Wine Walk" can be found here.