Monterey is full of amazing places to scuba dive and some of the most gorgeous spots can be accessed from the beach. The cold waters around Monterey are packed with vibrant reefs bustling with a variety of fascinating marine life of all sizes.
1. North Monastery Beach
Located on Highway 1 just South of Carmel, Monastery Beach sits on the edge of the Carmel Submarine Canyon, the north end of the beach provides access to deep water close to shore. It hosts one of most pristine kelp forests in the region, which is home to a large school of Blue Rockfish. Interesting jellyfish and ocean sunfish (Mola mola) are sometimes found suspended over the boulder field to the south of the kelp forest. This is an advanced dive with a potentially treacherous beach entry/exit, it should be done with someone who is experienced with the area and only on calm days.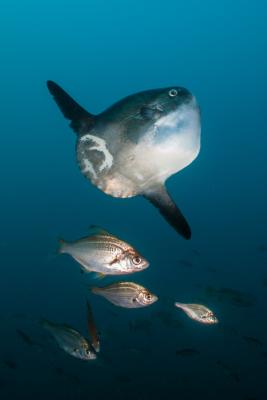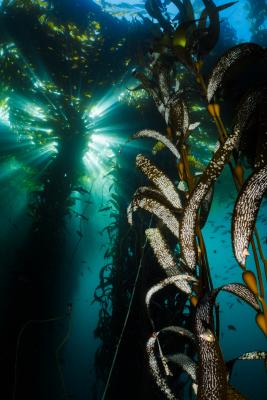 2. Monastery Middle Reef
Monastery Middle Reef is a submerged string of pinnacles covered in fish-eating anemones, metridiums, and kelp that runs to the North from the south end of the beach. Besides these stunning pinnacles, this site also yielded interesting jellyfish, large lingcod, and the illusive angel shark. Getting to this site requires a long surface swim from the south end of Monastery Beach and it can be somewhat difficult to locate if you are unfamiliar with the area, get a local to show you how to dive it.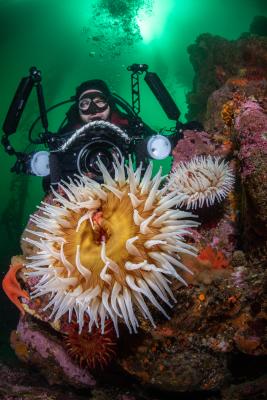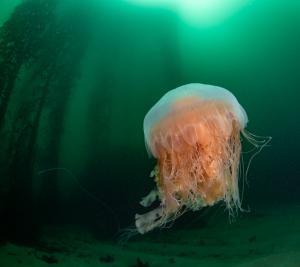 3. Point Lobos State Reserve
The reefscapes and critters at Point Lobos State Reserve are similar to those at Monastery Beach, but the boat ramp within is naturally protected by Whaler's Cove making entries and exits much easier.  If you are lucky, one of the resident harbor seals might accompany you on your dive. Make a reservation ahead of time to dive here, the number of divers per day is restricted and it is almost always full on weekend.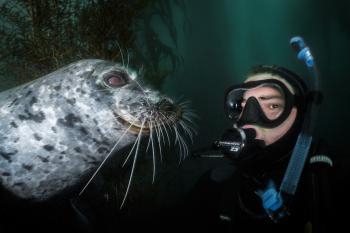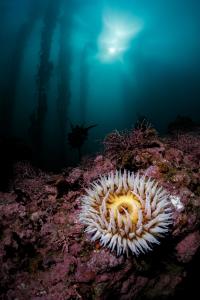 4. San Carlos Beach (Breakwater)
San Carlos Beach aka Breakwater is the most popular dive site in Monterey and is often crowded with dive classes on the weekend. Don't worry, there is lots of parking and plenty of places to explore underwater. Along the Breakwater Wall is a great place to look for critters, it is covered in nudibranchs, anemones, sea stars, crabs, and many other surprises. Near the end of the wall is a large and often playful colony of California Sea Lions that will often dive down to check you out. North of the wall is mostly sand with little structure but this a great place to find octopuses and different types of nudibranchs.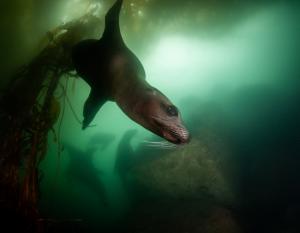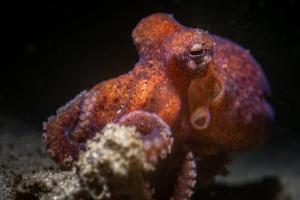 5. Metridium Fields
On the north side of San Carlos Beach, a submerged 2 foot diameter pipe aligned with Reeside Avenue will guide you to a rocky reef covered in large white cauliflower-like anemones known as Metridiums. At the end of the pipe, swim due North for about 30 ft to hit the Metridium Fields. This is a great place to find sea nettles too, often thicker than you bargained for. The pipe itself and surrounding sandy areas are great places to look for nudibranchs, octopuses and other small critters.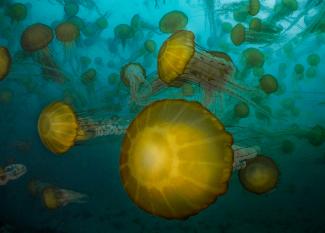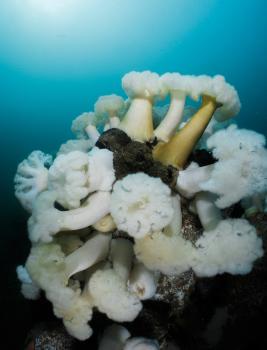 The swell, surge, water temperature, and visibility are highly variable so it's best to dive Monterey with someone who is familiar with the area. Luckily, there are friendly local dive shops that offer tours, great local dive boats, and a few Facebook groups where you can meet buddies. Happy diving and I look forward to meeting you in the beautiful waters of Monterey!