They say every superhero needs their sidekick. Well, think of the Strategic Client Services team as your sidekick for meeting planning. The best part is that you don't have to include us in your budget. That's right, the services are complimentary!
Here are a few things the SCS team can help with to elevate your meeting to the next level. 
1. Site Inspections
There is no better way to picture your meeting than to actually see the venues firsthand. That is why you should always ask your Regional Sales Executive to put you in contact with the SCS team. We can create a custom itinerary that suits the needs of your program. You can see anything from hotels, meeting spaces, offsite venues, activities, and more all during your site inspection. Also, you don't have to worry about going alone, an SCS team member or RSE can show you around; think of it as having a destination concierge during the entirety of your tour.
2. Microsites
Give your attendees a one-stop shop site by having us build a microsite, completely customized for your event. The online portal will allow attendees to learn about the destination prior to their arrival, browse dining and activity listings, as well as access special offers during their stay. We can even add a custom map with a unique QR code specific to your program. The sky is the limit for what can be added to your custom event microsite.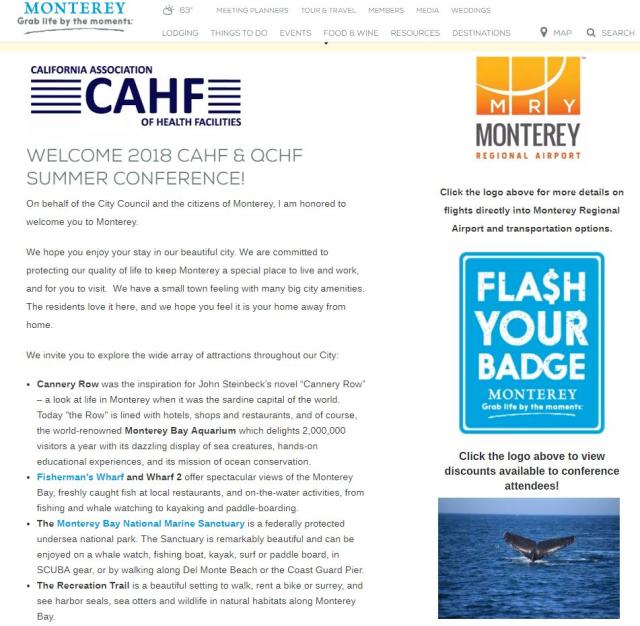 3.Flash Your Badge
Have your attendees get to know our merchants and restauranteurs while they are in town for an event. By flashing their badge they can receive a special discount or offer with a participating business. We provide a list of those on our website and keep an eye out for the Flash Your Badge decal on their windows.
4.Housing
Some events require multiple hotels which may seem like a lot in the midst of all the planning, but by using MeetingMax reservation technology it has never been easier for both the attendees and your sanity. The SCS team will work in conjunction with you to create your reservations landing page. Attendees can use this simple process to book their lodging accommodations and you will be able to monitor pick-up, check availability in your room block and run pre and post-event reports. Our housing services will simplify attendee registration! 
These are just a few of our Strategic Client Services. Contact the SCS team today to find out about what other services we offer and if your program qualifies for a visitor information table or registration staffing. Let's knockout your next meeting together!