Monterey County is all in, all invested, and all insanely motivated to make your next meeting the best yet. Our Strategic Client Services team can offer a wealth of knowledge and resources when you are planning your meeting in Monterey County. And the best part is you don't have to include us in your budget! That's right, the services we provide are complimentary. 
Here are a few things the SCS team can help with to elevate your meeting to the next level.  
1. SITE INSPECTIONS
There is no better way to picture your meeting than to actually see the venues firsthand. That is why you should always ask your Business Development Executive to put you in contact with the SCS team. We can create a custom itinerary that suits the needs of your program. You can see anything from hotels, meeting spaces, offsite venues, activities, and more all during your site inspection. Also, you don't have to worry about going alone, an SCS team member or BDE can show you around; think of it as having a destination concierge during the entirety of your tour. 
2. MICROSITES
Build excitement and give your attendees a one-stop shop site by having us build a microsite, completely customized for your event. The online portal will allow attendees to learn about the destination prior to their arrival, access your conference information or housing links, browse dining and activity listings, as well as access special offers during their stay. The sky is the limit for what can be added to your custom event microsite.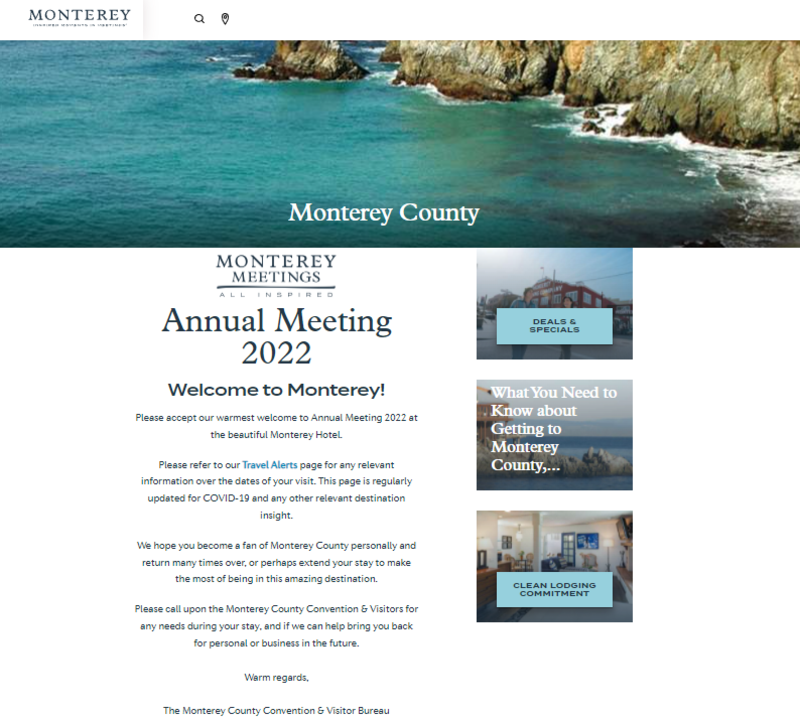 3. LET US CONNECT YOU
In need of a unique offsite venue that will wow your attendees? Searching for the hottest new restaurant in town? Transportation vendors?  The SCS team can speed up your internet searches by connecting you with all of our local vendors that can help build your best program yet. Schedule a brainstorm with us to discuss any ideas you may have for your program, we are happy to answer any questions and talk through ideas.  
4. DESTINATION EXPERTISE
The SCS team is ALL IN to work with you to craft the most inspirational meeting yet. Let us be your guide for all things Monterey County. Unsure of the latest Covid guidance or in need of testing resources? We can help. Curious about sustainability or Corporate Social Responsibility (CSR) programs in the area. We can help with that too.  
These are just a few of our Strategic Client Services. Contact the SCS team at sales@seemonterey.com to find out about what other services we offer and if your program qualifies for a visitor information table or registration staffing. Start planning your meeting today.