Monterey County's unbelievable landscapes and unique culture not only make it a great place to vacation, but also serves as a catalyst for inspiration and innovation. From cultural movements to iconic authors and everything in between, Monterey has served as a hub for innovation and creativity for forward-thinking visionaries whose historical impact can be felt around the world. Below are just a few famous game changers that gained vision and creative spark from their time spent in the County.
John Steinbeck
One of the most iconic individuals to come from Monterey Bay is award winning author John Steinbeck. Steinbeck was born and raised in Salinas and wrote many novels based on life in Monterey County where his influence can still be felt today. The historical street in Monterey once known as "Ocean View Avenue" was changed to "Cannery Row" in 1958 to honor Steinbeck's nickname for the area, which at one time was home to a thriving fishing and canning industry.
Salvador Dali
The surrealist painter Salvador Dali found his way into Monterey County when he sought refuge at the Hotel Del Monte (now part of the Naval Postgraduate School) during World War II. He was an early member of the Carmel Art Association and threw a huge surrealist themed party in Pebble Beach as a fundraiser for artists displaced by the war in 1941.
Jimi Hendrix
Jimi Hendrix is hailed as one of the most talented guitarists in the world, but prior to launching his world renowned musical career, he was stationed at the Fort Ord military base. Hendrix later returned to the area to give one of his most wild performances at the legendary Monterey Pop Festival. Burning and smashing his guitar on stage catapulted him from a rising star in the UK to an international force to be reckoned with.
Steve Jobs
Apple has risen to become one of the most profitable companies in the world, but the humble beginnings of this tech giant have ties to Monterey County. The prototype for the Macintosh computer was revealed by innovative tech entrepreneur and inventor Steve Jobs at a development team retreat at Carmel-by-the-Sea's La Playa hotel.
Ansel Adams
Ansel Adams was a famous American photographer and environmentalist who is best known for his gorgeous black and white photography of natural landscapes. Adams lived on the Monterey Peninsula for over 20 years and captured the beautiful scenery of the Big Sur coastline.
Joan Baez
Activist and American folk singer and song writer Joan Baez loved escaping to Big Sur's Esalen Institute. Following her appearance at the Woodstock Festival in 1969, Baez was one of many notable musicians who played a special festival at Esalen, where she also led a workshop there called "The New Folk Music."
Jack Kerouac
In 1962 Jack Kerouac's novel "Big Sur was published. It is based it off of several trips Kerouac made to visit his friend and poet Lawrence Ferlinghetti, who owned a cabin in Bixby Canyon. This novel continues to inspire readers to find refuge and solace in the Big Sur wilderness.
Claes Oldenburg
Claes Oldenberg is a sculptor who is best known for his playful larger-than-life renderings of everyday objects. "Hat in Three Stages of Landing" was erected in 1982 by Oldenburg in Salinas. He has erected sculptural installations in cities around the world, including Chicago, Barcelona, and Paris.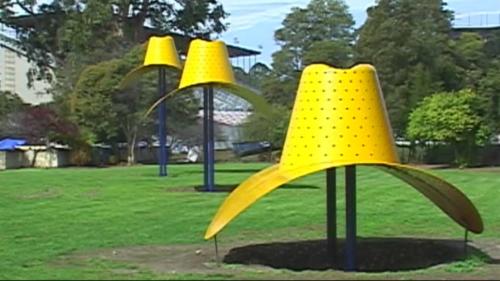 Doris Day
Doris Day is known for her work as an actress and singer, but her true passion is animal rights. After leaving the Hollywood spotlight, she settled down in Carmel Valley and is part owner of the popular pet-friendly Cypress Inn located in downtown Carmel.
Cesar Chavez
In 1970, the farm workers' and civil rights activist Cesar Chavez mobilized a rally and lettuce boycott in the Salinas Valley to fight unfair working conditions. He spent 20 days in the Monterey County jail after he was arrested for refusing to call off the strikes. Chavez remains a large cultural influence and is an icon in the Latino American community.