If you need to get some work done while in town for a meeting or conference, coworking spaces are an incredible resource for working remotely in Monterey County.
Need a quiet place to take a call or want to get some focused work in before heading to a team-building activity? Coworking provides a flexible workspace where you can accomplish that. 
What Amenities Can You Expect in a Coworking Space?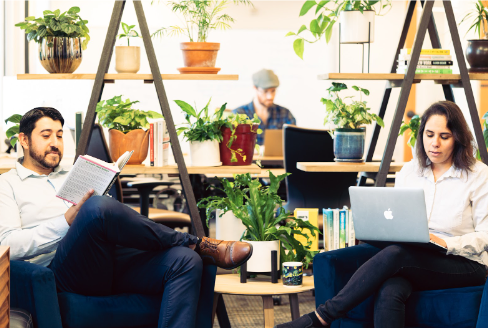 There are many common amenities in coworking spaces—regardless of where you are in the world. But being in Monterey, The Pearl Works has a lot to offer that you might not find in your average coworking space. 
Fast Wi-Fi 
No need to take a meeting from your hotel room or check your email in the hotel lobby! The Pearl Works has one of the only fiber Wi-Fi connections in the area—letting you get your work done so you can go play. 
Private Phone Booth 
Tired of using your headphones in an active coffee shop? The private phone booths offer a private place for you to have your phone/video calls. 
Location 
Centrally located in the heart of downtown Monterey, The Pearl Works is a 10 min walk to the beach, surrounded by local restaurants and cafes, and in proximity to historic state landmarks.   
Work on Your Terms with Flexible Coworking Options.
  
There are different ways of engaging with a coworking space that perfectly suits your needs. Here are some of the ways you can take advantage of coworking at The Pearl Works. 
Day passes give you an opportunity to drop into a professional workspace when you need it—giving you access to all the communal amenities of a coworking space just for the day. 
If you're looking for collaboration and meeting space, coworking spaces offer an affordable and flexible alternative to conference centers for small to medium-sized groups. Whether you only need a few hours or even days of focused work time, these rooms give you all the luxuries of a private office without the time commitment. Bookable by the hour, this flexible option makes having a quiet place to focus or having a meeting much easier.  
The Best Part: Live Like a Local For a Day. 
When you visit a coworking space during your trip, you get to meet locals in a non-tourist environment. Coworking connects you with people who can give you the inside scoop on the best coffee shops, tasty restaurants, breathtaking sunset locales, and lesser-known entertainment spots. And at the end of the day, connection is what coworking is all about.