As a professional meeting planner, you understand that a cohesive and engaged workforce is critical to your company's success. Research shows that organizations with engaged staff earn up to 2.5 times more revenue than those with a low engagement level, plus highly engaged employees are less likely to leave a company. 
Effective team building activities benefit company culture by improving co-worker relationships and communication among all levels while simultaneously developing collaborative skills, improving morale and boosting motivation. To top it off, team-building activities are just plain fun! 
Monterey County offers unique team-building activities that range from adventurous to creative to relaxing, all while incorporating the unique elements of this remarkable region. Create a more productive work environment and inspire your attendees by including one (or more!) of these top team-building experiences in your next conference. 
THE THRILL OF THE HUNT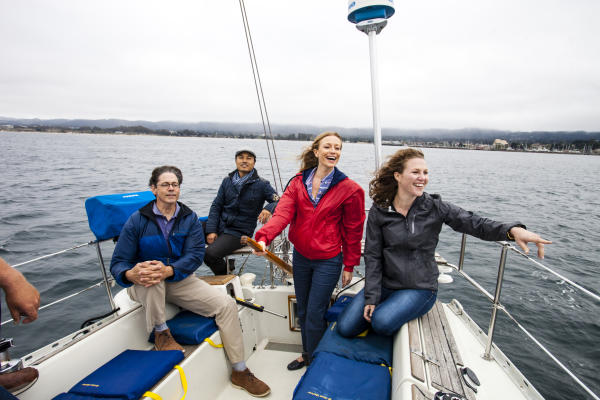 Adventures by the Sea allows you to include a little sightseeing along with your team-building event. With The Great Monterey Scavenger Hunt, teams work out clues and search for physical or photographic evidence during this experience. They can also take in famous Monterey County sites like Fisherman's Wharf, Monterey Bay, and Cannery Row. Or take a scavenger hunt through the hidden pathways and secrets gardens of Carmel-by-the-Sea with The Great Carmel Caper  
CHARITY BIKE BUILD
Looking for a way to give back to the community during your team building event? The activity also facilitated by Adventures by the Sea allows teams to build a bike with no directions, then once completed two chosen team members are tasked with riding the bike through a set of cones during a timed race. Bikes are then donated to the Boys and Girls Club of Monterey or The Salvation Army. 
WINE BLENDING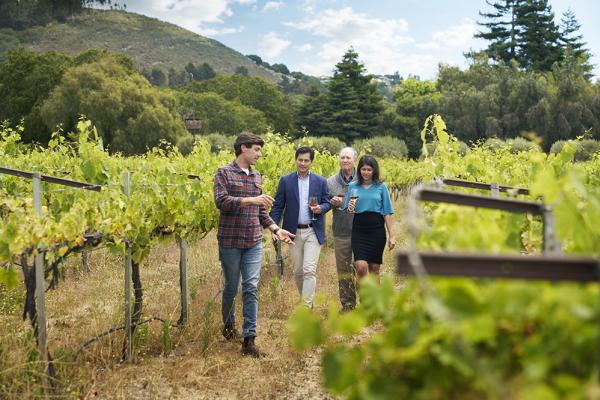 For a one-of-a-kind Monterey County activity, have your group try their hand at custom wine blending at A Taste of Monterey or The Wine Experience. Your teams will sniff, swirl, sample and bond over the creation process, before enjoying a little friendly competition to determine which team developed the most popular blend. 
Dig your toes into the silky sand of magnificent Monterey Bay when you bring your group to Monterey Beach Station the only Central Coast venue offering beachfront access for corporate events. Gather your group for a true Monterey County experience with a Wine & Paint night, company volleyball tournaments, bocce ball, cornhole, then end your night bonding over s'mores around a bonfire. 
CRUISING THE COAST
Let your team experience Monterey Peninsula's stunning natural beauty behind the wheel of a convertible muscle car as they drive down the coast in this uniquely Monterey team building activity. Monterey Touring Vehicles offers a fleet of classic cars that can be rented for a half or full-day road rally parade that your team will never forget (but will have the pictures to prove it!)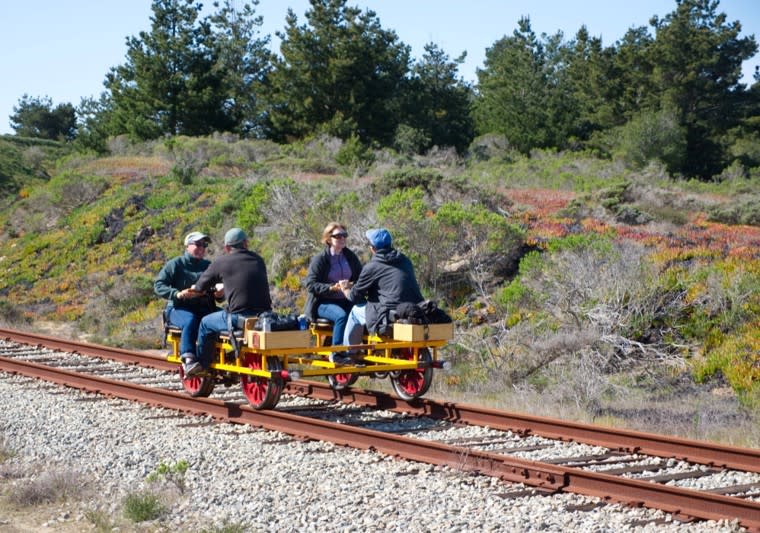 Groups can also cruise along the coast through Fort Ord Dunes State Park on the rail lines with Handcar Tours! Groups of up to 4 can work together to complete the scenic 6 mile long tour while enjoying the sand dunes, Monterey Cypress groves, and even the Monterey pine forest. Please note, a group booking requires a fleet of 10 handcars which can hold up to 4 people each.
FOODIE TOUR
Take in the sights and try all the bites with a walking Food Tour in downtown with Monterey Bay Food Tours  or Carmel By the Sea with Carmel Food Tours. This teambuilding activity allows groups to get to know the area and try a variety of restaurants and wineries along the way. An experienced local tour guide will lead the way on the 2-3 hour tour with the flexibility to customize based on your group needs. Bon Appetit! 
WHALE WATCHING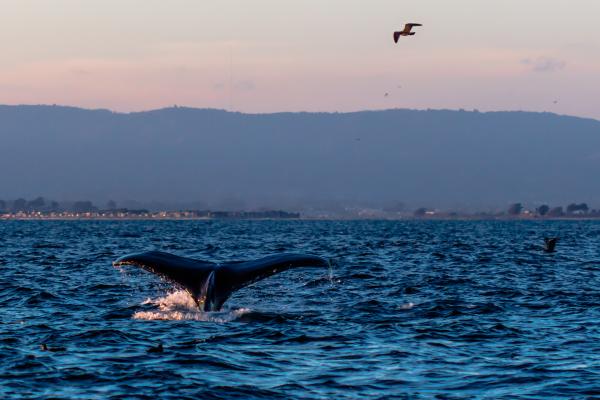 Deepen group connections and ensure an unforgettable adventure through the shared experience of whale watching. Your group will witness the incredible diversity and abundance of dolphins and whales as expert guides navigate Monterey's deep submarine canyon. 
CREATE AN ESCAPE PLAN
Test your team's collaboration skills at Escape Room 831 in Monterey. With discounted rates for corporate groups your team can choose from 5 creative rooms with their own unique theme. Or let them come to your location with Monterey's only mobile escape room experience for 20-60 players. 
GOLF WITH A PRO
Accommodating up to 25 people, Links Club Golf in Carmel-by-the-Sea has VIP private event space perfect for a team-building activity. Pricing can include a golf pro who can help with the golf stimulators, teach mini-lessons, run fun contests and games, and assist with any golf instruction questions. Food and drink packages are also available featuring beers on tap from Other Brother and Alvarado Street and wine from I. Brand & Family Vineyard wines. 
TAKE A CLASS
In addition to traditional group activities such as golf, tennis and hiking, Carmel Valley Ranch offers unique experiential classes for smaller group sizes. Learn lessons in teamwork from more than 60,000 honeybees during the resort's signature Bee Experience. Or help your group hone skills in discipline and focus with target-based archery lessons. You can also test your detective skills with geocaching, a high-tech treasure hunt that combines GPS navigation skills with nature exploration and a little creative sleuthing. Or you can "ranch it up" and experience a day in the life of a rancher by going behind the scenes to see what it is like caring for the farm animals.  
Still looking for more? Monterey County is all in, all invested, all insanely motivated to make your meeting the best yet! Connect with the Client Services team to brainstorm additional teambuilding ideas as team building options abound in Monterey County!