Spread the Word About Sustainable Moments
Educating Visitors on Responsible Travel
The "Sustainable Moments" initiative has been created to ensure a balanced and viable tourism economy for Monterey County. The campaign's resources, training, and materials aim to provide visitors with safety and convenience tips, ways to conserve and be environmentally friendly, as well as helping Monterey to be a sustainable destination with natural wonders for years to come.
The Sustainable Moments initiative continues to evolve and currently features a visitor facing web page and materials for attractions, hoteliers, and other businesses to help educate visitors when traveling to Monterey.
Please help champion this important initiative to support responsible tourism and use the logo, collateral and content where appropriate. Read more at the official Sustainable Moments web page.
Sustainable Moments Collateral
At this time, we are currently unable to mail out hard copies of our collateral. We apologize for any inconvenience.  If you have any questions, please email: info@seemonterey.com.  Thank you.
Tent Card (click here to view full sized image):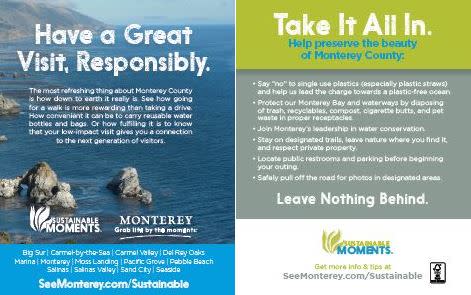 Menu Insert (click here to view full sized image):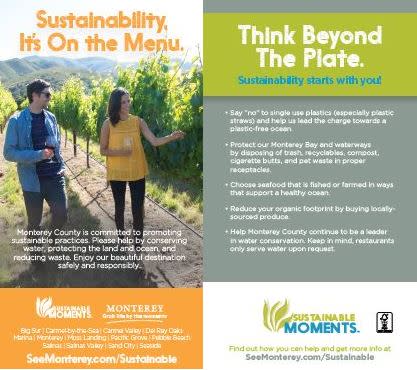 Hotel Check-In Insert (click here to view full sized image):

Double-sided Window Cling (click here to view full sized image):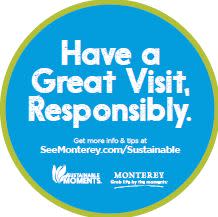 Sustainable Moments Logos
Sustainable Moments Videos
Sample E-newsletter Copy
Help Preserve the Natural Beauty and Stay Safe in Monterey County
Monterey County businesses and residents work hard to make our communities the very best places to live and to visit. We take personal responsibility to protect our destination's incredible natural assets and pristine landscape, recognizing the importance of sustainability and giving back to the community. We invite you to make the most of your stay in Monterey County. While you're here, we encourage you to "visit like you live here"—and help us preserve the beauty of our destination.
Know before you go: plan ahead for restroom stops, know where to find public parking and bring trash bags to protect our beautiful surroundings
Stay safe: follow local laws and guidelines on fire safety, keep a safe distance from wildlife and stay on designated hiking trails
Preserve our resources: take reusable bags and water bottles along for your trip and follow local conservation guidelines and recommendations
Find out more and get helpful tips at SeeMonterey.com/Sustainable
Sample Social Media Post
In Monterey County, we understand the importance of sustainable tourism. Let us help you experience a sustainable vacation with truly unforgettable moments. Learn more about how to travel responsibly on your next visit.
For helpful tips and info visit: SeeMonterey.com/Sustainable
#TravelFail Social Content
Help visitors enjoy our natural beauty and endless activities while being safe. Here's a handy cheat sheet to help visitors avoid a #TravelFail on their next adventure- great for sharing on social channels! Get the blog post here.
By continuing to browse this site you permit us and our partners to place identification cookies on your browser and agree to our use of cookies for marketing. To learn more view our Privacy Policy