Monterey County is the perfect place to explore the great outdoors. Its wide-open spaces provide varied geography with many different terrains. From  breathtaking beaches and verdant valleys to the top peaks of Pinnacles National Park, Monterey is brimming with outdoor adventures. It is difficult to include everything in your itinerary if you only plan to visit Monterey for a short trip. Make sure you explore the best that Monterey has to offer, and don't miss these top 7 places for outdoor adventure.
Converted from an old rail-line, this pedestrian-only trail stretches 18 miles along the Monterey Bay coastline. Catch breathtaking ocean views along the trail as you walk, run, bike or cruise in a rented surrey. You'll find easy access to Lover's Point Beach, where you can stop to relax or rent kayaks and paddleboards. The trail passes iconic attractions including Monterey Bay Aquarium, Old Fisherman's Wharf, Cannery Row and many other scenic stops.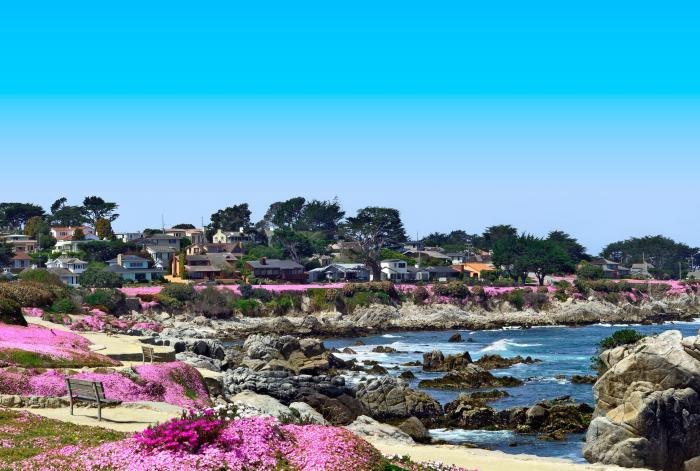 2. Fort Ord National Monument
Fort Ord was a working Army fort which closed in 1994. Today the 7,200 acre property is a nature conservatory for the endangered Smith's blue butterfly. Fort Ord is home to 50 miles of trails that are popular for hiking, mountain biking and even horseback-riding. Make Fort Ord a stop on your trip to Monterey. It's the perfect combination of history, nature and adventure.
3. Monterey Bay National Marine Sanctuary
The National Marine Sanctuary of Monterey Bay is perfect for any ocean-lover who wants a closer view of the bay's aquatic life. You're sure to spot sea lions, sea otters and seals as you explore the shore. If you want to get out on the ocean, you can go whale watching, sailing, or kayak through the kelp forests. If you're especially adventurous, try scuba-diving in the kelp forest and the rocky reef!
4. Jack's Peak County Park
Jack's Peak is the perfect place to go for a hike with spectacular views. To get to the top of Jack's Peak take the Skyline Nature Trail. Along the mile-long hike you will catch views of the Monterey Bay and Big Sur, and may even see some aquatic wildlife. At the end of your trip enjoy a picnic lunch in the park.
5. Pinnacles National Park
Head inland and get your blood pumping at one of America's National Parks. Pinnacles National Park offers a different type of experience with an array of activities including rock climbing, cave exploring and adventurous camping. The entrance fee is $30 per vehicle and campsites are available starting at $23. Before you go, be sure to check the website for campsite reopen dates.
Whether you want to surf, build sand castles, or just lounge on the white sand, this pet-friendly beach is a favorite spot among locals and visitors alike. Take a stroll along the quarter-mile boardwalk at Asilomar Natural Dune Preserve or explore the diverse range of sea life in the area's tide pools.
7. Marina State Beach
Want to see Monterey from a different perspective? Take to the sky and give paragliding a try. Marina State Beach is the ideal place for soaring over sand dunes and Monterey Bay since winds here tend to pick up in the afternoon. The hang gliding launch spot is directly south of the parking lot at the beach. If you're lucky you might even spot a migrating whale in the distance!
With longer days and the summer sun high in the sky, it's a great time for outdoor activities that allow you to get outside and have your own space. Grab life by the moments and plan your trip today!