Monterey County is the ideal place for a meeting. With beautiful natural surroundings, a plethora of historical landmarks within driving range and myriad world-class options for corporate dinners, it's got plenty to offer businesses. Unique meeting venues are another bonus for the region. Below, we've listed a few of the most interesting meeting venues in Monterey County.
Monterey Bay Aquarium
This world-class aquarium is a natural draw for visitors to the region and, best of all, it also has options for business meetings. From galas to corporate events, the Monterey Bay Aquarium allows for meetings surrounded by swimming sea creatures. Menus are also inspired by the sea, with sustainable plates and minimized waste. You can even choose a conservation theme and have staff educate guests on the subject.
Monterey Zoo
Combine your next corporate event with a trip to the zoo. This 10,000-square-foot special event venue offers a wide variety of themes, a spectacular view of Salinas Valley, and unparalleled access to the zoo's animals. For those looking to spice up their corporate events, the Monterey Zoo is the perfect choice.
Monterey Beach House
The only venue with beachfront event space in the area, Monterey Beach House is another unique choice in the region. Cuisine can be customized and bonfires (complete with s'mores) are a fun option. Monterey Beach House also offers a variety of team-building options, including henna classes and kayaking.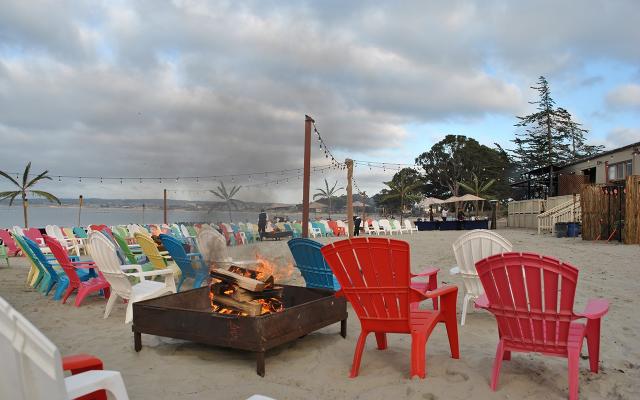 Sunset Center
When it comes to location, Sunset Center has a great one. With the perfect facilities for a meeting, its centralized location in downtown Carmel-by-the-Sea offers access to shops, restaurants and more once the meeting is over.
Steinbeck House
Embrace history and business at the Steinbeck House, which is available for private events. Book a private room at Steinbeck's birthplace and boyhood home for a cozy spot for your next corporate event. The max number of guests is 60, ensuring a more intimate feel than most event spaces.
The Perry House
The Perry House offers one beautiful option for a corporate event. With space for up to 140 guests, this local landmark offers "roaming receptions" so that guests can truly enjoy the beauty of the property with views of the Monterey Bay. Another standout is the cuisine: everything is made from scratch and conceptualized by Chef Dean Young, a 30-year restaurant veteran.

More options
Beyond unique event spaces, Monterey County also offers a wide variety of event types. From vineyards to golf courses, here's what to book if you're looking to host a specific type of meeting.
Vineyards/Tasting Rooms
A vineyard or tasting room venue is a natural choice when visiting the region. A Taste of Monterey has 4,000-square-feet of event space and provides catering, while Folktale Winery and Vineyards has private rooms and the option of touring the space.
Outdoor Space
For those looking to take advantage of Monterey County's beautiful natural surroundings, outdoor event venues abound. Holman Ranch has a veranda with gorgeous vistas perfect for your next corporate event and Gardener Ranch can play host to any kind of team-building activity.
Restaurants
Take advantage of Monterey County's world-class restaurants. Big Sur River Inn Restaurant, Café Fina, Fandango Restaurant and Montrio are all popular eateries in the region and play host to corporate events. Big Sur River Inn Restaurant is great for large groups, while Café Fina, Montrio and Fandango Restaurant have plenty of banquet menu options.

Golf Courses
Looking to golf during your meeting? Head to Seaside's Bayonet and Black Horse for 36 holes to play, Pebble Beach Resorts for luxurious surroundings and world-class play or Quail Lodge Golf Course provides all the set-up for a meeting and the course for pristine playing conditions.