Monterey Bay Meditation Studio
529 Central Ave Ste 201A, Pacific Grove, CA 93950
Monterey Bay Meditation Studio offers an array of opportunities to learn, practice, and embody mindfulness and compassion. With an intention of cultivating awareness and kindness as a way of being in the world, we offer a variety of courses, retreats, workshops, and drop-in sessions, based on secular teaching, ancient wisdom, and current application. Through sitting meditation, mindful relating, nature practices, authentic movement, and creativity, we invite and cultivate connection -- with ourselves, each other, and the world around us. With this integrated approach, Monterey Bay Meditation Studio is a unique source of inspiration, restoration, and evolution of the body, mind, heart and spirit.
General
Group Rates Available:

Private/Group Events:

Private/Group Tours:

Seasonal:

Special Interest Tours Offered:

Team Building Activities:
Spas
Yoga/Meditation:
General
Course Type:

Private
Public
Semi-Private
Facilities
Credit Cards Accepted:

Family-friendly:

Gift Certificates:

Meeting Space On-site:

Miles from Monterey Airport:

6

Miles to Convention Center:

2

Ocean View:

Packages Available:

Parking:

Self Parking:

Special Events:
Conference Services
Speakers:

Teambuilding:
Facility Info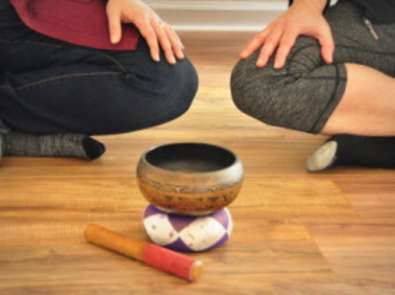 This event will be held virtually!
community.montereybaymeditation.com, ,
Welcome to our weekly community drop-in, hosted by Katie Dutcher, founding teacher of Monterey Bay Meditation Studio. At…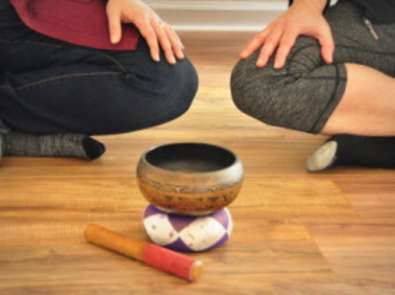 Virtual Event, Pacific Grove, CA 93950
Time:
From: 06:30 PM to 07:30 PM
Welcome to our weekly community drop-in, hosted by Katie, Marianne, or Jenn! Beginning at 6:30 pm, we'll chat and enjoy…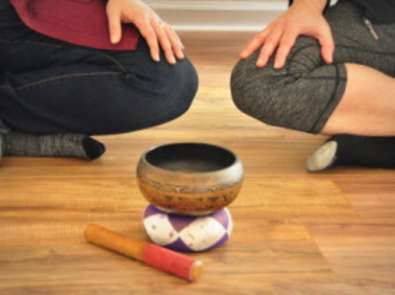 This event will be held virtually!
community.montereybaymeditation.com, ,
Welcome to our weekly community drop-in, a guided meditation via Zoom, hosted by Marianne Rowe, founding teacher of…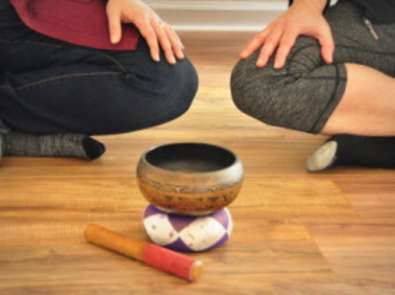 Virtual Event, Pacific Grove, CA 93950
Time:
From: 12:15 PM to 12:15 PM
Guided meditations help settle the body, attend to the breath, and allow open awareness. We welcome you for a guided…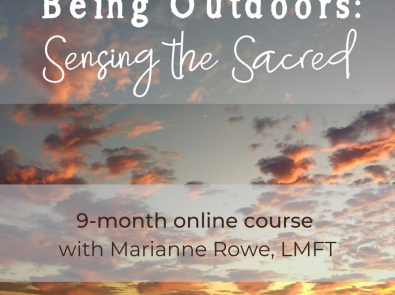 Time:
From: 10:30 AM to 12:00 PM
A Nature Meditation Course in Celebration of the 50th Anniversary of Earth Day April - December, 2020 -- join…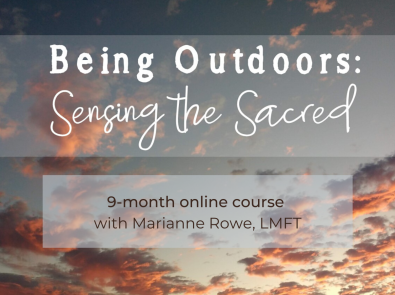 Time:
From: 10:30 AM to 12:00 PM
A Nature Meditation Course in Celebration of the 50th Anniversary of Earth Day April - December, 2020 -- join…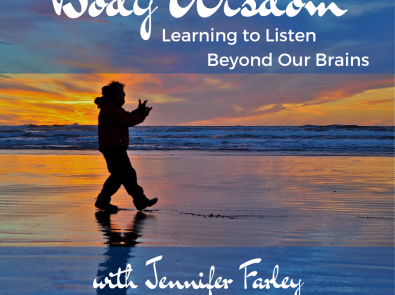 Time:
From: 06:30 PM to 08:00 PM
When facing a decision or working through a problem, we've generally been taught to rely on the rationale of our brains to…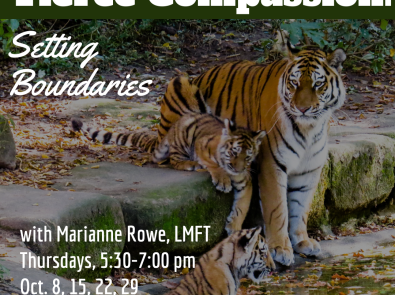 Time:
From: 05:30 PM to 07:00 PM
The heart does not have to close in order to define a limit. Setting boundaries is often challenging…and…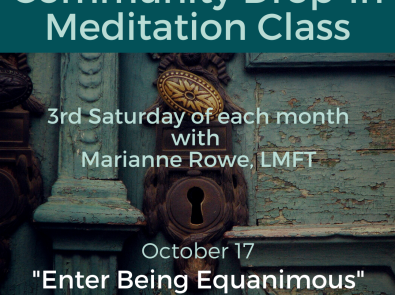 529 Central Ave., Pacific Grove, CA 93950
Time:
From: 09:30 AM to 10:30 AM
Finding authentic and meaningful connection is a human need. Having a sense of belonging in community is human…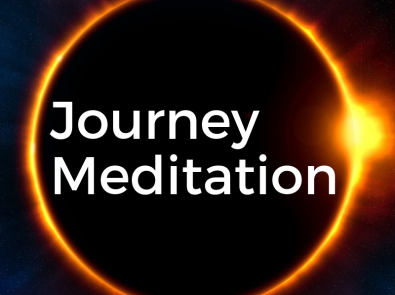 Time:
From: 02:30 PM to 04:00 PM
Journey meditation is an ancient form of meditation honoring the existence of worlds beyond the physical world in which we…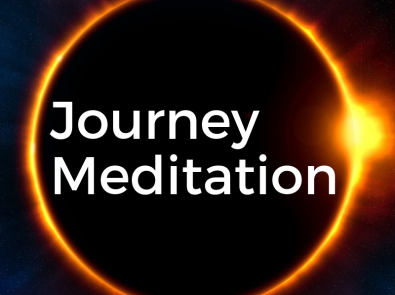 Time:
From: 02:30 PM to 04:00 PM
Journey meditation is an ancient form of meditation honoring the existence of worlds beyond the physical world in which we…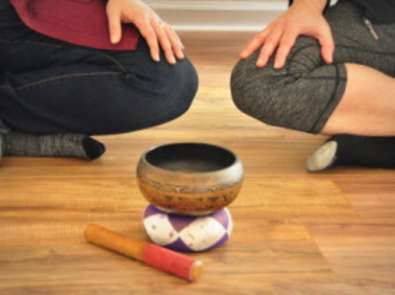 529 Central Ave Ste 201A, Pacific Grove, CA 93950
Time:
From: 12:15 PM to 12:15 PM
Guided meditations help settle the body, attend to the breath, and allow open awareness. We welcome you for a guided…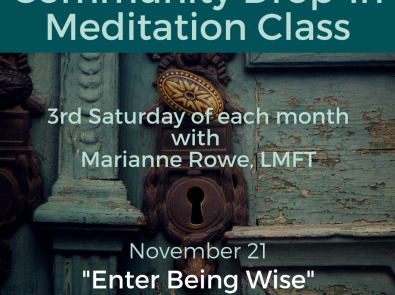 529 Central Ave., Pacific Grove, CA 93950
Time:
From: 09:30 AM to 10:30 AM
Finding authentic and meaningful connection is a human need. Having a sense of belonging in community is human…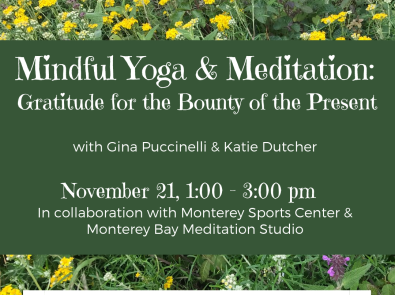 Monterey Sports Center
301 E. Franklin St, Monterey, CA 93940
Time:
From: 01:00 PM to 03:00 PM
In this workshop, flow between stillness and movement with yoga and guided meditation. You'll learn a variety of practices…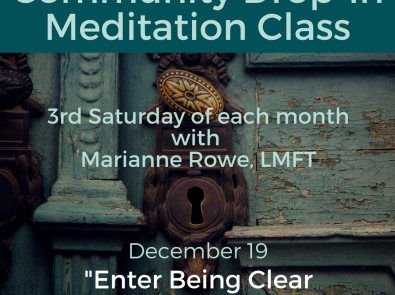 529 Central Ave., Pacific Grove, CA 93950
Time:
From: 09:30 AM to 10:30 AM
Finding authentic and meaningful connection is a human need. Having a sense of belonging in community is human…