Jacks Monterey
2 Portola Plaza, Monterey, CA 93940
Jacks Monterey is poised to provide a refreshing experience among Monterey Bay restaurants. Our philosophy is centered on the globally-inspired traditions of California Cultural Cuisine, emphasizing local ingredients, high-quality seafood, and more. Whether you're looking for breakfast, dinner, or drinks in Monterey, CA, Jacks Monterey welcomes you!
Featuring Executive Chef Carl Ashurst at the helm, the kitchen at our Monterey Bay restaurant offers breakfast and dinner menus that showcase local, sustainable ingredients. These dishes highlight the flavors of fresh meats and produce sourced from purveyors found throughout Monterey County. In addition, the bar at our downtown Monterey restaurant includes a selection of local wines, house cocktails, and craft beers.
With design details to echo the beautiful surrounding landscape, the atmosphere at Jacks Monterey promises to be sophisticated—never pretentious. We invite you to join us for a refined-yet-relaxed dining experience in Monterey Bay.
Jacks Monterey Holiday Hours Thanksgiving Day, November 23, 2023 • Breakfast: 6:30am to 10:30am • Dinner: 2pm to 8pm • Jacks Bar - Drinks Only: 8pm to 9pm
Christmas Eve, December 24, 2023 • Breakfast: 6:30am to 10:30am • Dinner: 4pm to 10pm
Christmas Day, December 25, 2023 • Breakfast: 6:30am to 10:30am • Dinner: 2pm to 8pm • Jacks Bar - Drinks Only: 8pm to 9pm
New Year's Eve, December 31, 2023 • Closed for Hotel New Year's Eve Party
New Year's Day, January 1, 2024 • Breakfast: Closed • Dinner: 4pm to 10pm
General
Bar/Lounge:

Full Bar:

Group Dining:

Highchairs/Booster Seats Available:

Kid's Menu Available:
Meals Served and Prices
Average Entree $$= $13-21:

Dinner:

Lunch:
Entertainment
Televisions:
Food and Drink
Blue Zones Project Approved Restaurants:
Facilities
ADA-compliant:

Credit Cards Accepted:

Family-friendly:
Facility Info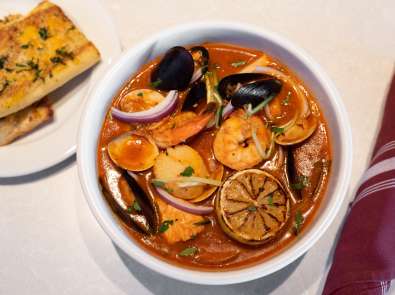 Jacks Monterey
Two Portola Plaza, Monterey, CA 93940
This Christmas Eve Jacks Monterey will offer a Monterey Bay Cioppino dinner. Indulge in fresh caught, halibut, calamari,…
Always
Pair Jacks' California Cultural Cuisine with an evening at Golden State Theater in downtown Monterey or…