It's no accident that the world's first music festival, the first TED Talk, and even the Macintosh computer were all born in Monterey. As a destination, it has a unique blend of natural beauty and a history of innovation that are proven to create collaborative breakthroughs.
Forget Silicon Valley, California's True Hub for Innovation Is a Few Miles South
It's the age old question for meeting planners: How can you be sure attendees will come back to work with fresh ideas and new inspiration? One simple answer: look to those places with a long track record of making magic happen, through a unique combination of stunning natural beauty and a history of innovation. Just south of San Francisco, Monterey County is where artists, technologists, thinkers, and disruptors have been going for decades — even Steve Jobs owes some of his success to the place.
Back in the early '80s, Jobs was still a rising star, and while the Apple II had been a smash, it also begged the question: What would come next? The man who hadn't yet revolutionized the computer business, the music business, and pretty much every other business was floundering: follow-up Apple III and Lisa computers were flops, and the touch screen genius of the iPhone was still decades away. So, atypically short of inspiration, he took his team on a retreat to Monterey County.
The group checked in at La Playa Carmel in Carmel-by-the-Sea, one of the region's iconic hotels, for a two-day meeting during which Jobs "proceeded to give a rousing speech" and "symbolically christened the prototype [computer] onstage," according to Steve Jobs, the Walter Isaacson biography. That night, there'd be "skinny-dipping in the pool, a bonfire on the beach, and loud music that lasted all night." It was, in other words, a meeting befitting the Macintosh that'd soon reshape the world.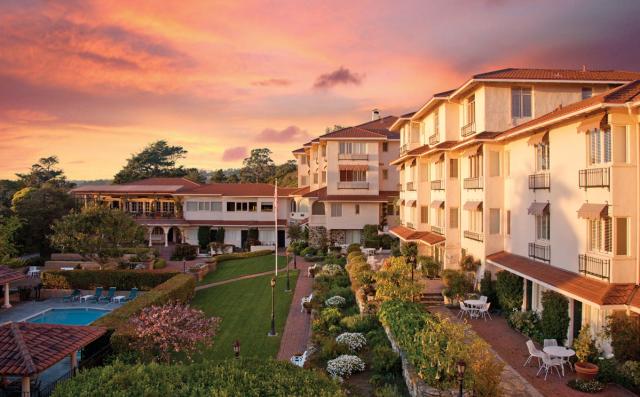 And while Jobs didn't invent heading for the coast — lighting out for the territories has been a restorative salve for centuries — he and countless others have found inspiration in Monterey County over the years. 100 miles south of San Francisco, the region includes Pebble Beach, Big Sur, and the bounty of the Salinas Valley, and has a decades-long history as a hotbed for creativity and innovation, spurred as much by its ability to draw some of the world's most ambitiously inventive people as its calming, perception-changing natural beauty.
A Legacy of Creativity
The latter is one reason artists and musicians descended on the coast in the 1960s, said photographer Tom O'Neal, whose iconic album covers (like those for Steppenwolf and Crosby, Stills, Nash & Young) and photographs of rock legends including Jim Morrison, Jimi Hendrix, and Joni Mitchell came to define the Summer of Love. "You can tap into yourself as an artist here," said O'Neal. "I had a creative epiphany here on this peninsula in 1967, in the spring of 1967." Still starting out in his career, O'Neal found his direction in a record store in Carmel. "I remember picking up an album by The Mamas & the Papas and looking at it and having a very strong realization at that moment and saying, 'Okay, I think I know what I'm going to do.'" The only problem was, O'Neal said, was that he "didn't know any bands, didn't know anybody that was in the business, didn't know any record companies."
Despite that, he found his way to the world's first multi-day celebration of live music, the Monterey International Pop Festival, through a mix of hard work and "serendipity," O'Neal said. His iconic images of those shows and crowds helped fuel the rock 'n' roll revolution — and popularized the format that Bonnaroo, Coachella, Glastonbury, Lollapalooza, and even Woodstock ended up copying. "Woodstock might be more famous now," O'Neal said, "but it was definitely not the first."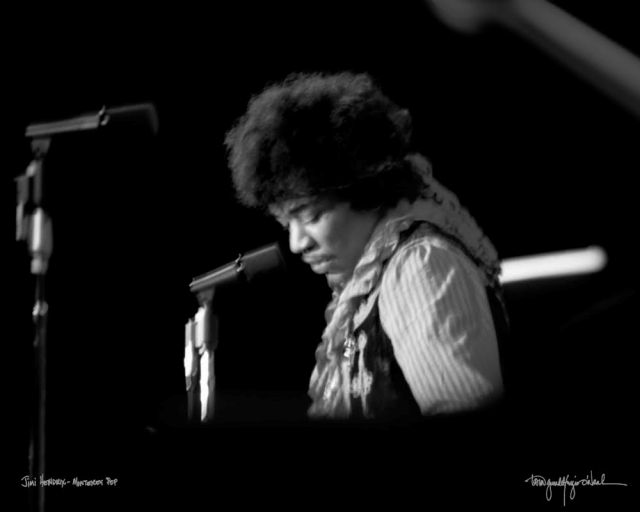 Nor was it the only confab that put Monterey on the map. In 1984, Richard Saul Wurman and Harry Marks organized the first TED talk in the city, inviting thought leaders like Nicholas Negroponte (who would found the MIT Media Lab in 1985) and Benoit Mandelbrot (who coined the term "fractal" in 1975) for a conference centered on "technology, entertainment, and design." (One of the more famous talks during that first get-together involved a demo of a then–cutting edge technology, the CD, which had just hit the market.)  "I remember it," O'Neal said. "It was hush-hush, very secretive, very exclusive." Of course, today there are TED and TEDx events worldwide –– and the most popular talk of all time, Sir Ken Robinson's Do Schools Kill Creativity?, has been watched more than 53 million times online.
Yet TED retains its spiritual connection to Monterey. The TEDWomen 2015 gathering returned to the city in part because, in this part of California, "you can walk along, smell the salt air, and listen to the sea lions — it reminds you that we're out in nature," said Katherine McCartney, the director of operations for TED Conferences, in a video recap of the show. "It's a great place to be."
McCartney's colleague agrees. "Back in 2003, when we first produced the [TEDWomen] conference here in Monterey, one of the things that we loved was that the destination allowed us to give our attendees a place where they could feel inspired and get away from the responsibilities of their daily lives," said Janet McCartney, the co-owner and executive producer of Procreation Design Works, which partnered with TED on the show. "We look forward to coming back."
In a way, both Monterey Pop and TED were early examples of the meetings-industry trend that Skift has dubbed "festivalization." The concept of bringing together thought leaders from different sectors to share their views on driving change in a new era of global connectivity hinges on the fact that scheduled sessions are only one part of the inspiration that can come from a gathering. To get attendees thinking out of the box, planners need to find places that promise not just great venues but inspiring surroundings.
Venues That Spark Innovation
One of the region's star attractions, the Monterey Bay Aquarium, is a poster child for how the area has sparked innovative thinking. First opened on October 20, 1984, it's today a global force for sustainability, said Ken Peterson, the communications director for the Aquarium. "This is the first aquarium that focused on the marine life of its home region," Peterson said. "The fundamental engineering is that all the seawater comes in from the ocean — and the water flows back out to the bay. And that was a big breakthrough. And it's dependent on the bay being a healthy place."
No wonder then that the aquarium's executive director Julie Packard "always says that Monterey Bay is our biggest and best exhibit," Peterson said. "You can walk on our back deck and you'll see humpback whales going by."
It's worth noting that the Aquarium's original patron, David Packard, Julie's father, was one of the innovators behind the tech firm Hewlett-Packard. His business partner Bill Hewlett was even an early influence on Jobs: Before he founded Apple, and while still in high school, Jobs cold called Hewlett to ask a few questions — and ended up with a summer job at an HP electronics plant.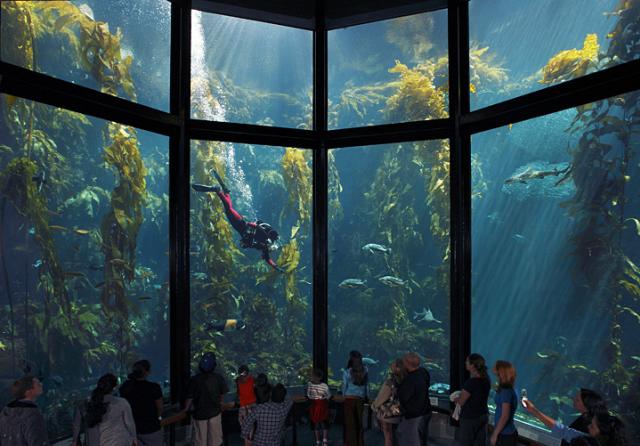 "There's a special quality here, the sense of purposefulness," said Rob O'Keefe, chief marketing officer of the Monterey County Convention & Visitors Bureau. "Absolutely Monterey County is inspirational but it is a driving force. A place to dream, imagine, and create. We're not just inspirational," O'Keefe said. "We're 'innovational.'"  
Even governments — organizations not necessarily known for their fresh thinking — can uncover new ideas in Monterey County. The Panetta Institute for Public Policy was founded here in 1997, on the campus of California State University, Monterey Bay. The Institute's Leon Panetta Lecture Series brings leading thinkers, writers, and politicians to the campus every spring, drawing names like Senator Kelly Ayotte, Senator Christopher Dodd, Ambassador Michael McFaul, and journalists Carl Bernstein and Bob Woodward. The idea is to foster bipartisan debate about issues of contemporary concern, said the Institute's co-chair and CEO Sylvia Panetta. (Her husband, Secretary Leon Panetta, is the co-founder and, since 2013, chairman of the organization.)
"What we try to do — and we do quite successfully — is to bring in a Republican and a Democrat to talk about a given issue," Sylvia Panetta said. "This is a bipartisan policy institute. If you look at the people that [have been] speakers, you have Republicans and you have Democrats who are willing to engage and talk to one another — who are willing to share their ideas — because that's the way a democracy functions."
This year, the Institute put a particular spotlight on the role of technology in society, with a talk moderated by Secretary Panetta, featuring "[General] Keith Alexander, who was a commander in the United States Cyber Command, from 2010 to 2014, and Renée James, the chairman and CEO of Ampere Computing," Sylvia Panetta said. "Given everything that's happening in technology, artificial intelligence, robotics — for good or bad — has a huge impact on our society and on the world. And when you think of it, we're right here south of Silicon Valley, which is where it all started." 
In a way, the May edition of the lecture series was an updated spin on that early-'80s Macintosh retreat: an opportunity to escape filter bubbles and old ways of thinking and seek inspiration in the natural surroundings of Monterey County. The rugged shorelines and evocative landscapes of places like Point Lobos — which found their way into the fiction of writers like Robert Louis Stevenson, who penned Treasure Island after visiting the area — eventually soaked into the thinking of the Apple team: "[Jobs] wanted to instill a rebel spirit in his team, to have them behave like swashbucklers who were proud of their work," Isaacson wrote.
Indeed, the 1983 Apple gathering was raucous enough — and swashbuckling enough — to ultimately get Jobs and the rest of Apple banned from La Playa Carmel for a number of years. But the work they created during the corporate retreat lives on not just in the technology almost all of us carry around today, but in Monterey County. That two-day meeting is now commemorated with a plaque on the wall in the hotel's Pacific Room.
This content was created in collaboration with Skift and was originally published here.