Planner Resources for Monterey County
In Monterey County you will find an array of meeting and accommodation venues perfect for your needs. Large facilities include the Monterey Conference Center, Sunset Center and the Monterey County Fair & Event Center. Unique meeting venues are scattered throughout the county with several on iconic Cannery Row and in downtown Monterey.
Our staff is ready to help you create the perfect future Monterey program. Download our New! All Inspired Group Brochure to learn the highlights of what the MCCVB and our beautiful destination have to offer.
Contact sales@seemonterey.com or (831) 657-6420 today to get started.
Click here to review Monterey County's latest Travel Alerts.
ALL IN GROUP INCENTIVE
What if your meeting could have it all? A breathtaking coastal backdrop, world-class accommodations, and more. Go all in with your next meeting by adding an off-site event, dinner, or team-building experience and the Monterey County CVB will offset the cost. Learn more here.
To be eligible, groups must:  
Book Now - June 30, 2023  / Actualize Now - June 30, 2023 
Have a program room stay pattern between Sunday – Thursday  
Contract a minimum of 25 guest rooms (500 maximum)  
CVB will credit $20.00 per actualized room night for use on an offsite event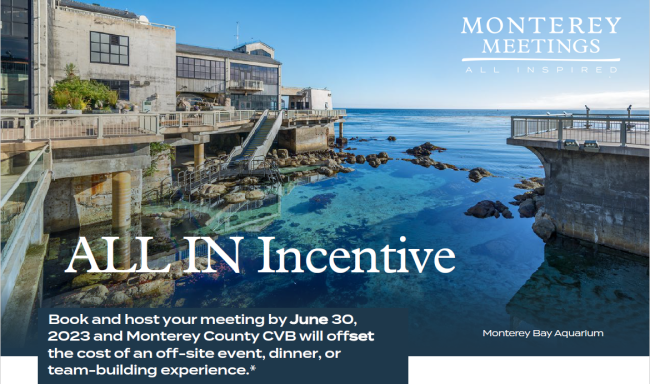 VIDEOS
MEETING FACILITIES
Meeting Hotels in Monterey County
Unique Offsite Venues in Monterey County
CURRENT HOTEL PROMOTIONS
Click here to view the most recent promotions and hot dates.
TAKE A MONTEREY TRIP VIRTUALLY
MONTEREY CONFERENCE CENTER UPDATES
Monterey County's forward-thinking health and safety efforts and legacy of innovation and sustainability make meetings at MCC both safe and sustainable for planners and attendees. 
MCC's new LEED Platinum Certified®, recognizes the facility's sustainability efforts impacting indoor air quality, energy, water usage and more. It is one of only a few conference and convention facilities in North America to boast this highly coveted certification. 
MCC is also a GBAC STAR Certified Center, which recognizes facilities that have the practices, procedures and protocols in place to prepare, respond to and recover from outbreaks and pandemics.
Download the Monterey Conference Center Brochure
MONTERY COUNTY SUSTAINABLE MEETINGS GUIDE
NEW MEETINGS PRESS RELEASES AND BLOG POSTS
Restaurants with Private Event and Meeting Spaces
10 Late Night Restaurants in Downtown Monterey
8 Great Places to Host Your Small Meeting in Monterey County
Team Building Activities in Monterey County
Engage a Destination Management Company for Your Next Meeting
New and Updated Hotels in Monterey County in 2022 
More Ways to Experience Monterey County in 2022 
4 Ways the Strategic Client Services Team Will Make Your Life Easier
Monterey County is a Top Destination for Sustainable Meetings
4 Things to Consider When Selecting Meeting Destination 
Monterey County Recognized Among The Best Destinations for Safe Meetings
Social Distancing Activities in Monterey
IMPORTANT ATTACHMENTS
Use the links below to download PDF files of helpful brochures and flyers.
FLY MONTEREY
Monterey Regional Airport (MRY)
New! Direct Flights to Seattle
CONNECT WITH THE BUSINESS DEVELOPMENT TEAM
By continuing to browse this site you permit us and our partners to place identification cookies on your browser and agree to our use of cookies for marketing. To learn more view our Privacy Policy