Setting up for an event doesn't have to be stressful. Even though you may not always have a ton of space, you can always have a successful event by being strategic about the space you do have. Follow these 6 tips for maximizing event space and make the most of your event.
1. Open Up Your Layout
Whether you're hosting a casual get-together with friends or a formal soiree, having space for guests to gather and socialize in is an important part of any party.
What's the easiest way to achieve a sense of flow in your small space? Try opening up your layout. Move big pieces of furniture out of the way or relegate them to another room for the evening. If you can't remove them completely, try putting them along the walls so you can maximize the open area where people can socialize.
2. Put Every Surface to Work
Now that you've created an open area, you might wonder where you're going to put all the snacks and appetizers.
Instead of creating one designated place for all food and drinks, consider peppering your space with several mini snack stations. Don't be afraid to clear off your desk and use all your side tables. Even bookcases can be repurposed for the evening as tiered serving surfaces to keep your guests satiated with sweets, savories, and libations. If you have a home with a great room concept, use your kitchen counters for some grazing opportunity.
(Fun Tip: Use parchment paper to help label all the items. It can make for some fun art and is a super easy clean up.)
3. Displaying Food
Have fun with displaying your food. Use elevations to keep it interesting and use unconventional things like a glass vase for cookies.
4. Consider Where You Put the Drinks
What does every good host do? Put a drink in your hand as you come through the door.
Consider greeting your guests at the front and directing them to a drink station in the back. This will help alleviate any entryway bottlenecks and encourage flow through your space. If there is nice weather, have a drink station on your back patio for less mess in the house. This will help ease clean up should any beverages be on ice that might leave condensation. You can always do a specialty drink that is ready to go or have wine open and on ice if you don't want to have someone tend bar the entire time. If kids are in town, consider having  a separate kid-friendly table like I did for 4th of July. Make sure that it is clearly labeled so they know it's for them.
5. Set the Mood
What makes a good party even better? Setting the right mood with decor!
Create the perfect cozy environment with string lights, candles, and whatever seasonal decor you like. Remember every area can add to the atmosphere, so don't shy away from putting a few bits of decor in the bathroom, hidden hallways, or other areas your guests might only visit for a few moments.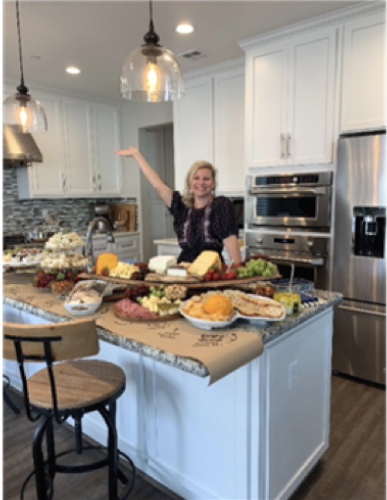 6. Keep Your Cool
Of course, this means staying focused on the joy of the evening. But in small spaces it also means remaining aware of rising temperatures. Lots of people in a cramped area can make it hot quite quickly. Consider cracking a window or two to let the cool air in so your guests are feeling cozy but not overheating!
At the end of the day, it's great people who make a great party. If you can make your guests feel at home and relaxed, the size of your space doesn't really matter. Be creative and rethink your living space entirely, at least for the evening.
Have a great event,
Fancy Nancy