If you are looking to enjoy the holidays without having to shovel snow, then winter in Monterey is the season for you! Look forward to great weather, fewer crowds, plenty of fun, and winter festivities! From whale watching to enjoying a cozy beverage with a view, here are the top 5 reasons to visit Monterey County this winter.
1. Festive Events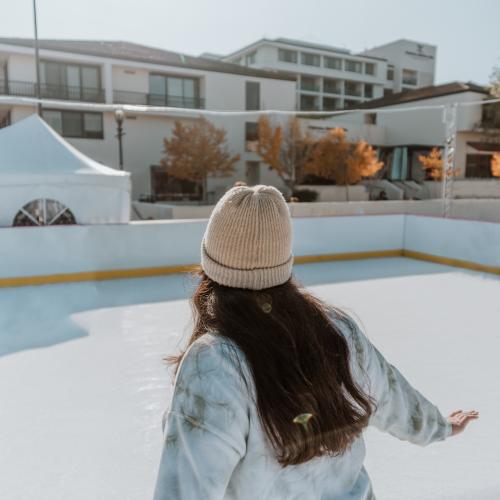 Photo Credit: Portola Hotel & Spa 
There are over a dozen Monterey County Holiday Happenings between late November and January, so plan accordingly. Looking for a comforting meal without having to cook? Big Sur River Inn is offering a Thanksgiving Day breakfast or a 3-course delicious feast! Explore all local restaurants offering Thanksgiving meals this holiday. Get into the spirit and Ice Skate by the Bay in the Custom House Plaza or attend a holiday tree lighting at one of these Christmas events! If you are still here to ring in the New Year, celebrate at First Night Monterey which is an all-day family-friendly event. 
2. No Snow!

Need we say more? Enjoy the cool and crisp air on the Monterey Peninsula and go on a hike that will take your breath away! Fog is not usually an issue in the winter months and it's often our sunnier time of year. Take advantage of the great weather and get outside this holiday season.  
3. Fireplaces With a View
  
Photo Credit: Salt Wood Kitchen & Oysterette 
Grab that special someone and cozy up next to the fire. Listen to the bagpiper play at the Inn and Links at Spanish Bay or watch the sunset from the upper deck at Salt Wood Kitchen & Oysterette Restaurant. 
For a more intimate take, book a room at Carmel Valley Ranch where every suite has a fireplace. Whether you're looking for a scenic view, or a spot to enjoy some people-watching, you'll find the perfect fireplace just for you. 
4. Warm Up With a Steamy Beverage
 
There are many restaurants and cafés in Monterey County offering cozy concoctions that are bound to warm you up!  
Take in the legendary views of the Big Sur coastline at Nepenthe where they brew up a legion of coffee drinks, the highlight of which is without a doubt the Keoki Coffee, made with specialty coffee, Kahlua, Créme de Cacao, and Brandy topped with whipped cream! 
Get the "Best of Both Brews" and visit The Beerded Bean where coffee and beer are served! Try their Mexican Mocha or one of their seasonal drinks!  
Indulge in luxury and a liquor libation at The Lobby Lounge located at the Inn at Spanish Bay. Sit by the fire pits on the patio to admire the views and listen to the bagpiper play right before sunset. Every hot drink is done to perfection, from the traditional Irish coffee to the Nutty Scotsman or the Hot Oaxaca Chaca, which is made with Hornitos Reposado, Agave, hot cocoa, whipped cream, and cinnamon. Explore all the holiday cocktails around Monterey!  
5. Winter Whale Sightings
 
Another reason to visit Monterey County this winter is that it is the prime time to catch some whales in action as they begin their migration north and appear more in the Monterey Bay region beginning in December. Although there is plenty of opportunity to take a whale watching tour every other day of the year, this time of year you're more likely to see other sea life such as dolphins, sea otters, harbor seals, and sea lions!  
Bring the whole family to Whalefest Monterey on March 18th and 19th at Old Fisherman's Wharf! This 2-day family fun festival celebrates the biodiversity of the Monterey Bay National Marine Sanctuary and its challenges. It includes a Symposium of world-renowned scientists from the marine research institutes that surround Monterey Bay. Other activities include live entertainment, face painting, educational exhibits, historic walking tours, chalk art, live music, and much more.