Big Sur, California is one of the world's most unforgettable stretches of coastline—and for good reason. The scenery is unmatched, and an eclectic vibe flows through the area and permeates Big Sur hotels, shops and restaurants. A table with a view isn't hard to come by, nor is a sense of well-being. Cliffs, rocks, redwoods and bubbly surf create an epic backdrop for recreation, romance and exploration. A trip to Big Sur is an escape from reality, and an opportunity to unplug and connect with nature. Continue reading to plan the perfect trip.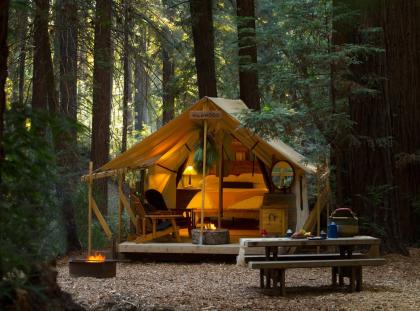 Glamping at Ventana Big Sur
Where to Stay:
Big Sur offers a range of accommodations for every style and budget. Splurge on the ultimate escape with service, amenities and views at Post Ranch Inn; reminisce of bygone years spent at summer camp at Big Sur Lodge, located in Pfeiffer Big Sur State Park; or relax along Big Sur River at the Big Sur River Inn, which has been welcoming guests since 1934. For those looking for a more rugged experience, Fernwood Resort & Campgrounds offers camping, cabins, motel rooms, adventure and glamping tents steps from Pfeiffer Big Sur State Park. Nearby Ventana Big Sur offers next-level glamping, as well as spa-like guest rooms for a luxurious experience. Glen Oaks Big Sur is perfect for guests that want a little bit of everything – nature, luxury, and service - at a reasonable price.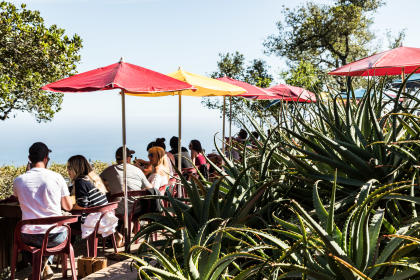 Nepenthe Restaurant
Where to Dine:
Eating well in Big Sur is easy to do. Travelers driving south from Monterey to Big Sur should plan a meal at Rocky Point Restaurant. Located between Carmel and Big Sur, Rocky Point offers panoramic ocean views paired with California cuisine. Similarly, California Market at Pacific's Edge, located at Hyatt Carmel Highlands, is a great first stop down Highway 1. In the Big Sur Village area, travelers have a variety of options for breakfast, lunch and dinner. For breakfast, try Deetjen's Big Sur or the Big Sur Lodge Restaurant. Nepenthe fits the bill for a mid-day meal with iconic ocean views that have inspired poets, artist and travelers since 1949. Opened in July 2019, The Big Sur Smokehouse makes for a hearty lunch with pulled pork, brisket, chicken and more. Big Sur River Inn Restaurant is great for any meal, but make sure to save room for dessert, as apple pie has been a signature dish since the 1930's when the historic lodge was called the "Apple Pie Inn." For a luxurious meal with views that can't be beat, diners should make a reservation at Sierra Mar at Post Ranch Inn. Sierra Mar offers a four-course, prix fixe dinner menu along with a six-course tasting menu. Or grab a seat at The Sur House, located at Ventana Big Sur, for a meal to remember. For dinner and dancing, checkout Fernwood Tavern featuring live music on Saturday nights.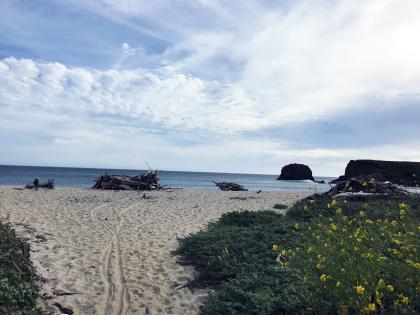 Andrew Molera State Park
Where to Explore:
Big Sur offers miles of hiking trails, remote beaches and countless dramatic coastal views. Take time to explore Big Sur's five California State Parks and Beaches. Garrapata State Park, featured on HBO's award winning mini-series Big Little Lies, encompasses nearly 3,000 acres and features 2 miles of beachfront. Andrew Molera State Park has 20 miles of hiking, a remote beach accessible by a one mile walk and is home to the California Condor Discovery Center. Pfeiffer Big Sur State Park offers camping, and miles of hiking in a magical redwood forest. Don't confuse Pfeiffer Big Sur State Park with Julia Pfeiffer Burns State Park. The latter is home to famous McWay Falls, an 80-foot waterfall that tumbles down a granite cliff into a picturesque cove and into the Pacific Ocean. (Note, there is not beach access at Julia Pfeiffer Burns State Park.) Farther down the coast, Limekiln State Park offers camping, beach access and hiking trails to historic limekilns for which the park is named. When exploring and hiking in Big Sur, always be respectful, stay on designated trails and adhere to signage.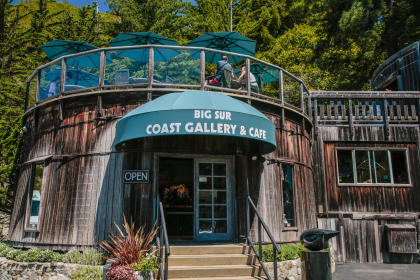 COAST Gallery Big Sur
Don't Miss:
There is so much to discover in Big Sur. Visitors need a few days to really experience the energy and mystical quality of the area. With so many parks, trails, dining options and unique businesses, visitors can return again and again to see new sights. When dining at Nepenthe, make sure to browse the Phoenix Shop, a fun and expansive gift shop located beneath the restaurant. Just down the road, COAST Big Sur, is truly a unique destination along Highway 1 for fine art, one-of-a-kind gifts and a casual meal, all with a local twist. Another stop worth visiting is the Henry Miller Memorial Library. The Library serves as a cultural resources center, public gallery and performance space for artists, musicians and students. Henry Miller Memorial Library hosts events throughout the year and is open to the public Wednesday through Sunday.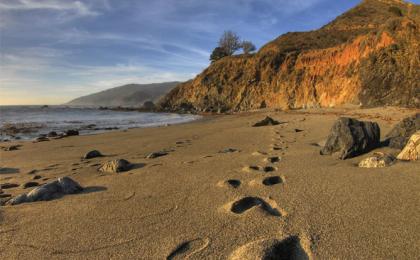 Big Sur Coast
Know Before You Go:
Big Sur is magical place. It is also a rugged wilderness without many of the conveniences a visitor may be accustomed to. Before departing for Big Sur, make sure to use the restroom as facilities are spaced far apart. Visitors may use the restrooms at California State Parks in Big Sur without paying the day-use fee. Make sure you also have enough gas to get there, as there few gas stations along the way. Be advised that cell phone service is limited. Life in Big Sur revolves around Highway 1, so please drive safely and only stop in designated pullouts. Also, please be mindful when exploring on foot to stay within designated paths for your safety and to protect the environment. Vow to be a responsible traveler and take the Big Sur Pledge before your next visit.