For those seeking an escape into nature, the Fort Ord National Monument is an ethereal wonderland of trees that resembles a fairytale forest. Nature is where I find solitude and connection, and hiking brings me peace that I seldom find anywhere else. As things begin to open up more, I have been on the hunt for less popular areas that are worth exploring more. Fort Ord National Monument is one little-known gem that should not be missed. Spanning the beach towns of Marina and Seaside, Fort Ord has many nature and wildlife experiences to offer, often without the crowds.
From expansive grassy fields to twisted oak groves, Fort Ord has it all, including spectacular 360° views of the Salinas Valley and the Pacific Ocean. Decommissioned in 1994, Fort Ord National Monument has transitioned from a military base to a wildlife haven with an array of hiking trails for all skill levels. Whether you're searching for a tranquil early morning jaunt, interested in wildlife viewing, or simply curious to explore some of the area's historic military sites, these lesser-known trails will take you where you want to go.
Jerry Smith Corridor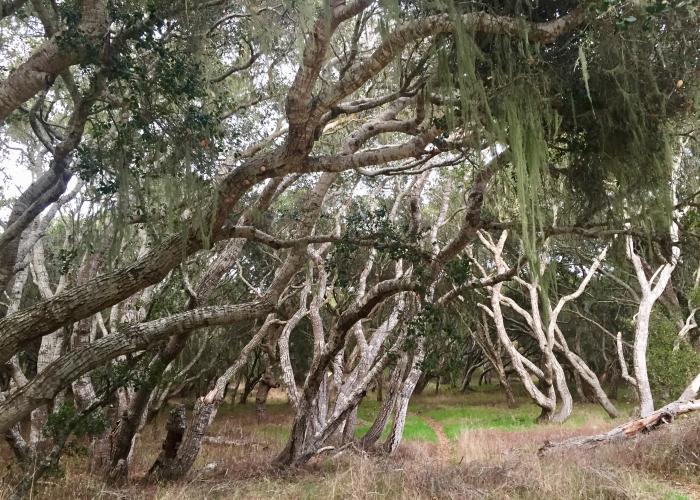 Enter from Inter-Garrison Road and take the sandy Jerry Smith Corridor for a relaxed stroll through a coast live oak grove. This trail feels like wandering through a hobbit forest full of twisted oak covered in lichen and moss. Cross Watkins Gate Road and you'll find grassy fields bursting with wildflowers in the spring. Take intersecting Trail 20 for glimpses of the Salinas Valley, or Trail 68 for one of the best lookout spots in the area, with astounding views of Monterey Bay and Moss Landing. A bench dedicated to Chuck Hutchins exclaims: "Why wait for heaven? It is here today!" Here you can prop your feet up and drink in the views.
Badger Hills Trailhead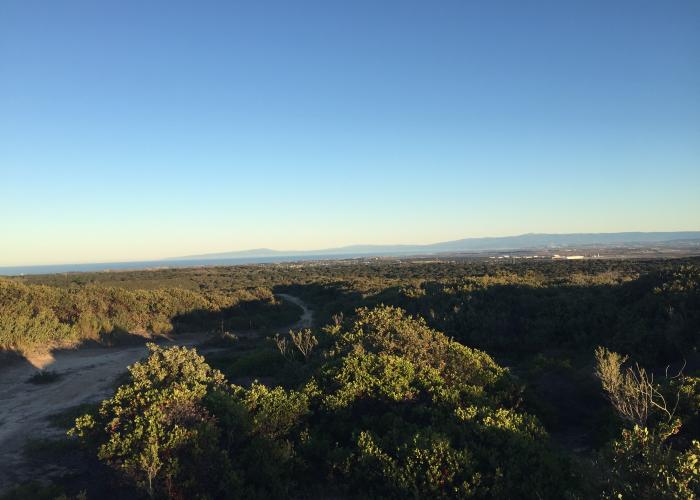 Find trails friendly to all hiking levels here. These exposed trails boast beautiful rolling hills covered with morning dew where you may find black-tailed deer grazing. In the winter, frost blankets the ground, creating a glittering carpet that looks straight out of a fairytale. I prefer early morning hikes because I can watch the National Monument wake up and transition from night to day.
Start your hike early to enjoy a symphony of bird calls. Many birds can be spotted in the area, including quail, Cooper's hawks, hummingbirds and warblers.
The lacy green lichen hanging from the oaks at eye level is called "Old Man's Beard". I love to get a closer look when it is hanging overhead, but am careful not to damage or remove it. I also take special care to stay on the designated trails to protect sensitive plants and wildlife, and I avoid taking home plant souvenirs which can be damaging (and illegal).
Parker Flats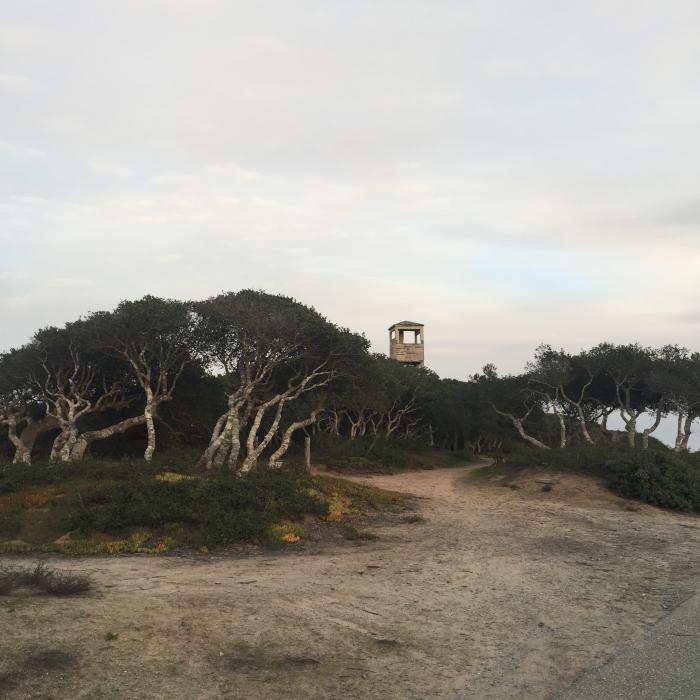 Reminiscent of Fort Ord's days as a military training site, an old watchtower still stands at the intersection of Eucalyptus and Parker Flats cutoff roads. This watchtower overlooked an artillery range nearby. The camp was used for basic training in the 1970's, and this lookout was used to calibrate and test the range of various weapons. Now it serves as a nostalgic reminder of the area's history. Take one of the many small winding trails that branch off of Little Moab Road and you will find wildlife galore in the maze of knotted oaks. Bobcats, coyotes, rare birds, king snakes and gopher snakes can all be spotted here. 
Hike Responsibly
Please do your part to keep Fort Ord National Monument beautiful, and know before you go:
Follow CDC guidelines. Wear a mask and allow for 6 feet of social distance when passing others. 
Leave no trace: carry out trash and pet waste.
Stay on trails to protect delicate plants and wildlife.