Follow the red-dotted line. 17-Mile Drive is a magical place. Travel + Leisure calls it one of America's Most Scenic Drives. From the iconic golf courses and the majestic Lone Cypress to the dramatic coastal cliffs and snow white beaches, 17-Mile Drive is an unforgettable experience. Want to make sure you don't miss a sight? Here are 17 things to do on 17-Mile Drive:
1. Admire the view from 800 feet above sea level at Huckleberry Hill.
The forest of Monterey Pines gives the second stop on 17-Mile Drive a Lake Tahoe feel with an ocean view.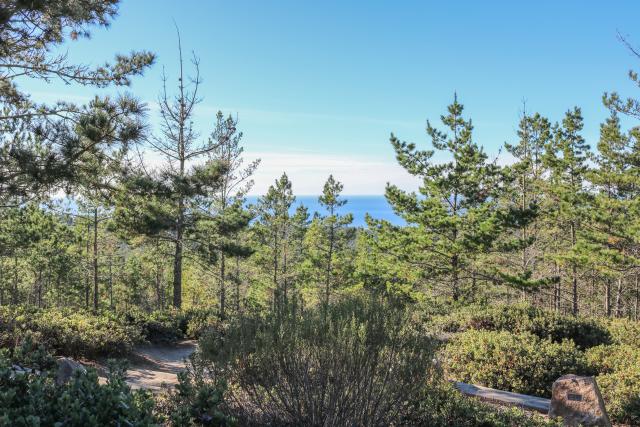 2. Take a long walk along the beach on the Spanish Bay boardwalk.
Stroll through snow-white sand dunes and above the craggy coastline that highlights Spanish Bay Beach.
3. Check out the surf at Spanish Bay Beach.
Cars line up outside Spanish Bay Beach to admire surfers catching California waves. On the glassy waters of Stillwater Cove surrounding Pebble Beach Golf Links, you'll find plenty of kayakers and paddle boarders – as well as a few other friends…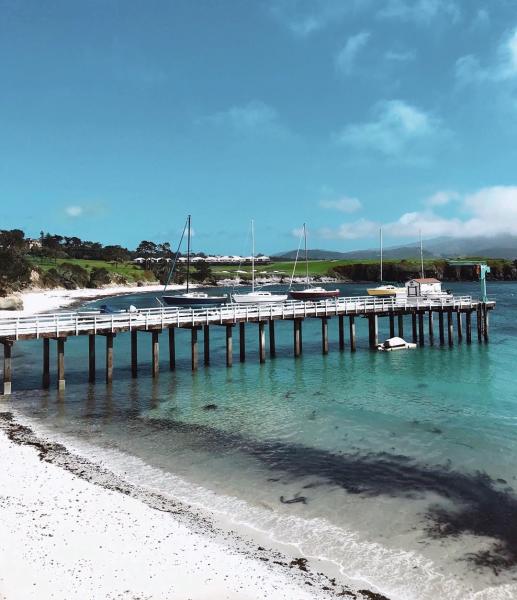 4. Rent a bike at Spanish Bay and cruise the coast.
Feel the ocean breeze in your face as you bike around 17-Mile Drive. Rentals for half and full days are available by the Spanish Bay tennis courts.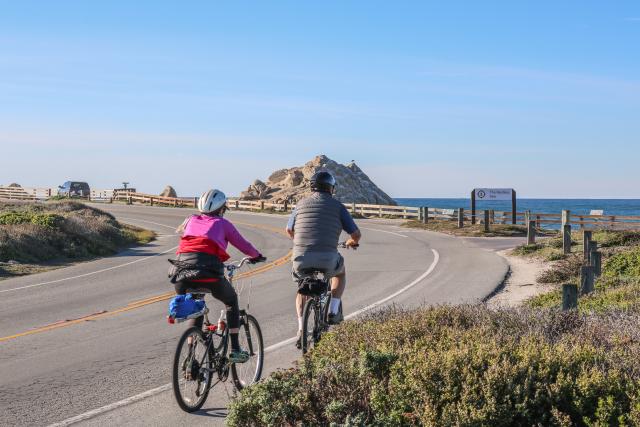 5. Watch the bagpiper at Spanish Bay a half hour before dusk.
Cozy up to the fire pits at Spanish Bay, grab your favorite drink and be serenaded by the sweet sounds of a sunset bagpipe session.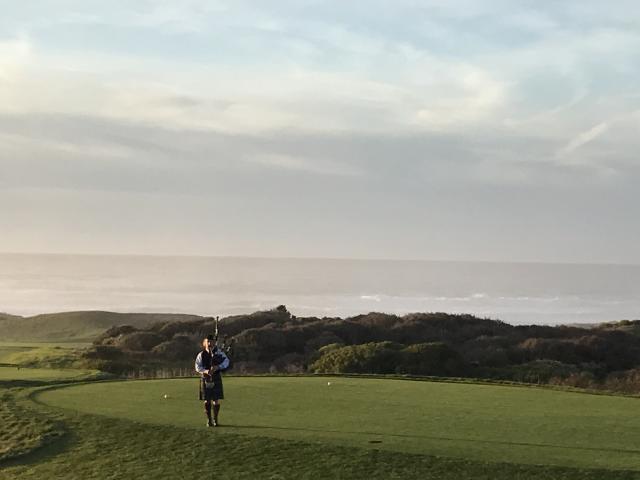 6. Imagine you are in Scotland while putting on the links practice green at Spanish Bay.
Only have time for a putting contest? You can dream up just about any putt out here.
7. Take in the turbulent Restless Sea.
The waves are so energetic. They seemingly never stop.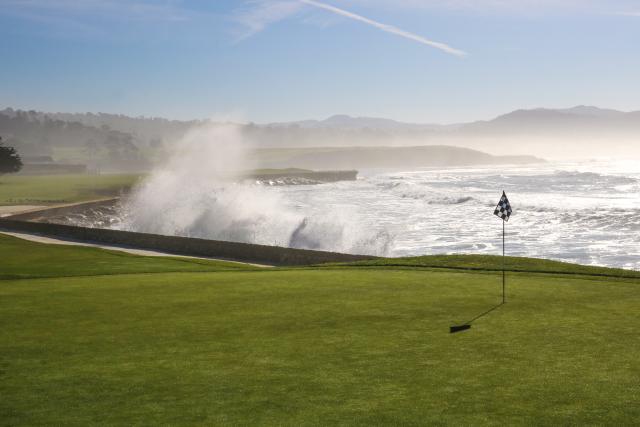 8. Say hi to the birds and sea lions lounging at Bird Rock.
The barking sea lions can be heard from the middle of Spyglass Hill Golf Course on a boisterous day, and the birds are always active.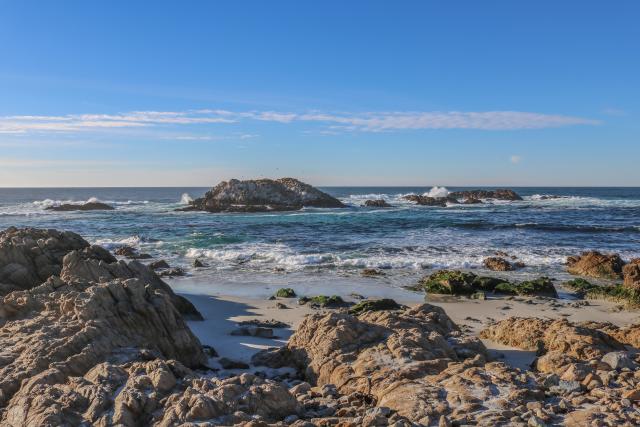 9. Gawk at the fourth green at Spyglass Hill.
Even if you aren't a golfer, you can appreciate its scenic setting embedded between sand dunes. And if you are a golfer, you've never seen a green like it – 55 paces deep and barely 30 feed wide at its most forgiving point.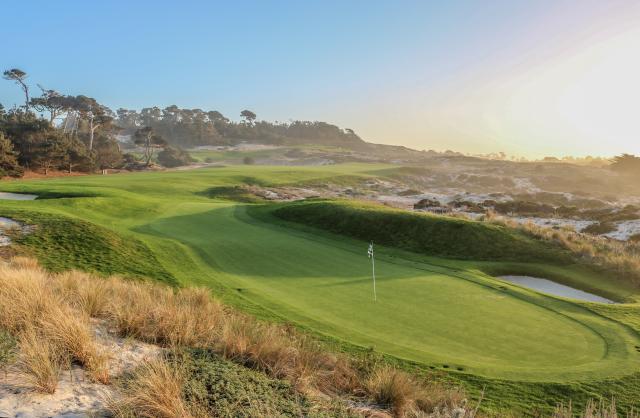 10. Picnic and explore at Seal Rock.
This beautiful beach is crawling with marine life, from sea lions and harbor seals playing in the surf, to anemones and crabs hanging out in the tide pools.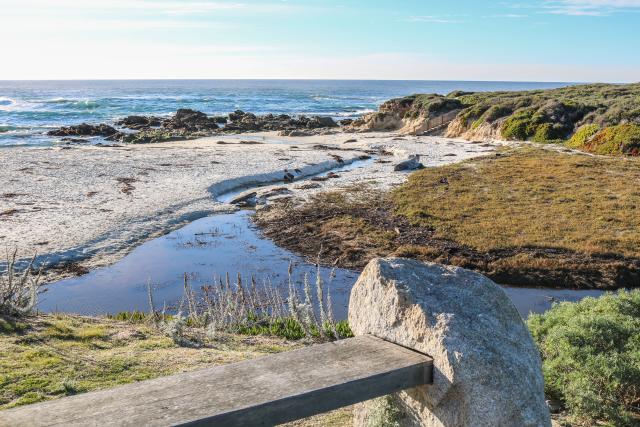 11. Pull over at Fanshell Overlook and soak in the views of the beach and Cypress Point Club.
Golfers will be drawn to the peeks into Cypress Point Club to your right. But it's hard not to be impressed by the panoramic and picturesque Fanshell Beach to your left.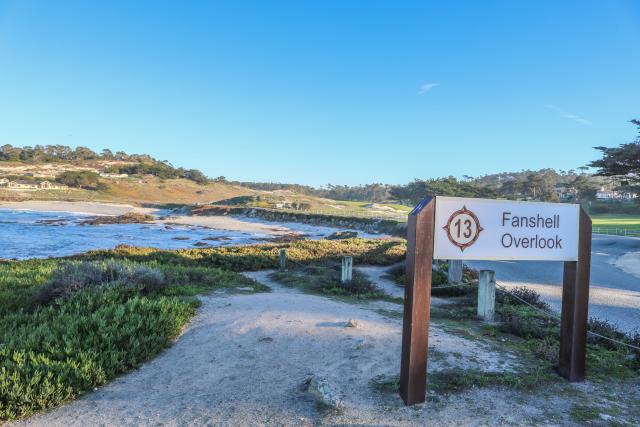 12. Watch a sunset at Cypress Point Lookout.
Local's secret: You'll find the best sunsets in all of Pebble Beach here.
13. Take a selfie inside a giant Monterey Cypress at Crocker Grove
This grove is home to the oldest and largest Monterey Cypress in existence. Since this enchanted grove is just off the coast, the sheltered trees aren't reshaped by the wind.
14. Take a picture of the Lone Cypress.
It's one of the most photographed trees in the world. It's hard to take a bad photo here. (Credit: Joann Dost)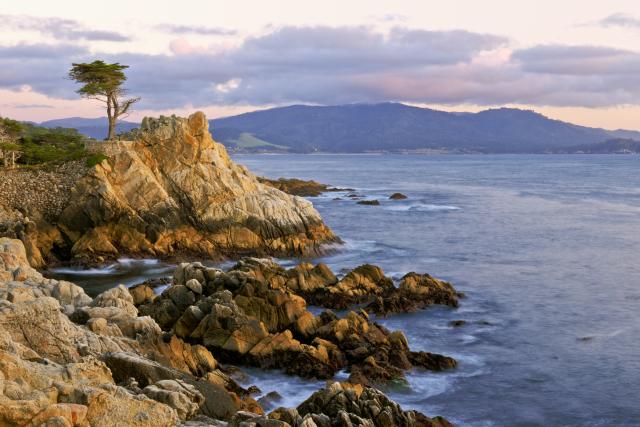 15. Drop in on Pescadero Point and spy on some spooky snags.
The famous Ghost Tree stop is known for its big wave surfing off the coast, and some crazy looking trees perched above the cliffs.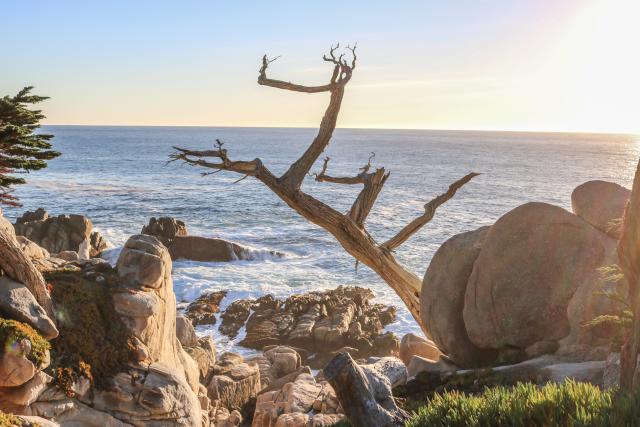 16. Enjoy one of the best views in all of golf – the 18th hole at Pebble Beach – from the fire pits at The Bench.
The food and drink is as good as the view. The Bench has been a Wine Spectator Best of Award of Excellence recipient ever since it opened.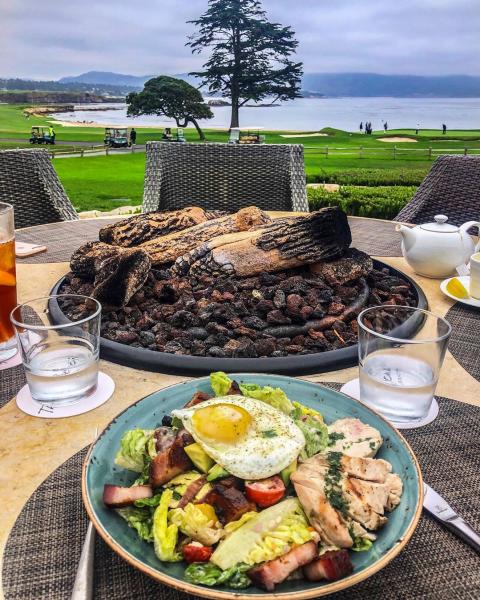 16.5 Grab a drink at one of golf's most famous 19th holes – The Tap Room.
Golf Digest called The Tap Room one of the best golf pubs in the world. It also feels like a golf museum with memorabilia celebrating the five U.S. Opens hosted at Pebble Beach covering the walls.
17. Play a round of golf in Pebble Beach.
No matter what your skill level, you can say you've played golf at Pebble Beach by teeing it up at Peter Hay – the Monterey Peninsula's only par 3 course. Peter Hay sits above Pebble Beach Golf Links and offers amazing views of Carmel Bay. Clubs are available, and green fees at the family friendly course include unlimited golf for the day.
Looking for more inspiration? Visit PebbleBeach.com/InsidePebbleBeach.