As social distancing has become the new norm across the U.S., Americans are eagerly seeking inspiring at-home entertainment ideas. Well, the team at the Portola Hotel & Spa have put together a list of some binge-worthy shows and movie recommendations, each with an ode to the Monterey Peninsula. So grab your favorite snack and beverage (maybe a glass or two of Monterey County wine) and enjoy #SeeMontereyFromHome.
BIG LITTLE LIES (DRAMA SERIES)
Streaming on HBO, Season 1 & 2 are available now. Set throughout the Monterey Bay Area, you'll see local sites including Pacific Grove, Monterey Old Fisherman's Wharf, the Bixby Bridge, Monterey City Hall and more. Inspired by the novel "Big Little Lies" by Liane Moriaty starring Reese Witherspoon, Nicole Kidman, Zoe Kravitz, Laura Dern, Shailene Woodley, and joining the cast in Season 2, Meryl Streep.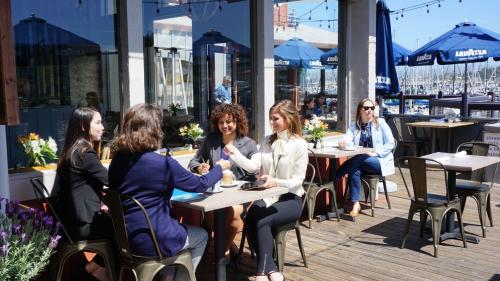 Old Fisherman's Wharf, located behind the Portola Hotel & Spa, is home to Paluca Trattoria, an Italian restaurant that stood in as a coffee shop in the first season of "Big Little Lies".
TURNER & HOOCH (COMEDY)
Set in American's last hometown, Pacific Grove, CA, dog lovers will enjoy this comedy starring Oscar-winning actor, Tom Hanks. Watch while police investigator, Scott Turner and accidental (and very slobbery) partner, Hooch help solve a crime in their sleepy little beach town, all while turning Turner's life completely upside down.
The coastline along Pacific Grove and Monterey is featured throughout "Turner and Hooch".
STAR TREK IV: THE VOYAGE HOME (SCIFI)
With scenes shot at the Monterey Bay Aquarium, Spock (Leonard Nimoy), Admiral Kirk (William Shatner) and the crew of the Enterprise travel back in time to 1986 to communicate with the only species who can save the Earth from a deadly alien probe – the humpback whales.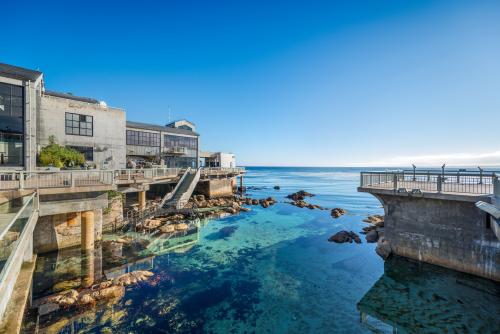 The Monterey Bay Aquarium's Great Tide Pool was transformed through special effects into a whale tank for the film.
PLAY MISTY FOR ME (THRILLER)
Starring Hollywood icon, Carmel-by-the-Sea resident and former Mayor, Clint Eastwood, "Play Misty for Me," set in Carmel, California is a classic thriller. When popular radio show host, Dave Garver (Clint Eastwood) strays from his long-time girlfriend, he finds himself wrapped up with an obsessive, psychotic fan. Local sites featured in the film include: the Sardine Factory on Cannery Row, Big Sur, Highway 1, and the Monterey Municipal Wharf in a restaurant now called the Sandbar & Grill.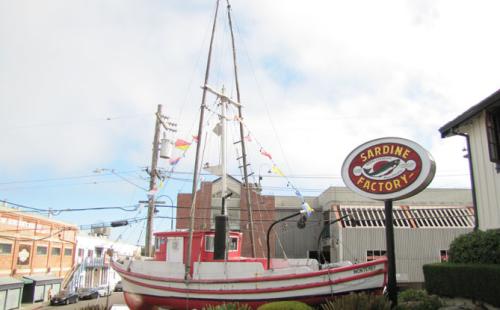 Scenes from "Play Misty for Me" were filmed at the Sardine Factory, an award-winning restaurant on Cannery Row.
CLASH BY NIGHT (DRAMA)
This is an oldie but a goodie, filmed in 1952 staring Barbara Stanwyck who returned to her fishing village in Monterey and marries one man and falls for another- a true drama! Other stars in this film are Marilyn Monroe, Robert Ryan, and Paul Dougless. Many scenes and opening shots were filmed on historic Cannery Row and the coastal recreation trail that was once a train track. One of the first restaurants on Old Fisherman's Wharf, Angelo's Restaurant, was featured in several scenes! While Angelo's Restaurant closed years ago, The Crab House Seafood Grill occupies the same space.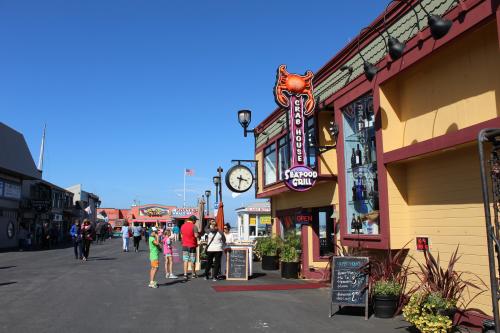 The Crab House Seafood Grill on Old Fisherman's Wharf occupies the space that was featured in many scenes.
A SUMMER PLACE (ROMANTIC)
Filmed entirely in Monterey and Pacific Grove such as Lighthouse Avenue, 17-Mile Drive, and Colton Hall. Many scenes take place at the "Pine Island Inn" which is the Victorian House in Pacific Grove. Famous actor Richard Egan (Ken) and actress Dorothy McGuire (Sylvia) rekindle their teenage romance twenty years later while their two teenage children begin their own romance- major consequences start to arise for both couples!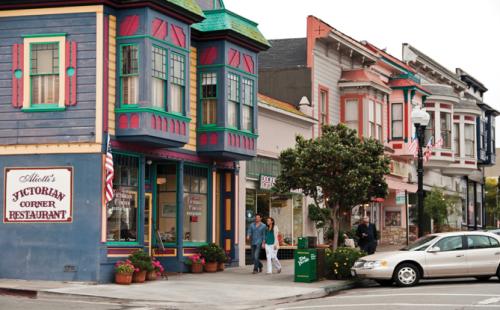 Lighthouse Avenue in Pacific Grove, home to quaint shops and family-owned restaurants, was featured in the film.
When the time is right to visit the Monterey Peninsula again, consider a stay at the AAA Four Diamond Portola Hotel & Spa. In the meantime, we hope you enjoy a virtual trip to our destination.