Monterey County is made up of a large community of diverse, family-owned businesses including a variety of Hispanic-owned businesses. In recognition of Hispanic Heritage Month which runs from September 15 - October 15 and celebrates the generations of Hispanic Americans who have influenced and enriched our society, we have highlighted a few of the many amazing Hispanic-owned businesses here in Monterey County!  
Restaurants
Alejandro's (Monterey) - Oaxacan influences. Chef is from Oaxaca.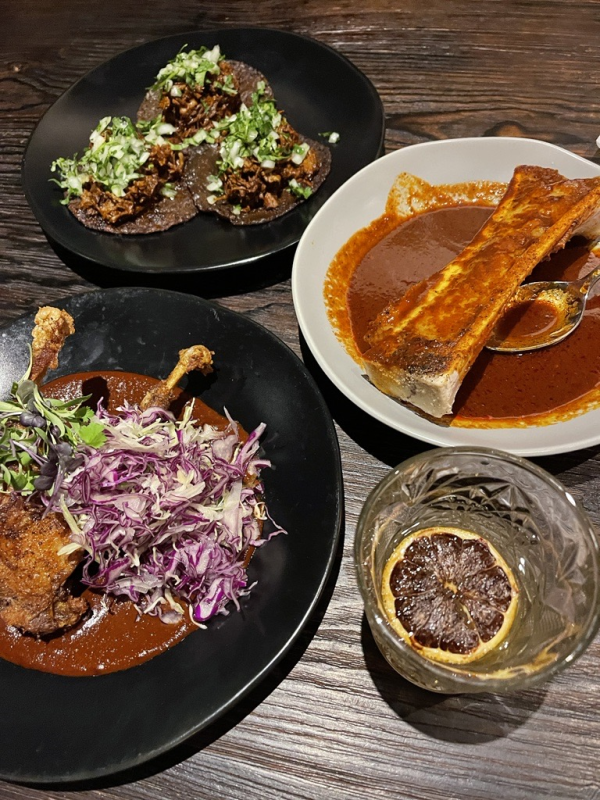 Aquino's Birrieria (Pacific Grove) - Owners emigrated from Oaxaca.
Cultura Carmel (Carmel-by-the-Sea) - "Cultura's cooking is inspired by the cuisine of Mexico, with particular attention paid to the region of Oaxaca. It might not be the right place to take abuela for an authentic taste of home, but the food is very good. Tucked among shops in a courtyard away from the street, this dining room resembles a sort of Mexican taberna, lined with deep red booths, coffered ceilings and wrought-iron accents. On fair nights, dine alfresco around the courtyard's fire pits. Try the house-made Cultura mole with smoked pork, which arrives as a feast of freshly made tortillas and lightly pickled vegetable slaw for assemble-your-own tacos. Save room for desserts like the dense and dark Oaxacan chocolate brownie with a touch of chili and cinnamon cloaked in ganache." - MICHELIN GUIDE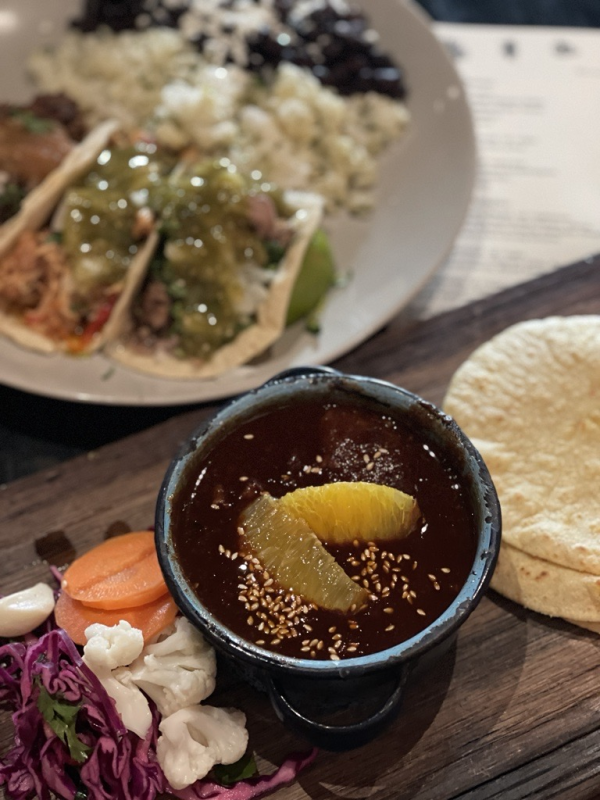 Culturas Hidalgo & Oaxaca Restaurant (Salinas) - Local favorite restaurant specializing in Mexican cuisine from the regions of Hidalgo and Oaxaca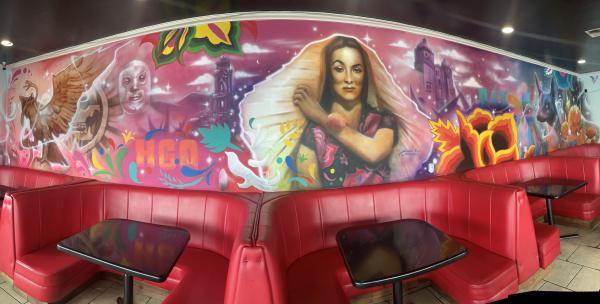 Cocina Yatzeche (Seaside) -  Hidden gem best known by Seaside locals. Oaxacan cuisine featuring homemade tortillas, memelitas, tlayudas, and hard to find authentic beverages like tejate (maiz and cacao beverage traditionally made in Oaxaca, originating from pre-Hispanic times) and chilacayote (a refreshing candied squash water drink).
El Cantaro (Monterey) -​ Vegan health-concious Mexican restaurant featuring Oaxacan specialties including memelitas and tlayudas. 
El Charrito (Salinas and Monterey) -  A family-owned business, known for their hand-stretch flour tortillas, that uses old Mexican cooking techniques to serve the community.
El Milagro (Seaside) - Oaxacan restaurant specializing in authentic dishes like, tacos Oaxaceños, tlayudas, and mole negro Oaxaceños.
La Tortuga (Seaside) - "Since 1999, we have been a beloved and enduring fixture in the seaside community, serving as a cherished family staple of Oaxacan cuisine. Known for our commitment to authenticity, we have established ourselves as a trusted and dependable destination for traditional culinary delights." - La Tortuga
Mando's Restaurant (Monterey) -​ Chef Mando emigrated from Oaxaca.
Restaurant San Pedro (Castroville) - No frills restaurant offering delicious authentic Oaxacan food. Highlights include tlayudas, quesadillas de quesillo (a cheese unique to Oaxaca) and menudo.
Villa Azteca (Salinas) -  Chef Susana uses her vision and passion for traditional Mexican food with an innovative twist to ensure all guests have an amazing experience. Don't forget to check out their signature cocktail menu and try out their Paloma flight!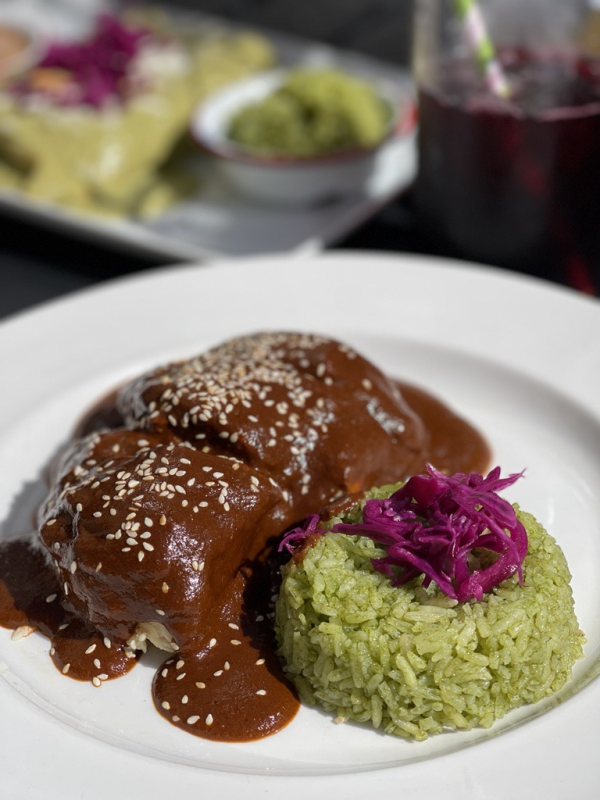 Food Trucks
El Volcan (Salinas)
Double Dz Birrieria (Salinas)
La Tequita Istmeña (Soledad) - "Established in 2021, La Tequita Itsmeña food truck was created to give an outlet to the authentic flavors and unique style from Oaxaca, Mexico. One family couldn't help but notice that in an area populated by many with a Oaxacan background that there wasn't too many places that served up the flavors from the indigenous region. They decided to start up a food truck to showcase the delicious recipes of their mother who has been cooking these dishes since childhood. Today, an entire community is enjoying the delicious cuisine they know and love with a diverse style that makes it stand out amongst the rest." - La Tequita Istmeña
Lonchera La Paloma (Salinas)
Mariscos El Compita (Salinas)
Sabor Latin Fusion (Salinas)
Tacos Pacheco (Salinas)
Wineries and Breweries
Brew - N - Krew Ale House (Salinas) - This unique brewery is not only Hispanic-owned but women-owned as well. It is one of the newest spots in downtown Salinas, "serving beer con cultura," Brew-N-Krew is a must-try!  
Corral Wine Co (Carmel Valley) - Check out this family-owned and operated Corral Wine Co. in Corral De Tierra and have a glass of Pinot Noir at their tasting room located in Carmel Valley.
Lepe Cellars (Carmel-by-the-Sea) - Stemming from passion and dedication, Lepe Cellars offers organic, vegan, and sustainable wine. The tasting room is located in Carmel-by-the-Sea and the wine is available in different locations around the area such as Alvarado Bistro and Rio Grill in Carmel, Stokes Adobe in Monterey, and Village Wine and Tap Room in Carmel Valley.
Sling & Stone Wine (Monterey County) - Wine crafted with fruit locally sourced from Santa Lucia Highlands, Carmel Valley, and Monterey.  
Markets
El Corazon de Oaxaca (Seaside) - Purveyor of Oaxacan imports such as traditional garments, folk art, and chapulines, the Oaxacan grasshopper delicacy
El Rancho Market (Marina) - Although there are a few local markets around the County, here are a couple to try for yourself! El Rancho Market has a meat market and a full menu of made-to-order tortas, burritos, or tacos! 
La Preciosa Family Market (Seaside) - Here you can get fruits, vegetables, and other ingredients for your lunch or dinner.
La Oaxaqueña Inc. (Seaside) - "La Oaxaquena Inc was born on April 2015 in the city of Oaxaca, Mexico, the main objective is to provide the Oaxacan community in the United States with high quality products at fair prices, but also to create a gateway for the Latinamerican and American market towards Oaxacan culture." - La Oaxaqueña
Panaderias
Angelina's Bakery (Seaside) - Looking for a last-minute cake for an event? Serving baked goods since 1998, Angelina's Bakery has got you covered! They offer a selection of pastries and cakes custom-made especially for your party or event. From 3 or 4 leches cake, eclairs, or napoleons, they have something for everyone!  
Emma's Bakery and Cafe (Salinas) - This bakery and cafe is devoted to serving customers mouthwatering dishes that feature the highest quality ingredients available. Try their breakfast and lunch items and finish off your meal with handmade fruit pies, cream pies, or pastries.
Casa Oaxaca Bakery (Salinas) - Mexican bakery specializing in traditional Oaxacan recipies, including pan de yema (a Day of the Dead bread from Oaxaca)
Guadalajara Bakery (Salinas)
La Plaza Bakery (Salinas)
Lupita's Bakery (Seaside) - With its deep roots in family tradition derived from San Pablo, Oaxaca, Mexico, recipes have been passed along from generation to generation. Family-owned, the Morales brothers keep their mother's legacy going by providing quality bread and pastries for the community. 
Panaderia Acambaritas (Salinas)
Panaderia La Estrella (Salinas)
Panaderia Tres Hermanos (Salinas)
Zimatlan Bakery (Seaside) - "Family owned bakery with baking tradition passed on father to son through decades of experience with the aim to serve our community delicious oaxacan cuisine, Mexican bread, and custom made cakes." - Zimatlan Bakery & Deli
Wellness and Beauty
Bella Beauty Salón (Seaside) - Treat yourself to a haircut or fresh highlights at this Seaside beauty salon. Bella Beauty Salón offers cuts for men and women, and up-do hairstyles for special events!  
Elena's Beauty Salon (Seaside) - Open daily and offering walk-ins, this is a great place for the whole family to get a haircut or new style.