It's the most magical time of the year! Use this Monterey Gift Guide to bring in the holiday spirit with unique Monterey County experiences and locally-made gifts.
Unique Monterey Experiences
Sometimes, the best thing we can give someone isn't a "thing" at all. Give the gift of one-of-a-kind adventures with these unique experiences around Monterey County.
HANDCAR TOURS (Marina) - Traverse Monterey County's terrain in a special way! Guided handcar tours use your own sheer power (or get a boost aboard the new electric-assisted rail bicycle) to travel along the historic & scenic Monterey Branch Line Railway.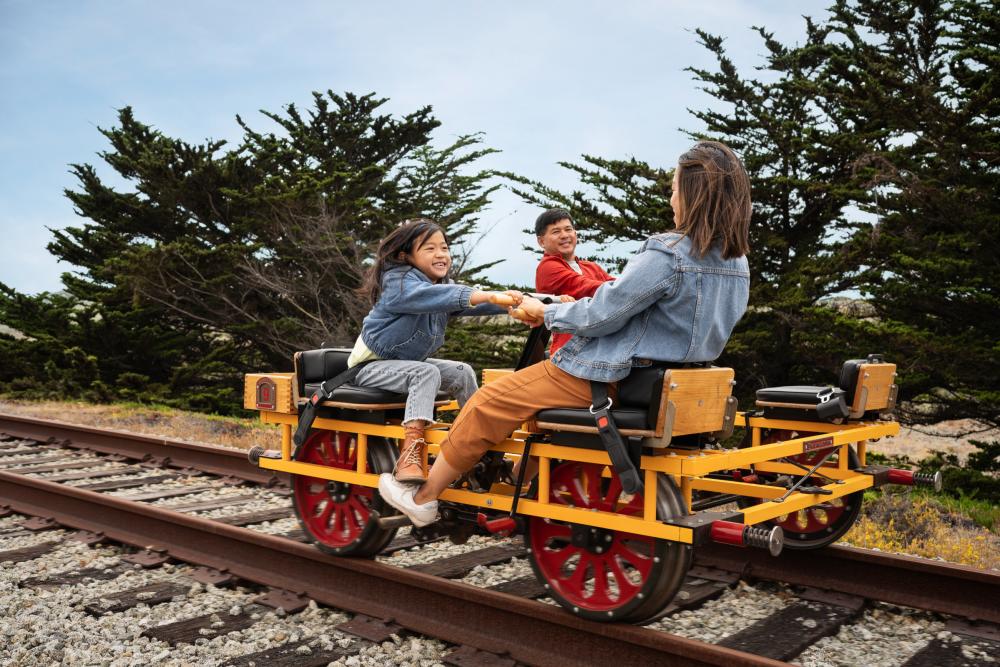 SANCTUARY BEACH RESORT (Marina) - Fall asleep to the soothing waves on the shoreline of Marina State Beach in a private oceanfront cottage. Sanctuary Beach Resort is a Kind Traveler Partner.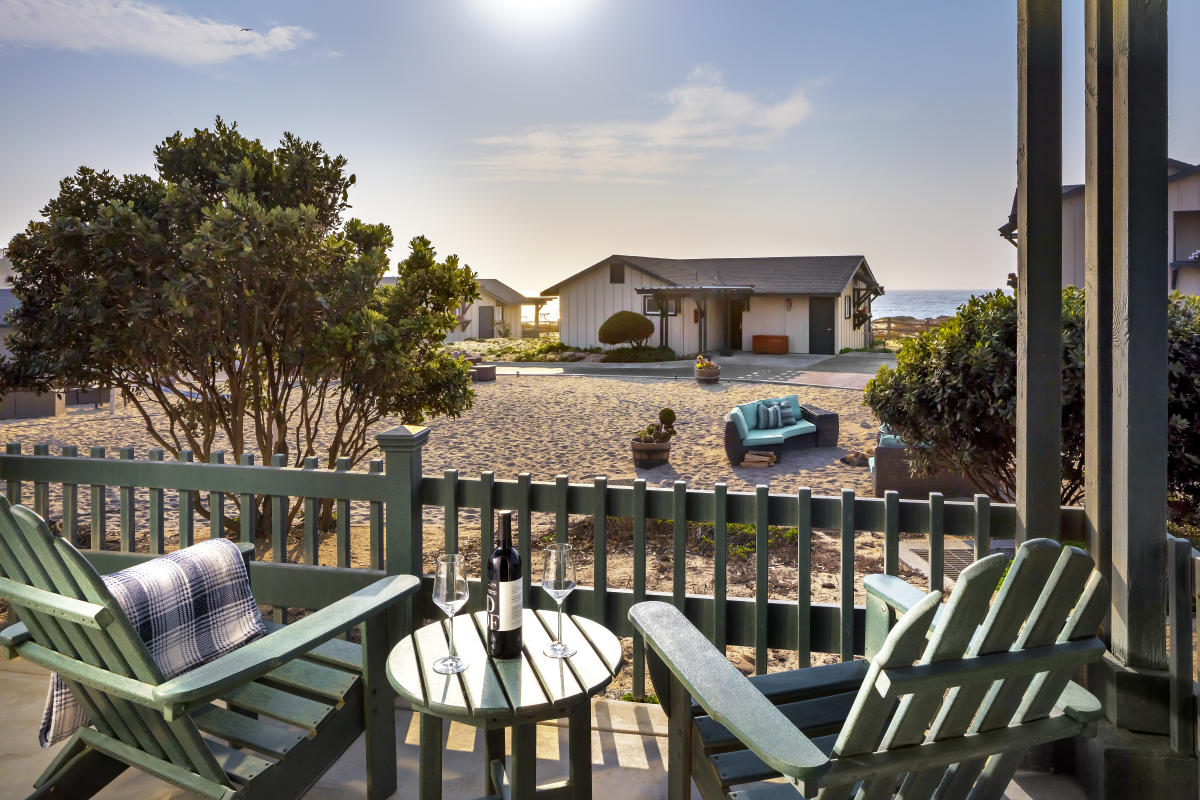 MONTEREY BAY ECO TOURS (Moss Landing) - Enjoy a 90 minute electric catamaran cruise to view the Southern Sea Otters, Harbor Seals and hundreds of bird species that inhabit the Elkhorn Slough. Monterey Bay Eco Tours is female-owned.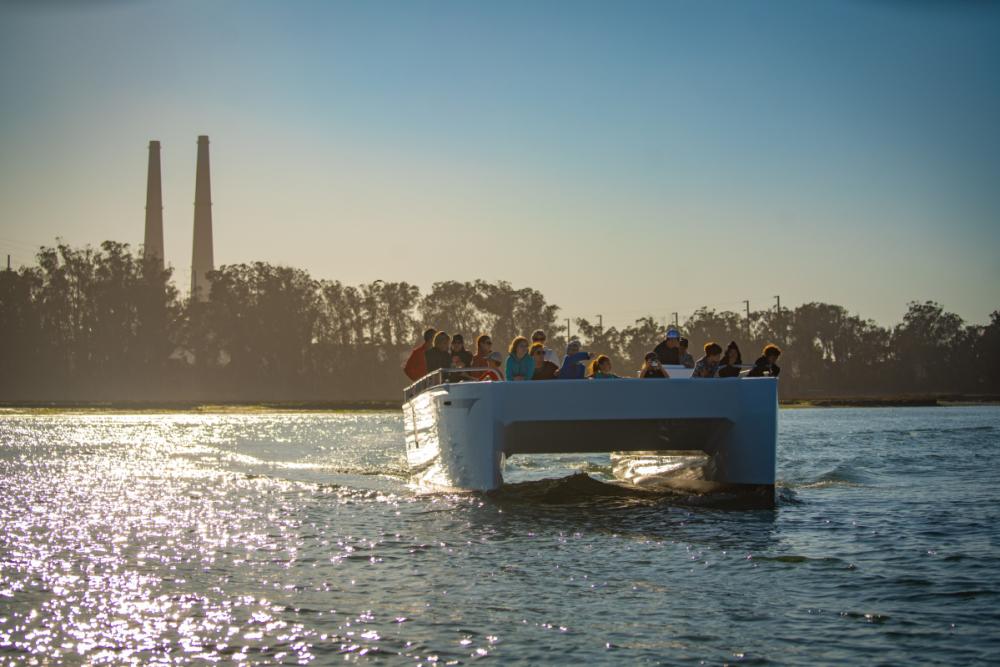 PACIFIC GROVE MUSEUM OF NATURAL HISTORY (Pacific Grove) - Pacific Grove Museum of Natural History is one of the oldest natural history museums in the U.S. and offers information on everything you could want to know about the natural history of Monterey County. Daily Admission Tickets and Membership available.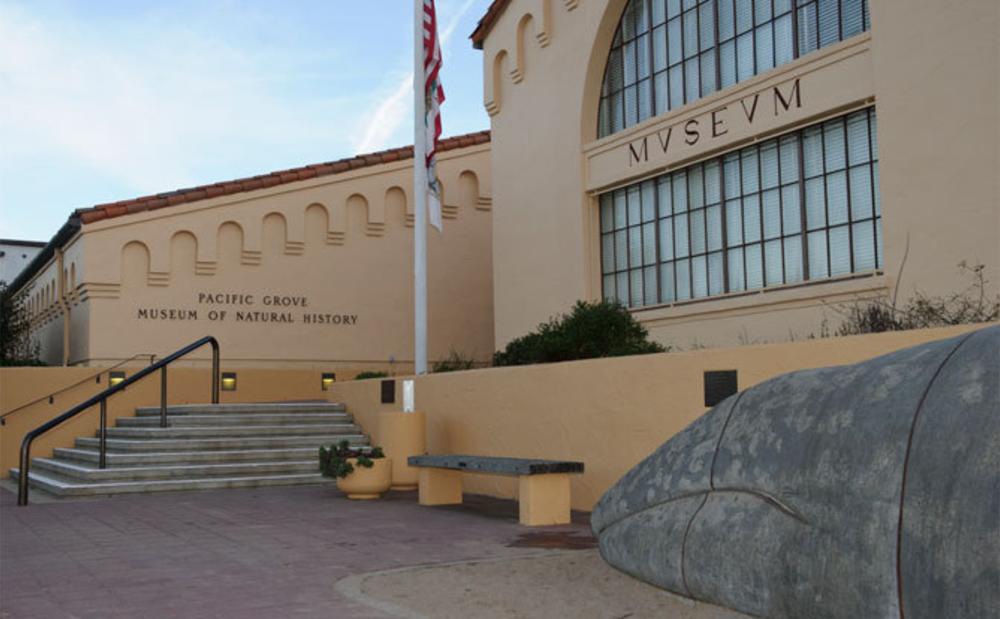 MONTEREY BAY FOOTBALL CLUB TICKETS (Seaside) - Excitement and local vibes are in abundance at Monterey Bay's pro soccer team games! Mingle with passionate fans and enjoy a pint of Monterey Bay F.C.-branded "Land & Sea" extra pale ales from Alvarado Street Brewery + an amazing array of food vendors. Season Tickets and Single Game Tickets available.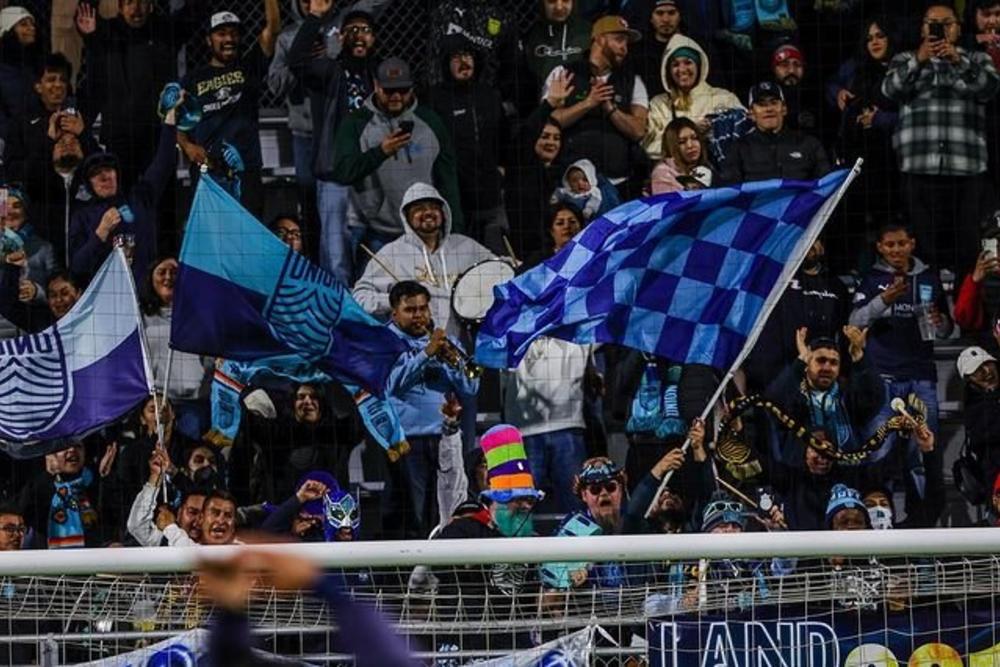 Food and Wine Gifts
BIG SUR SALTS (Big Sur) - Hand-harvested straight from the Big Sur coastline in blends such as Castrochill Salt, flavored with local Pezzini Farms' Green Globe artichoke from Castroville, California, the "Artichoke Center of the World".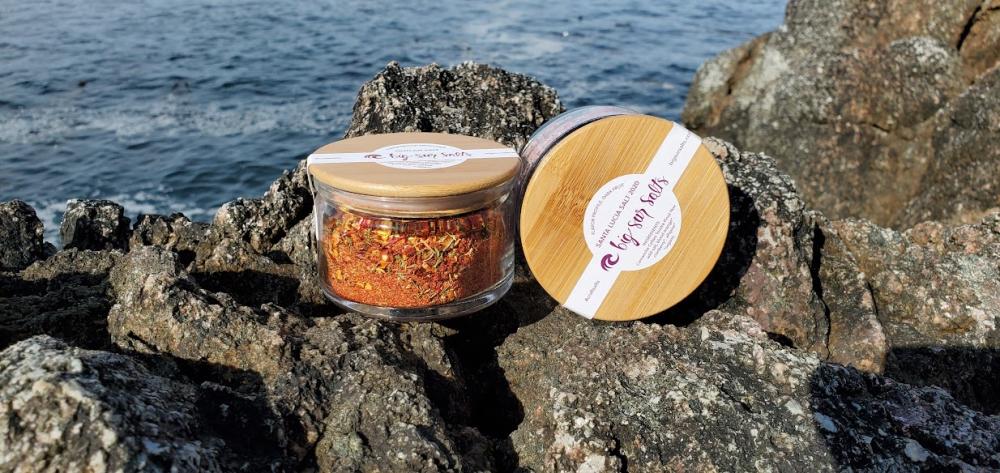 CAPTAIN + STOKER SMALL-BATCH ROASTED COFFEE (Monterey) - This coffee shop and roastery focuses on direct trade specialty coffee.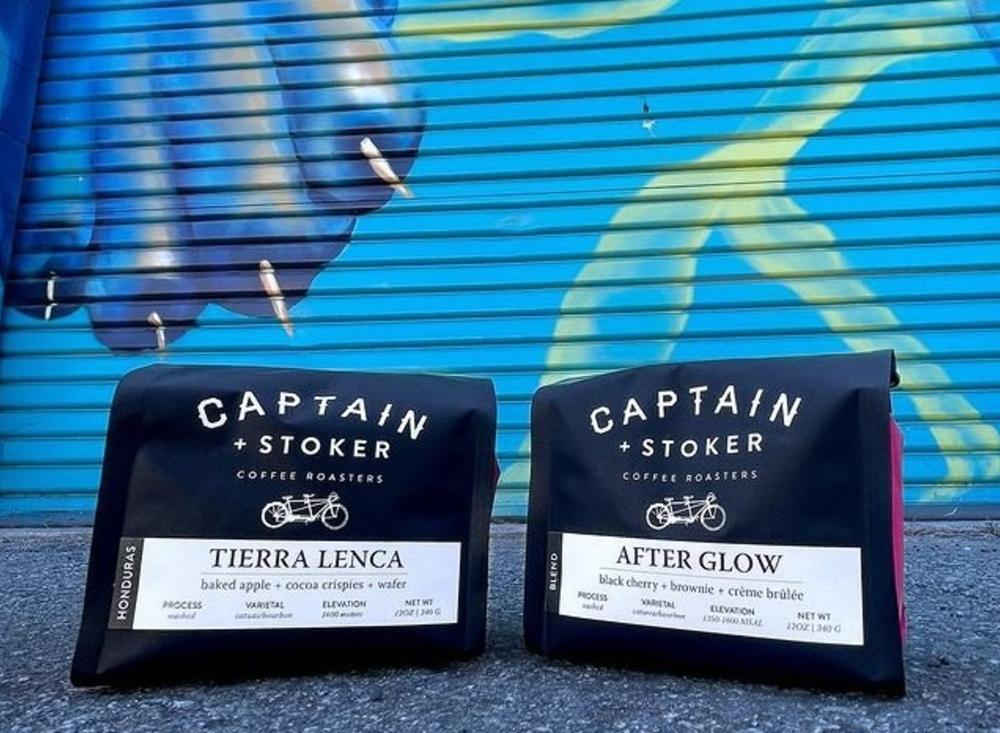 CARMEL HONEY COMPANY (Carmel-by-the-Sea) -  Carmel Honey Company was born out of a passion for bees and a 5th grade assignment for Founder, Owner and Beekeeper, Jake Reisdorf. The company's mini gift sets are fully customizable and are the sweetest way to show someone you were thinking of them, just bee-cause!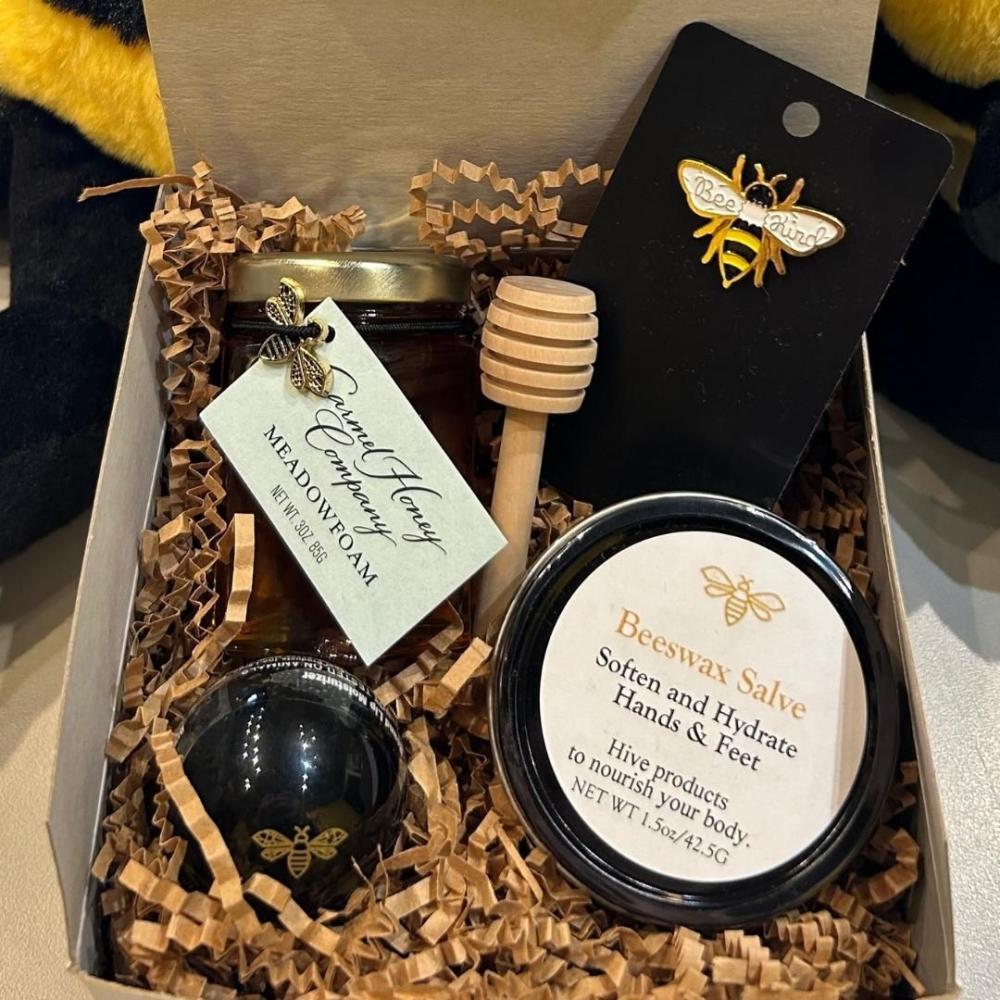 CHAMOY BROS. SAUCES AND SNACKS (Salinas) - Chamoy Bros create a variety of delicious homemade chamoy sauces and snacks.
DAHLKEMPER FARMS OLIVE OIL (Carmel Valley) - This olive oil is locally milled from home-grown Arbequina Olives in Carmel Valley. 100% of net proceeds are donated to charitable organizations.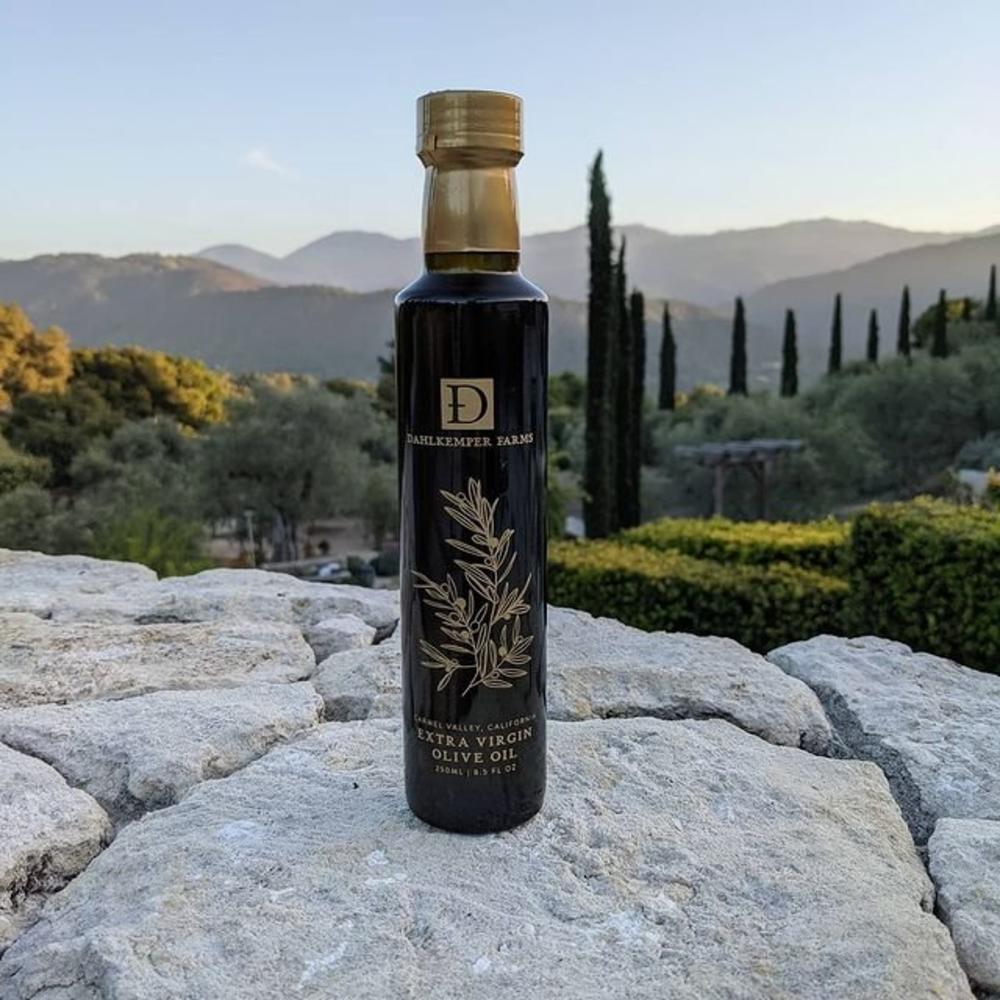 HOLMAN RANCH WINE (Carmel Valley) - Holman Ranch is the only 100% estate vineyard and winery in the Carmel Valley AVA. Wine can be purchased by the bottle or in Holiday Gift Sets.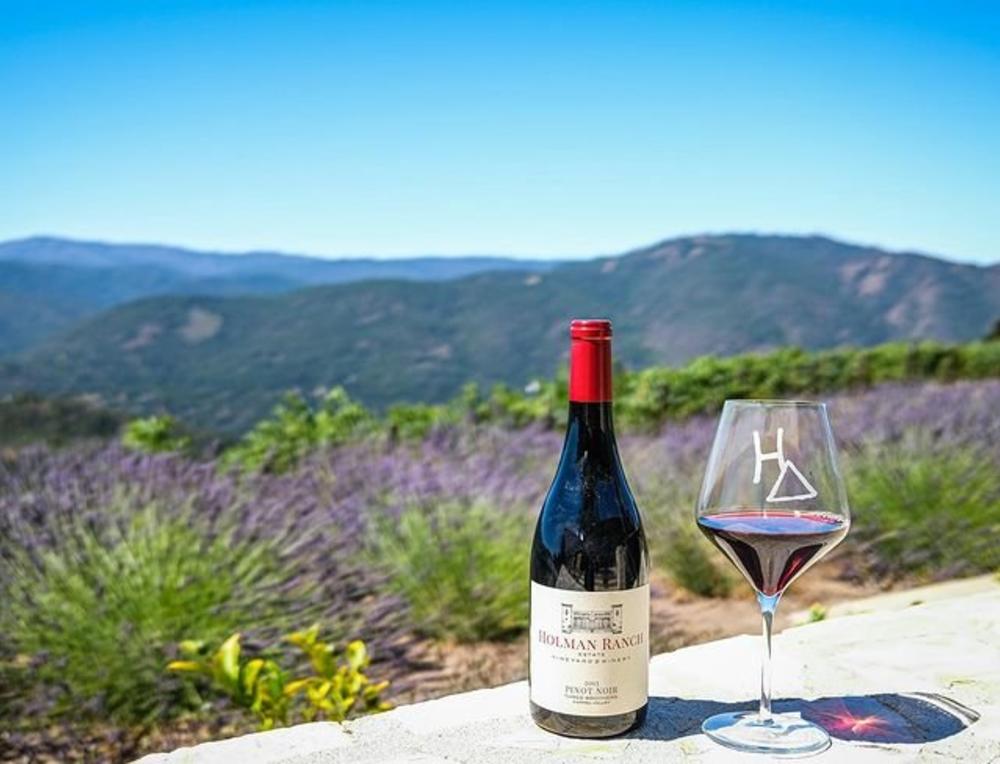 LULA'S CHOCOLATES (Monterey) - Using recipes passed down from Grandmother Lula herself, Lula's Chocolates are hand crafted in small batches, including Sea Salt Caramels, Truffles, Nut Clusters, California Toffee and everything in between.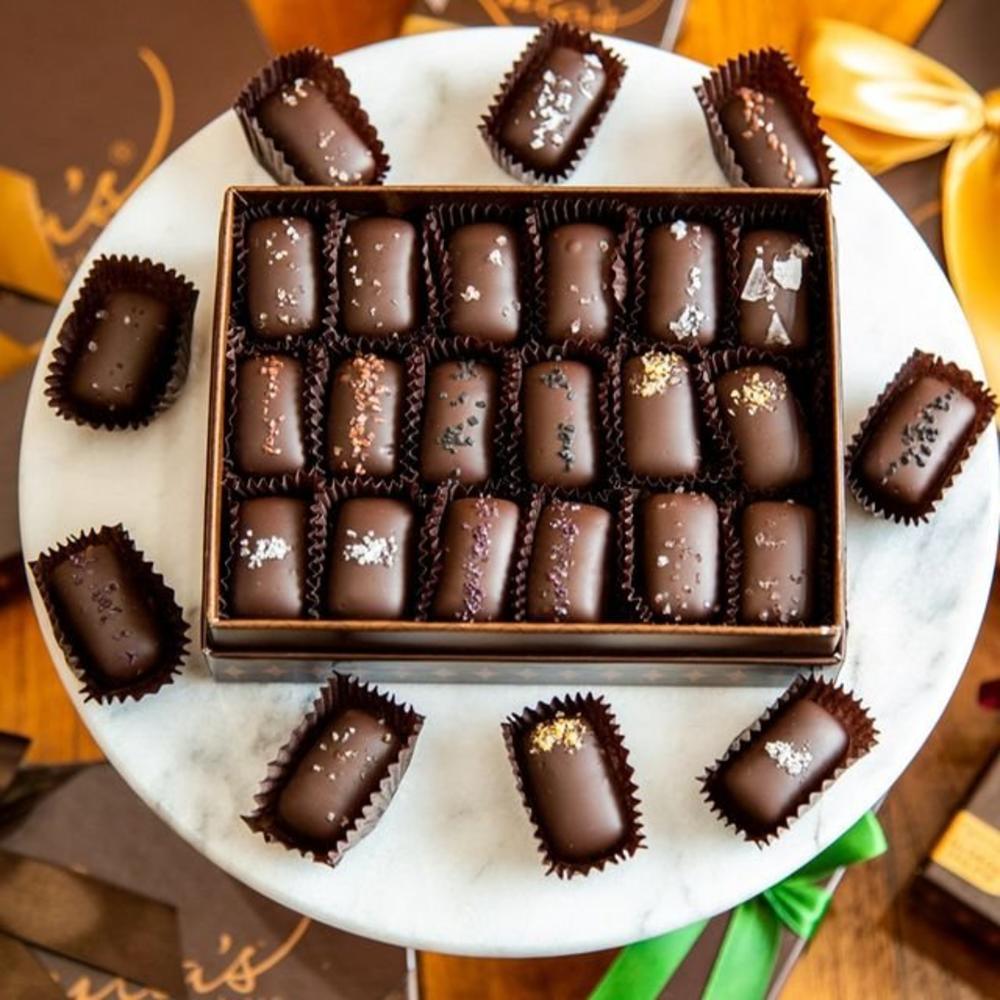 HAPPY GIRL KITCHEN CO. CANNED AND PICKLED GOODS (Pacific Grove) - Todd and Jordan Champagne began Happy Girl Kitchen Co. out of the sheer love of food. The Kitchen produces assorted jams made from locally preserved fruits and fresh locally harvested pickles, or purchase their acclaimed book "It Starts with Fruit" about the techniques and recipes of jam-making.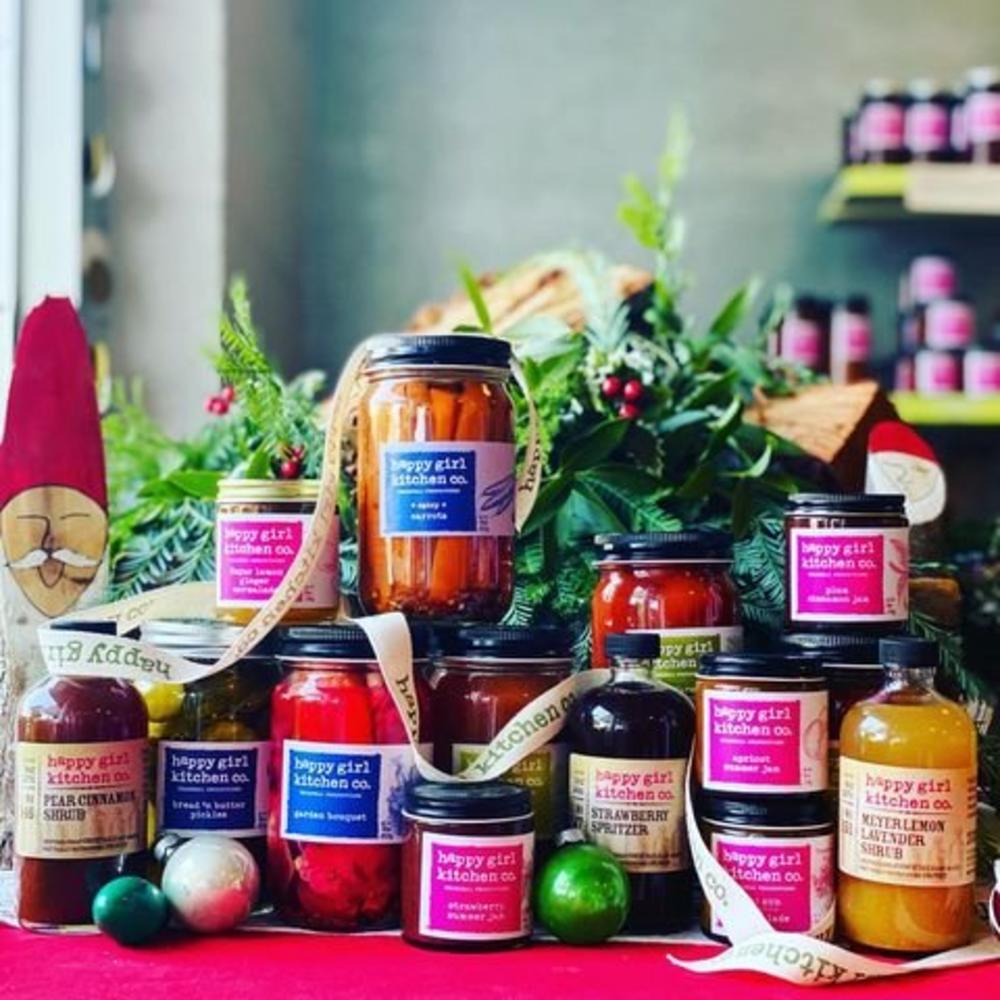 WHAT'S POPP'N POPCORN  (Salinas) - Steven and Yesenia Fraide create small batch popcorn made with quality organic ingredients including different flavors of popcorn such as kettle corn, churro, or creep'n jalapeno. Their popcorn is available at a few local farmers markets or you can order through their Instagram.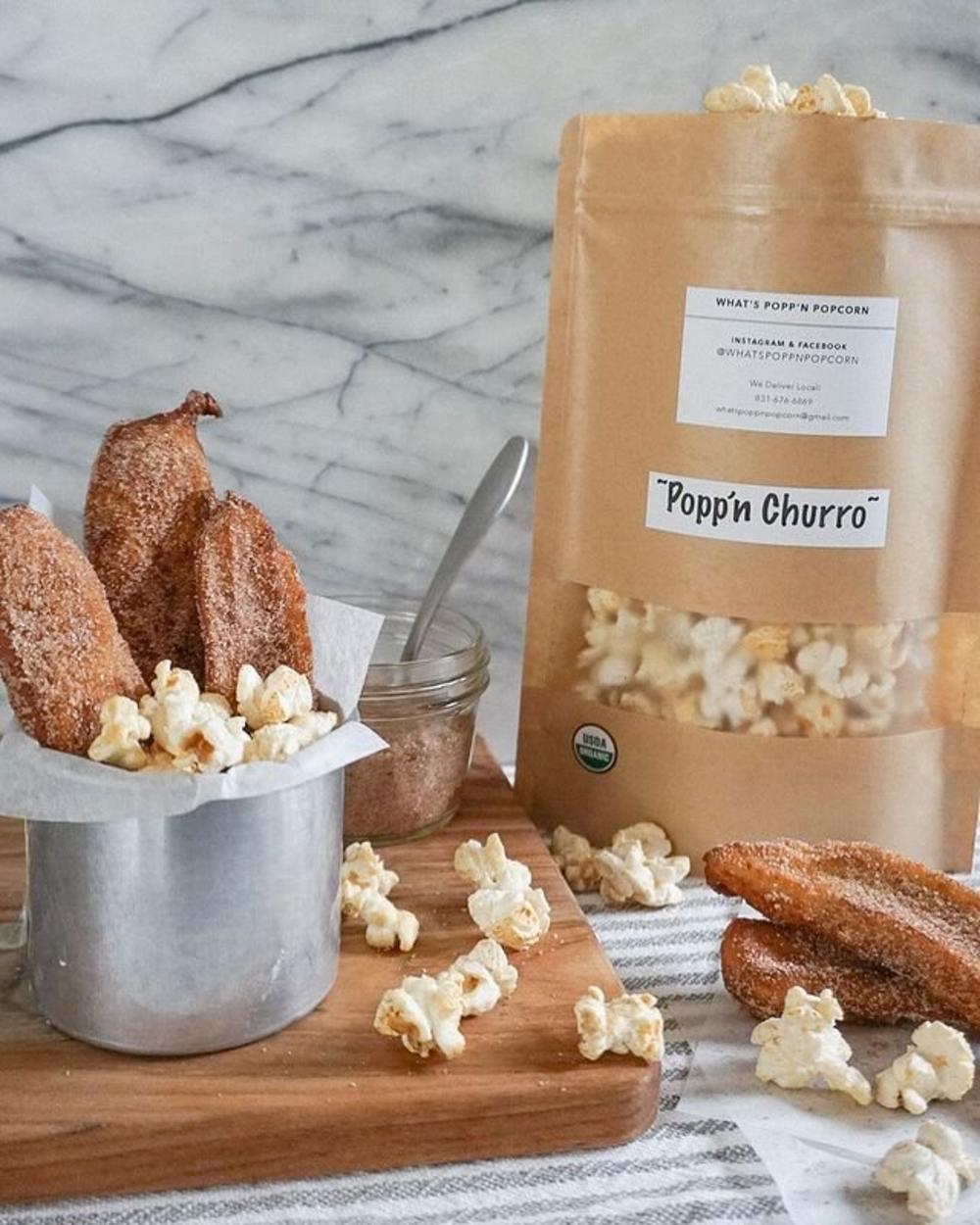 JOYCE WINE CO. WINE (Salinas Valley South County) - Joyce is the newest winery in South County producing terroir-driven cool climate wines. They pride themselves in harvesting certified organic, organic in practice, and locally grown fruit from within a ten mile radius of our winery in the Arroyo Seco AVA. Wine can be purchased by the bottle.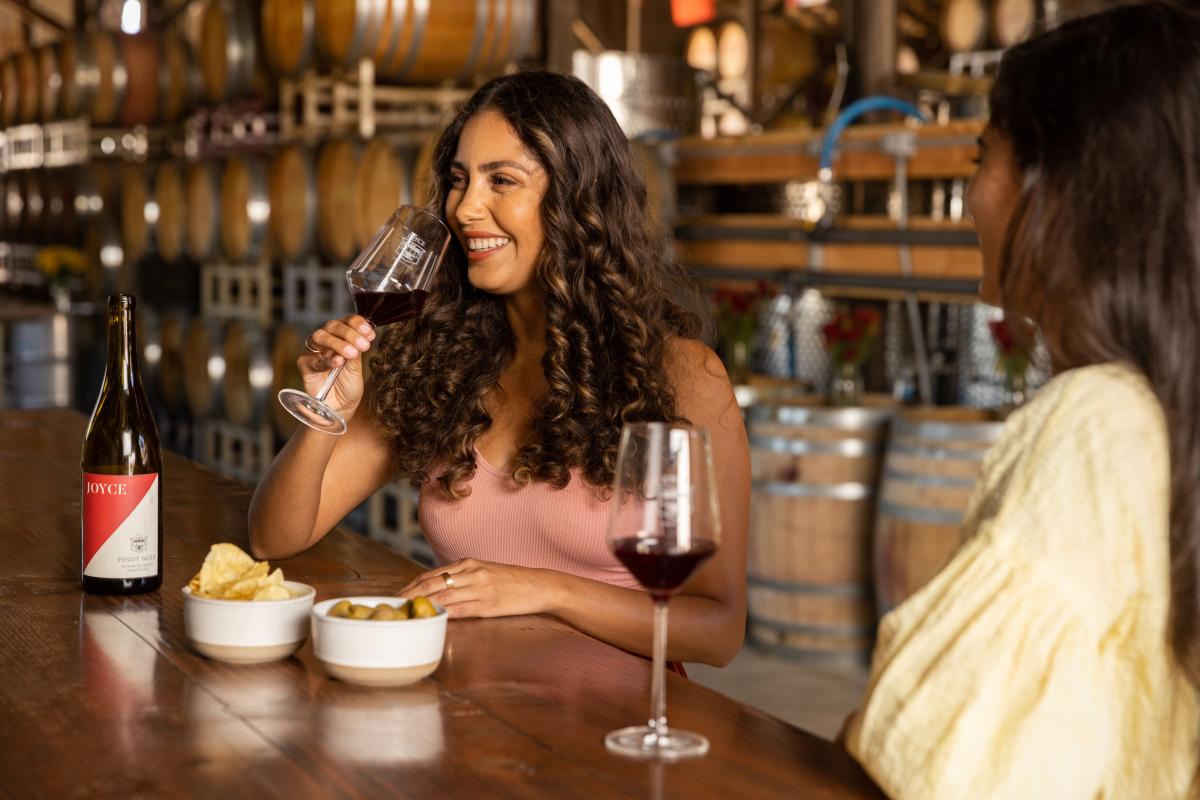 FOG'S END DISTILLERY SPIRITS (Salinas Valley South County) - Located in Gonzales CA, Fogs End Distillery prides itself in being reminiscent of a small family distillery, which were found on American farms. Their "Artisan Distilled" rums, gins, ryes and moonshines highlight the destination with names like "Whaler's Cove Rum," "Monterey Rye" and "17 Mile Gin."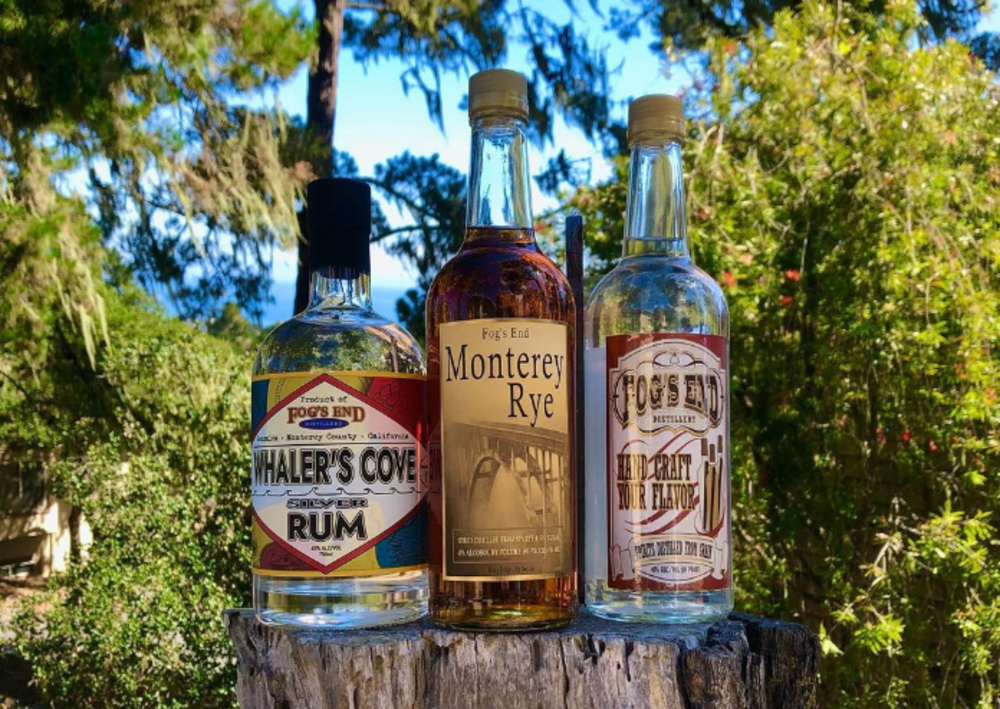 POST NO BILL'S CRAFT BEER HOUSE (Sand City) - Post No Bill's features an ever changing, diverse collection of beers from local Monterey and around the world. Canned and bottled beers are available for purchase.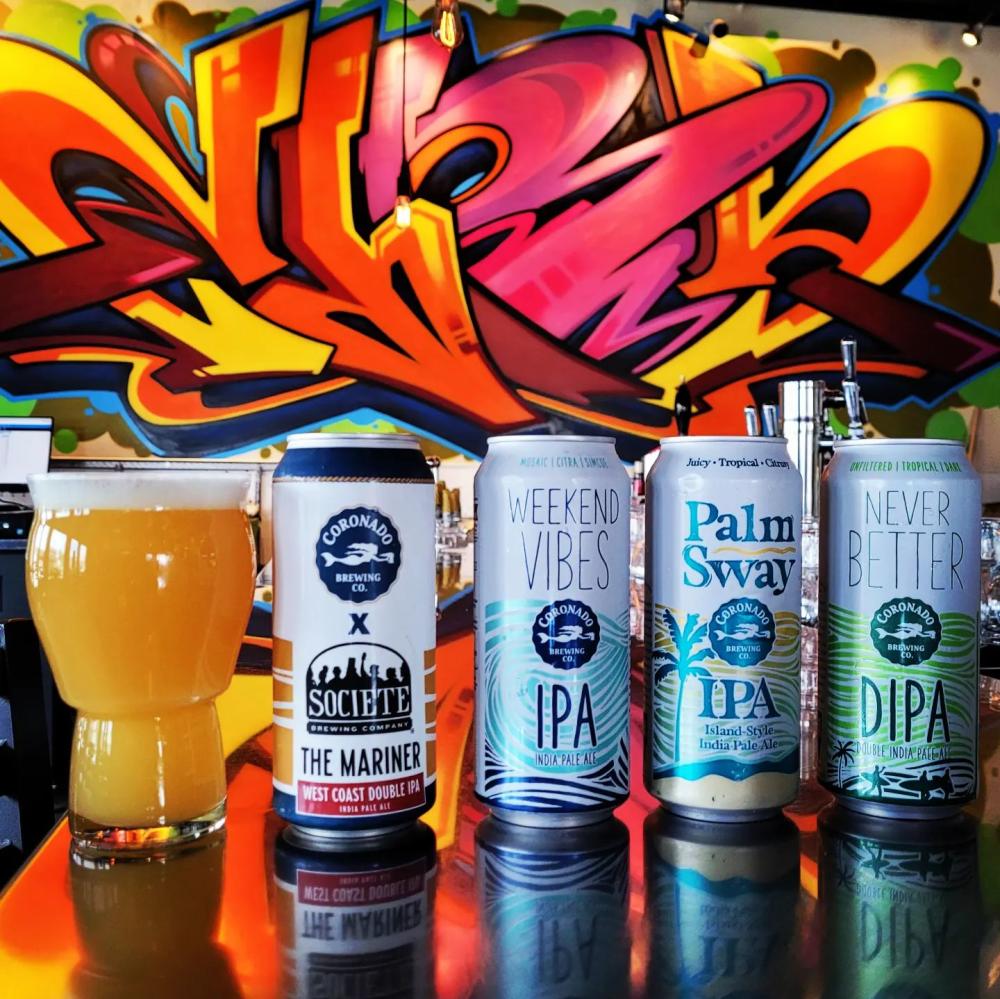 Locally-Made Art
ANEMONE (Big Sur) - Unique and small batch ceramic goods made by Anemone Delvoie in Big Sur, CA. All objects are made with with a variation of commercial stoneware and locally harvested clay. Their pots are hand built or thrown or both.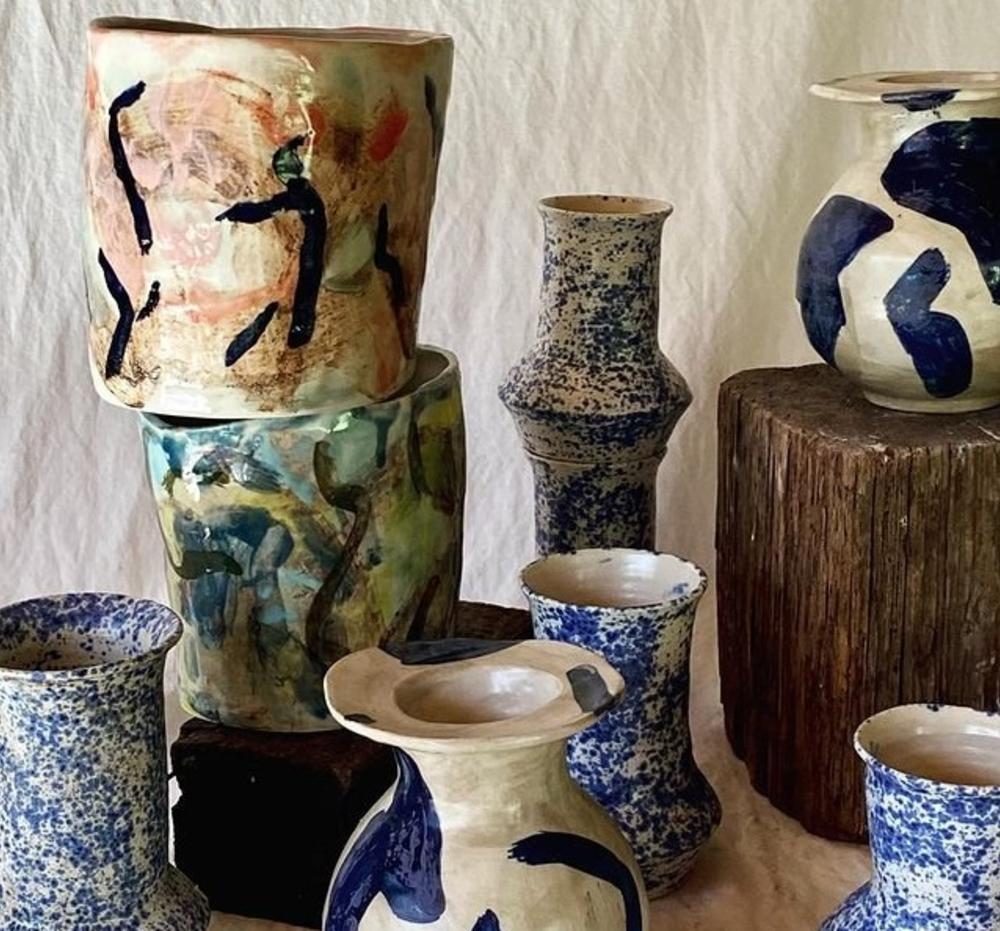 CARMEL-BY-THE-SEA PUZZLE BY LOCAL ARTIST LISA BRYAN (Carmel-by-the-Sea) -  Lisa has painted and captured the local history and ambiance of the area and formed this magic into a puzzle of Carmel-by-the-Sea.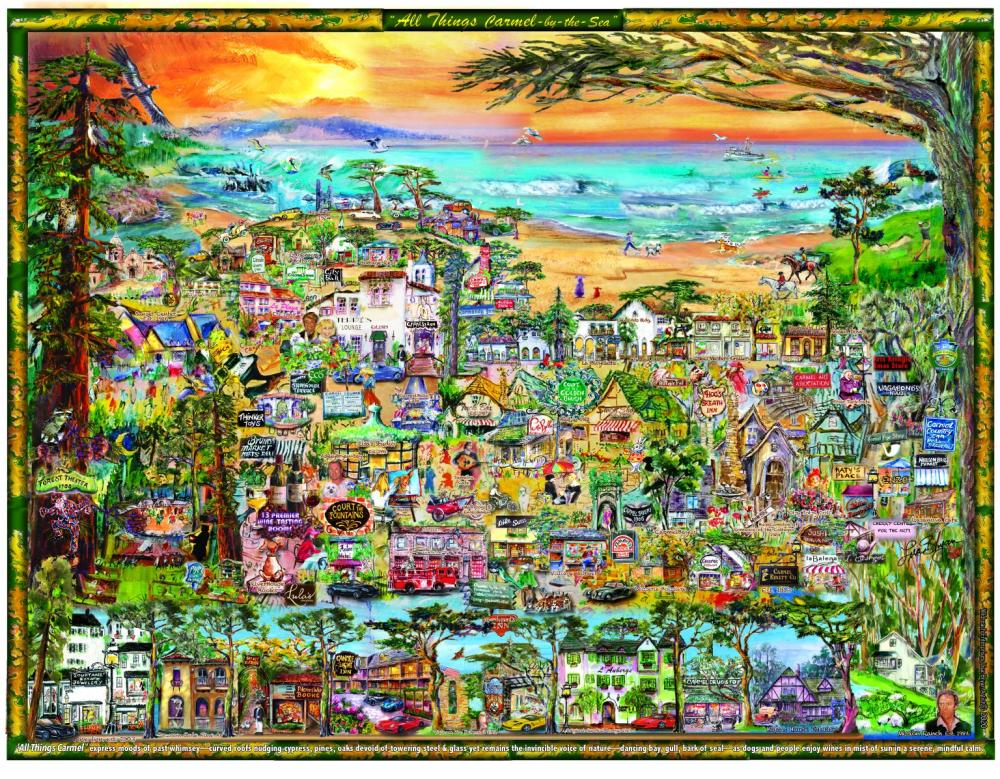 EVERHEART CANDLE CO. (Seaside) - Woman and US Air Force veteran-owned, this shop sells a variety of seasonal and non-seasonal candles! Orders can be placed through their website.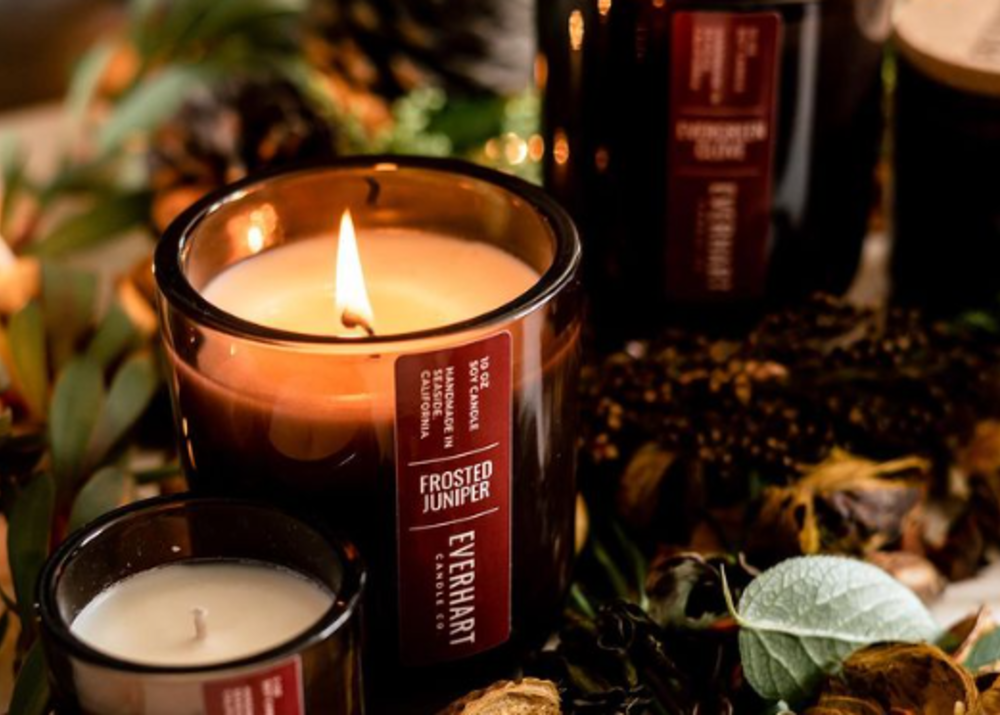 THE HAUTE ENCHILADA CAFÉ & GALLERY (Moss Landing) - The Gallery showcases artists from a wide range of mediums including Mayan weaving, wood sculptures and stained glass.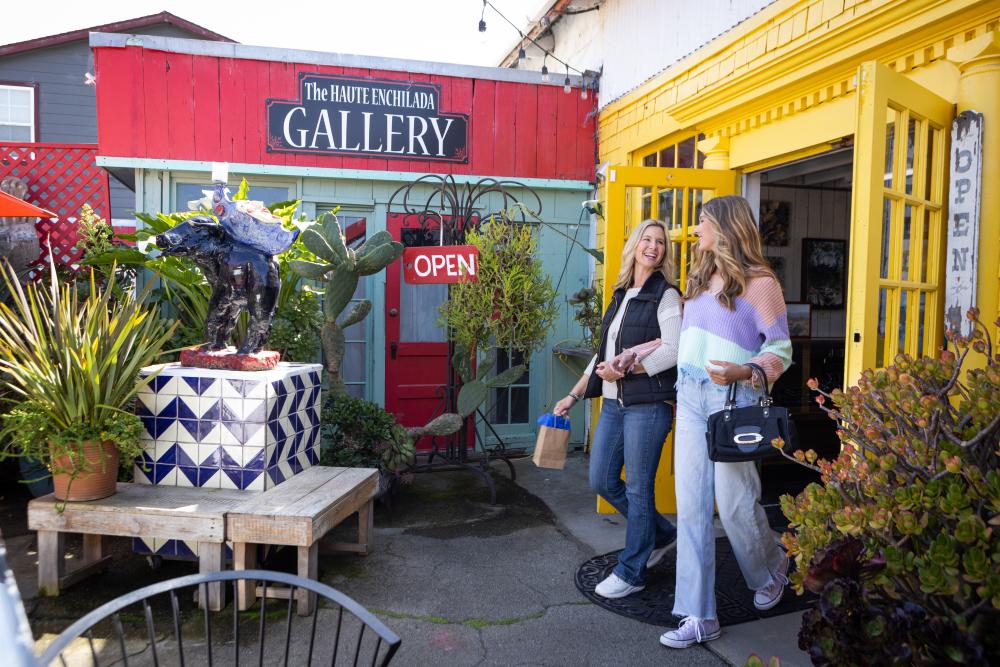 MONTEREY GLASSWORKS (Sand City) - Monterey Glassworks produces custom glass art, including artisnal galssware, decor and lighting. The studio also offers glass art services and private events for a unique experience in glass blowing.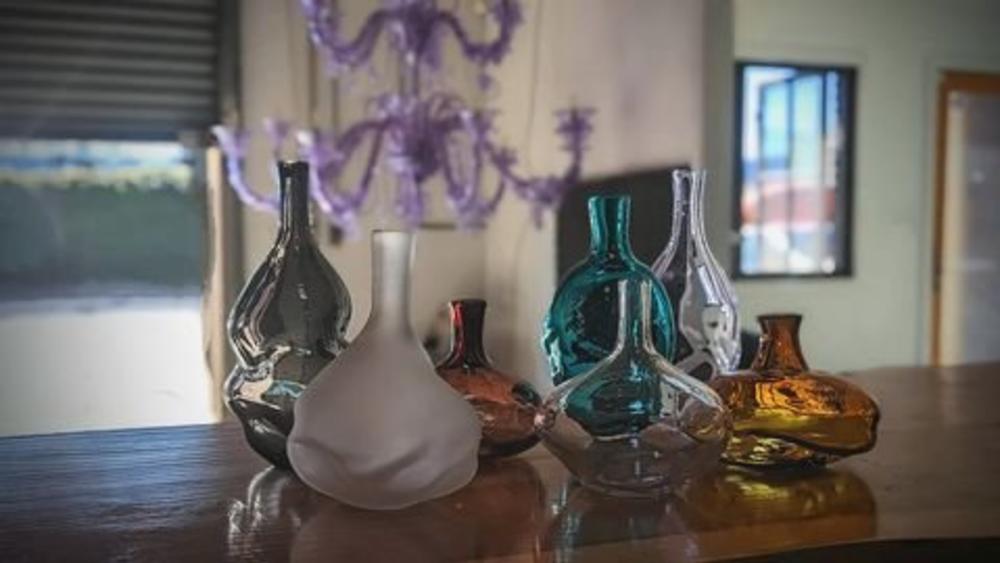 MO & CO HOME LIMITED EDITION BAYBERRY DIPPED TAPER CANDLES (Pacific Grove) - These elegant and fragrant bayberry taper candles signify more than just festive holiday décor – they each hold the magic of an age-old tradition within. With roots tracing back to Colonial America, the flicker of the bayberry flame represents the belief that any luck left over from the current year can be carried into the new year by burning the candle overnight, all the way to the socket. As the traditional saying goes: "These bayberry candles come from a friend. So on New Year's Eve burn it down to the end. For a bayberry candle burned to the socket will bring joy to the heart and gold to the pocket."