Photo Credit: Old Fisherman's Grotto
Clam chowder is a must-have when visiting the Monterey Peninsula. From restaurants in Cannery Row, Old Fisherman's Wharf, and throughout the County, you will be sure to be satisfied with this delicious filling comfort food. We have narrowed down some clam chowder favorites to add to your dining itinerary!  
This cocktail and oyster bar in Carmel-by-the-Sea offers three different kinds of clam chowder. There is New England (white) and Manhattan (red). Still not sure which one you should try? Why not try the Rosé which is a special blend of both! Available in a cup, bowl, or quart.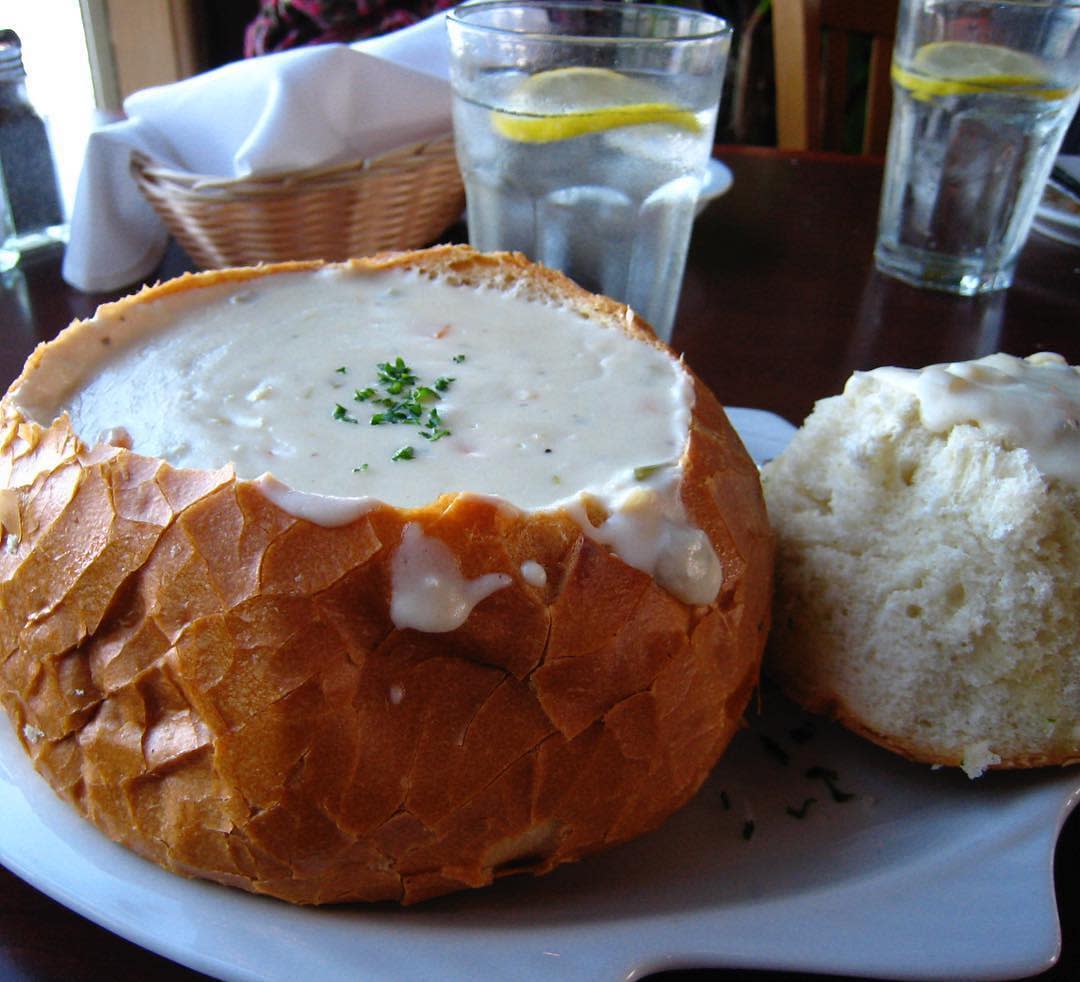 Photo Credit: Flaherty's 
All about seafood and sustainability, this seafood grill and oyster bar offers signature New England and Manhattan clam chowders in a cup, bowl, or bread bowl. Another great soup is the West Coast Crab Chowder which has the option to come in a bread bowl.  
This California Cultural Cuisine located inside the Portola Hotel and Spa brings local ingredients and high-quality seafood to the table! Try Jack's Famous clam chowder made with clams, Dungeness crab, organic corn, artichoke hearts, and bacon in a bowl or a cup.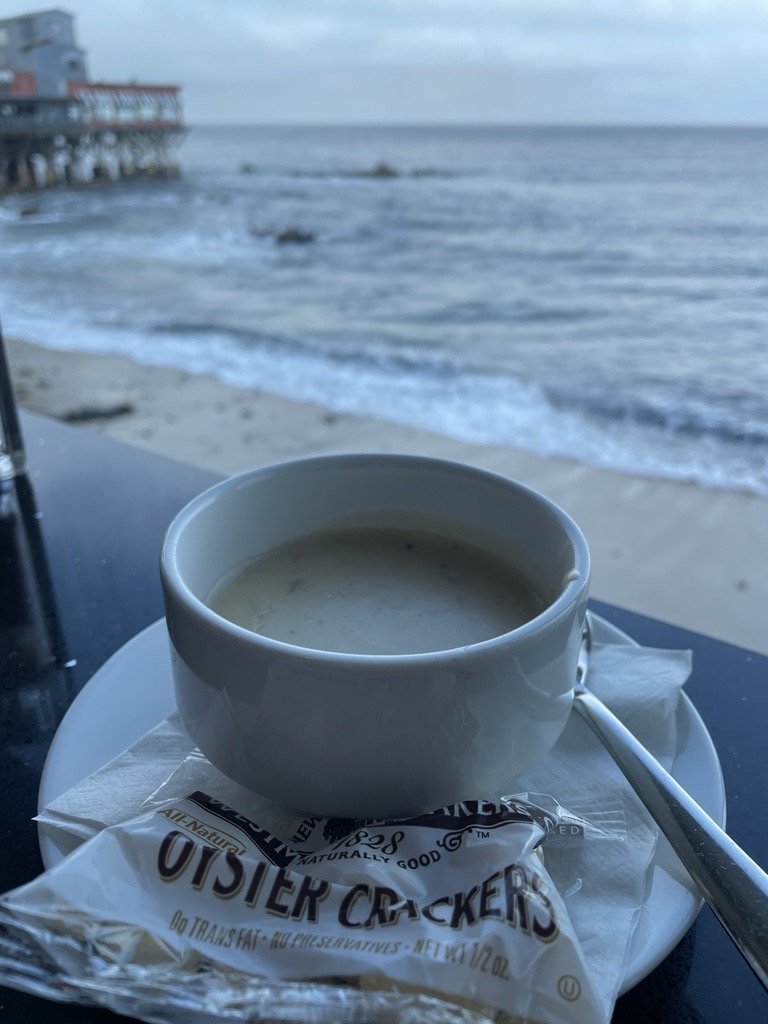 Enjoy chowder and a view at Lalla Grill Oceanside. Locally owned and using the freshest organic ingredients, you are bound to enjoy every bite. Lalla Grill Oceanside offers chowder in a cup, bowl, or delicious toasted bread bowl.  
Located on Old Fisherman's Wharf, Old Fisherman's Grotto is the originator of the "Monterey Style" clam chowder! Serving the peninsula for over 50 years, this clam chowder is a must-try with the exquisite garlic butter toasted bread bowl.  
Now located in Castroville, Phil's Fish Market serves New England (white) or Manhattan (red) clam chowder ranging from size small to large. You can also get "Chowder-in-a-Bun" which comes with pint-sized (medium) chowder in a sourdough bun. 
Another restaurant located on Old Fisherman's Wharf, Rockfish Harbor Grill's ambiance and waterfront table views are enough to get you to stop in and try their creamy "Monterey style" clam chowder. Also served in a cup, bowl, or sourdough bread bowl.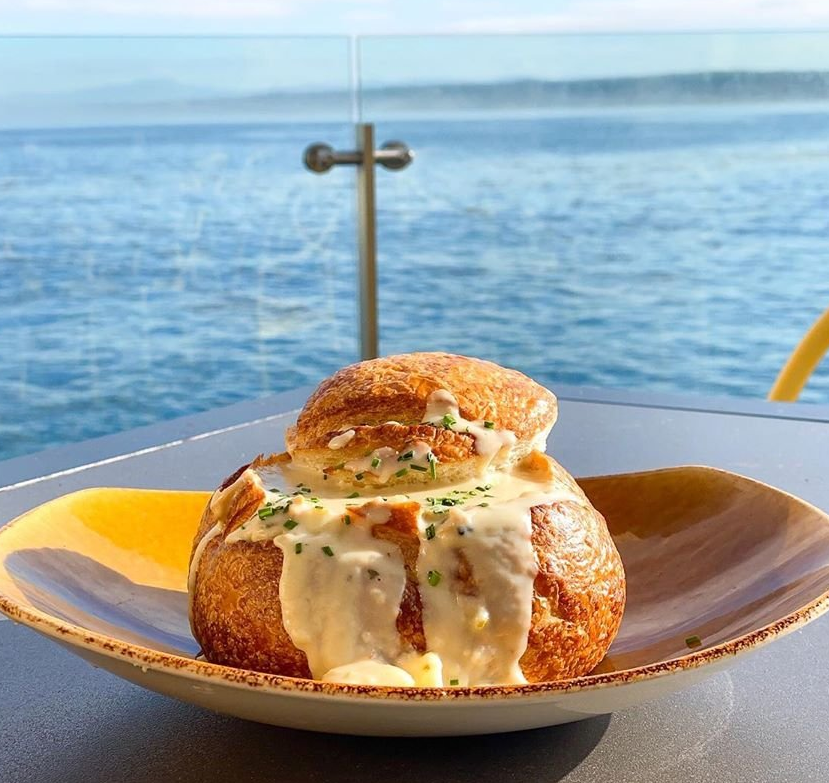 Photo Credit: Schooners Monterey
Located at the Monterey Plaza Hotel and Spa, embrace the ocean views from its heated outdoor patio with a warm Coastal Clam Chowder Bread Bowl. Schooners also has a raw bar and offers a large variety of signature cocktails and wine list. 
The C restaurant + bar is located in Cannery Row at the InterContinental The Clement Monterey Hotel. Enjoy New England clam chowder with littleneck clams, applewood smoked bacon and an ocean view. Look out, you might see marine life sightings while you're there! 
In addition to the Old Fisherman's Grotto, The Fish Hopper is another great way to try the "Monterey style" clam chowder, but this version comes with a twist! For an extra cost, add crab meat or shrimp in a cup, bowl, or bread bowl.
In between the 9th and 10th holes at the Pacific Grove Golf Links is The Grill at Point Pinos. Try their Monterey Bay Clam Chowder that is slowly simmered with herbs, bacon, and served with a side of delicious cheesy garlic bread!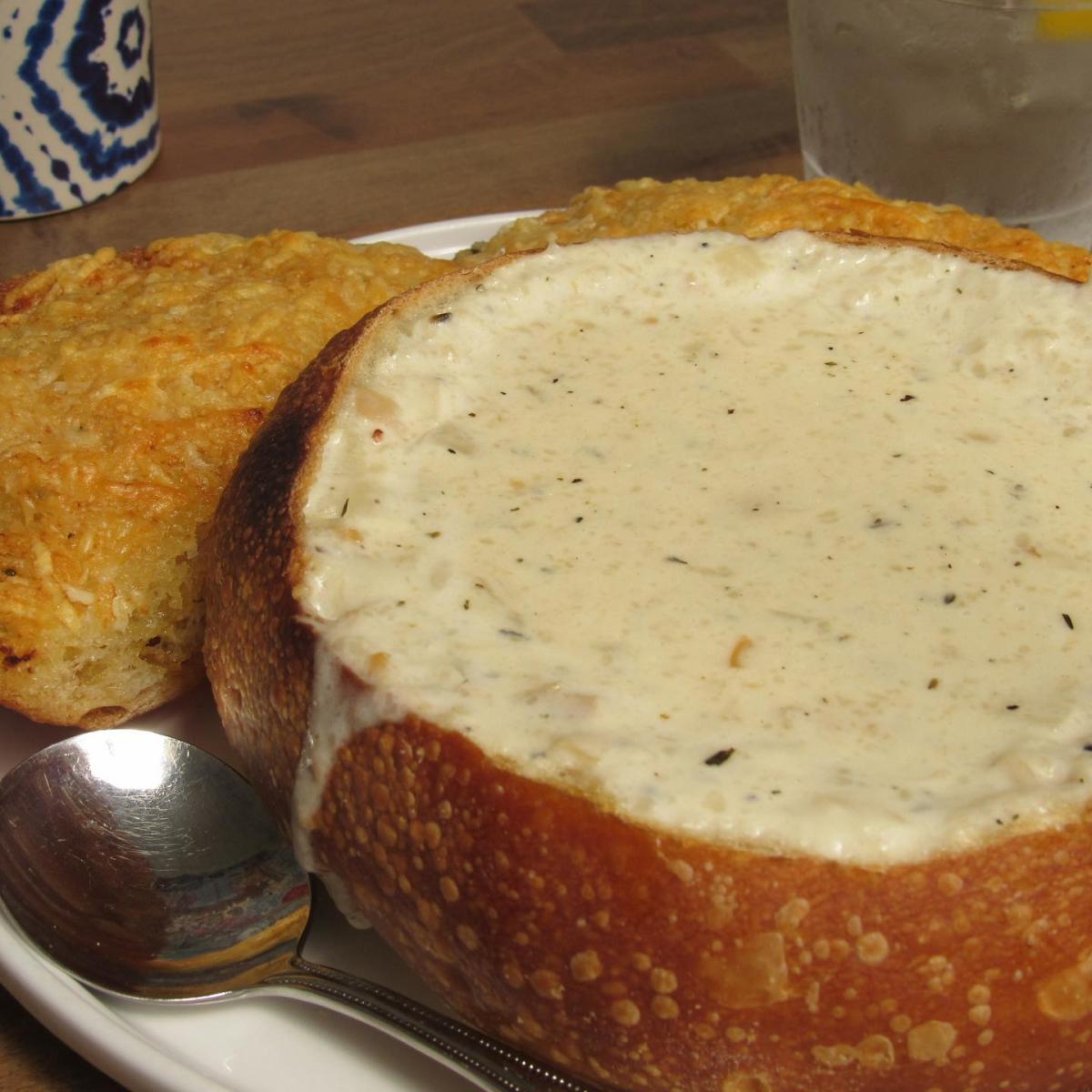 Photo Credit: Vivolo's Chowder House    
Serving locals and visitors for over 30 years, Vivolo's Chowder House in Pacific Grove offers freshly made New England clam chowder daily. Enjoy in a cup, bowl, or upgrade to a bread bowl topped with a spectacular garlic cheese lid!  
No matter where you choose to get your clam chowder, you will be sure to get a special taste of Monterey County you won't forget.
You can visit all the best places to get clam chowder in Monterey County by downloading our See Monterey App and exploring the trail of "Where to Find the Best Clam Chowder in Monterey County!"