We invite you to make the most of your stay in Monterey County. Please help us protect our destination's incredible natural assets and pristine landscape. While you're here, we encourage you to "visit like you live here" and help us preserve the beauty of our destination by respecting the local flora and fauna and by staying on marked trails at all times .
See Monterey in full bloom! The days are getting longer and hiking paths have become more vibrant than ever. The central coast is well-known for its variety of wildflowers that paint the coastline, fields, and hillsides with hues that span the entire rainbow. To take the guess work out of where to begin your next wildflower hike, we have put together a list of some of the top spots around Monterey County. Enjoy!
1. GARRAPATA STATE PARK
Garrapata State Park is one of the area's most popular hikes and for good reason. In the spring and early summer months California poppies, wild irises and Indian paintbrush sprinkle the hills and coastline making for some fantastic views and photo opps.
To fully immerse yourself in a sea of wildflowers seek out the "Calla Lily Canyon" within the Garrapata State Park. Located just off of Highway 1, a coastal trail takes you to a secluded beach and canyon scattered with dozens of calla lilies. 
2. PACIFIC GROVE COASTLINE
Don't be surprised if you need your sunglasses while driving down Ocean View Boulevard or biking along the Monterey Bay Coastal Recreation Trail in Pacific Grove. A phenomenon known as the "Magic Purple Carpet" springs up along PG's breathtaking coastline beginning in early April and lasting through late May. The magenta ice plant blankets the rocky coast for a truly neon spectacle set against the Pacific Ocean.
3. GARLAND RANCH REGIONAL PARK
Garland Ranch Regional Park trails offer hikes for all levels of outdoor enthusiasts looking to enjoy iconic views of rolling California hills. Spring is an especially good time to visit when the fields and meadows are dotted with fresh colorful blossoms ranging from purple and gold to orange and blue. The Terrace Trail, in the Garzas Canyon section of the park is particularly popular for monkey flowers and shooting stars.
4. FORT ORD NATIONAL MONUMENT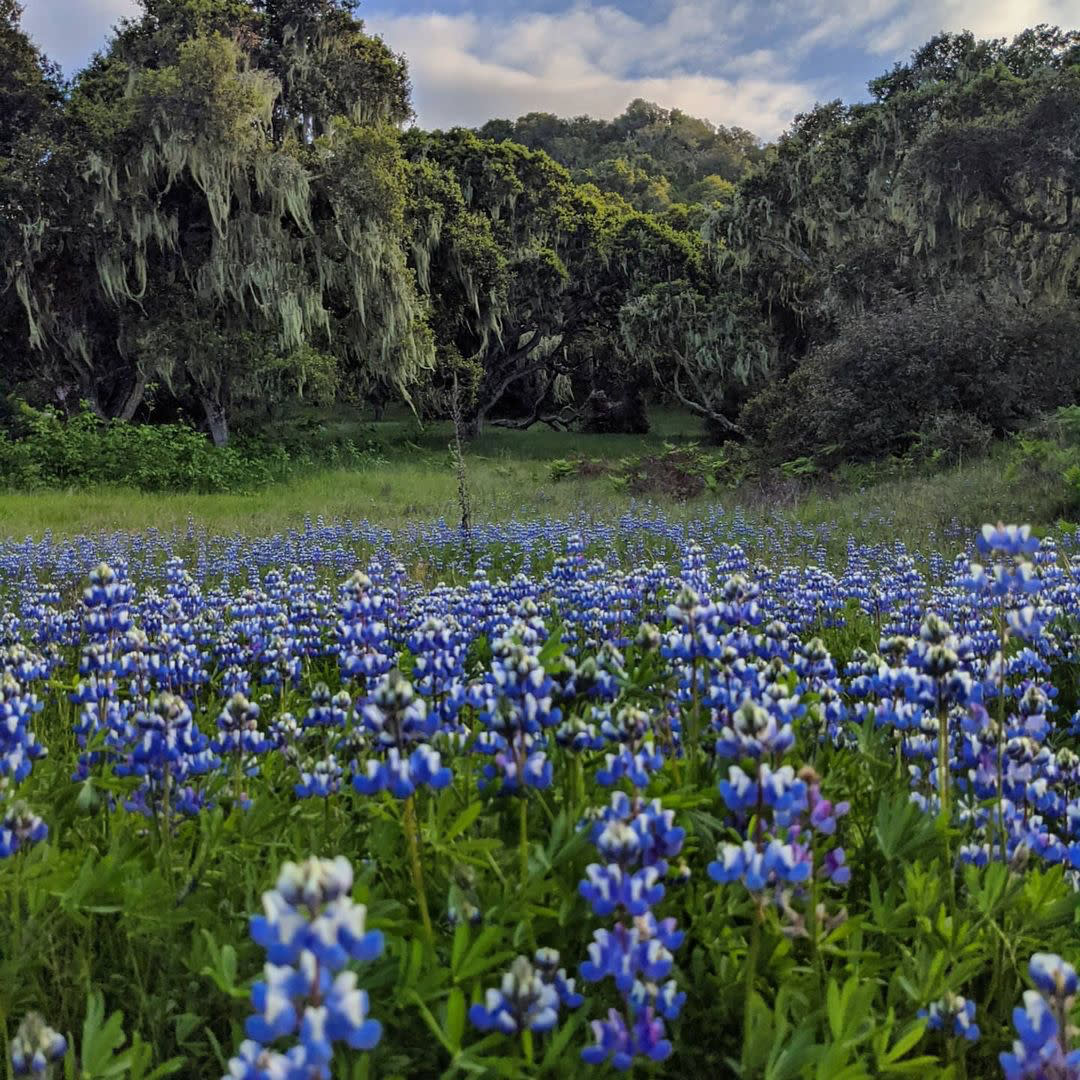 Photo courtesy of Demian Ford
Fort Ord National Monument is home to over 35 species of rare plants and animals, including a plethora of wildflowers. This hiking and biking paradise features miles of trails through vast rolling hills, oak groves and vistas of the Monterey Bay. On any given day the views from Fort Ord are lovely but the rainbow of color added by wildflowers makes it absolutely incredible. Sky lupine, California poppies and wild daffodils particularly thrive within the 14,000 acre park.
5. PINNACLES NATIONAL PARK
Visitors can hike through a riot of wildflowers at Pinnacles National Park during peak blooming season – March through May. From Johnny-jump-ups to shooting stars, the National Park Service lists nearly 100 species of wildflowers found at Pinnacles. While wildflowers are spread throughout the park, for a challenging hike with stunning eye candy, we recommend exploring the High Peaks Loop.

Below you can find a list of just a few of the iconic wildflowers in the area. See how many you can spot on your next outdoor adventure. Click here for more information on wildflower species.
Douglas Iris (Iris douglasiana)

California Poppy (Eschscholzia California)

Sticky Monkey (Mimulus aurantiacus)

Coast Morning-Glory (Convolvulus macrostegia ssp. cyclostegia)

Sky Lupine (Lupinus nanus)

Yellow Bush Lupine (Lupinus arboreus)

California Wild Rose (Rosa californica)

California Buckwheat (Eriogonum fasciculatum var. foliosum)

Scarlet Pimpernel (Anagallis arvensis)

Calla Lilly (Zantedeschia aethiopica)

Ice Plant or Sea Fig (Carpobrotus chilensis)

California Gilia (Gilia achilleifolia)

Monterey Indian Paintbrush (Castilleja latifolia)