1. Beat the Heat
Looking to seek relief from triple digit temperatures in wide-open spaces? Look no further than the Monterey Peninsula. Head out to Pebble Beach, Lovers Point or Marina State Beach to enjoy the bay's cool coastal breezes. The marine layer tends to cover the land during the summer months, causing a cooling effect; which is exactly what the doctor ordered for those looking to "beat the heat."
The truth is that many find the fog banks are relaxing and soothing; just don't forget to bring a sweater! If fog isn't you're thing escape, head inland to Carmel Valley or the Salinas Valley where the sun is just a 15 minute drive away. Note: Due to COVID-19 precautions, some of the beaches in Monterey County are currently only open for recreational purposes, so please check and abide by posted signs.
2. Make a Splash While Whale Watching
California is one of the only places in the world where visitors can see whales year-round, and there's no better place for whale watching than Monterey. In many areas whale watchers have to go far from shore to see a whale, along the Monterey coast whales can be seen offshore with the naked eye. The Monterey Submarine Canyon, the ocean's equivalent to the Grand Canyon, provides a perfect habitat for many species of whale, allowing them to come close to shore to feed. Land lovers will want to check out Point Lobos State Reserve for great vantage points to see these behemoths from land.
Hands down the best viewpoint of these marine mammals is out on the ocean; several whale watching tours leave daily from Old Fisherman's Wharf and Moss Landing.

3. Quench Your Thirst
Wet your whistle with an array of award-winning wines and locally brewed craft beers. Monterey County is the one of the largest wine growing and producing regions in California with an abundant number of wineries and tasting rooms throughout the county.
The craft beer movement has exploded in recent years and Monterey is no stranger to the epidemic. There are several craft breweries and beer houses to ease your craving including the Peter B's Brewpub, English Ales, Cannery Row Brewing Company and Alvarado Street Brewery & Grill.
4. The Great Outdoors
What better way to social distance than to explore the great outdoors in Monterey County! The area is a premier destination for those who love the outdoors. Biking, hiking, walking, boating, hang gliding and animal watching are just a few of the activities that lure visitors to Monterey and make residents thankful they live here.
Whether you want to climb a mountain, walk the Recreation Trail or dive the depths, there is no more diverse place to enjoy the outdoors. Check out our list of 7 Breathtaking Hikes in the area and a compete list of outdoor activities.

5. Get Your Game On
Golf is simply no fun when playing in the 100 degree heat, which is why Monterey is ideal for perfecting your game in our cool coastal temps! Pebble Beach and Cypress Point are not the only courses on the Monterey Peninsula wading in rich history, stunning scenery and memorable golf. Even if you bring a budget to this conversation - and, safe to say, most of us do - it's still possible to walk along majestic tree-lined fairways and enjoy a distinctive experience smacking around the little white ball.
That's one of the beauties of golf in the Monterey area, it runs the gamut from breathtaking coastal beauty to inland courses set amid green, rolling hills. Some of the courses are strikingly affordable and others, while not exactly cheap, will not burn though your entire vacation budget. With well over 20 different courses such as Bayonet and Black Horse, Pacific Grove Golf Links, Quail Lodge Golf Club and the world-famous Pebble Beach Golf Links, Monterey has something to offer every type of golfer.
6. Fresh Bounty from the County
Summertime is the best time for snagging the fruits of Monterey County's labor, literally! See why Salinas Valley is coined as the "Salad Bowl of the World" on an Ag Venture Tour where guide Evan Oakes will take you through a personal tour of working lettuce fields. Be sure to try some of our local produce straight from the fields at The Farm in Salinas or Earthbound Farms in Carmel Valley.
Farmers' Markets are also a great way to "try and buy" in-season fruits and vegetables including strawberries, corn, summer squash, melons, and more. With a Farmers' Market scheduled almost every day of the week you are sure to find one that fits your schedule.
7. Hit the Road
No summer is complete without a road trip. Whether you're heading south from San Francisco to Los Angeles or north from Los Angeles to San Francisco, the most beautiful route available is for sure Highway 1. 
Other beautiful byways include Carmel Valley Road, 17-Mile Drive through Pebble Beach, River Road through the Salinas Valley and Ocean Avenue and Scenic Road through Carmel-by-the-Sea.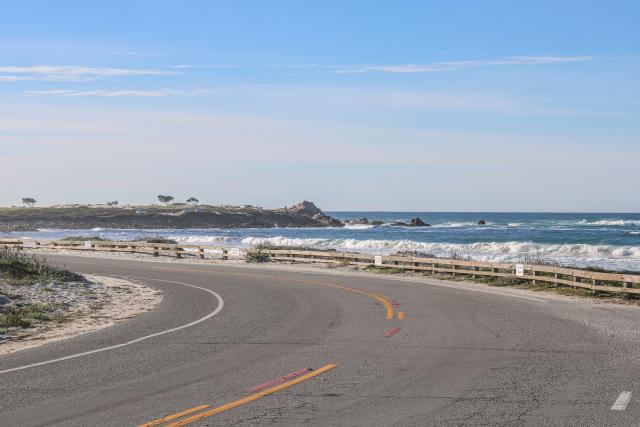 8. Mark Your Calendar
Planning a trip for next year? While most events in Monterey County are ether cancelled or rescheduled in 2020 due to COVID-19, we're feeling optimistic about 2021! June, July and August are jam-packed with events for just about everyone including music festivals, sports events and art celebrations. Kicking things off this summer is the prestigious U.S. Open Championship held at Pebble Beach Golf Links.
Up next, the Carmel Valley Art & Wine Celebration  brings out some of the best in local art while the Sand City West End Celebration celebrates the arts in a much funkier fashion.
Depending on your genre preferences, the Carmel Bach Festival has everything for the classic music lover while Monterey International Blues Festival features an entire day of blues music and fun! 
If racing and adrenaline is more your speed than you will love the Superbike World Championship at Laguna Seca Raceway  and the California Rodeo Salinas.
Summer wouldn't be complete without Monterey Car Week. Classic automobiles take over the Monterey Peninsula, golf courses, parks and the world-renowned Laguna Seca Raceway, surrounding visitors with automobiles from yesteryear. The grand finale takes place during the Concours d'Elegance on August 18 where 200 of the finest cars in the world are displayed at The Pebble Beach Golf Links.
9. Get Campy
With acres upon acres of open space, Monterey County offers plenty of places to pitch a tent or park a recreational vehicle. Some of these campgrounds and RV parks offer shower facilities, hook-ups and barbecues. Others are primitive, with nothing more than a few signs here and there. Check out this list of the Top 10 Campsites spread throughout Big Sur and Monterey. *Note: Due to the Dolan Fire, areas of Southern Big Sur are currently closed, but Northern Big Sur remains open.
10. Want S'more?
What better way to enjoy a summer sunset than near a fire pit? Curl up next to that someone special, share a bottle of wine (or a s'more), and watch nature's greatest show.
Click here to read more about the best places to cozy up next to a fire pit.